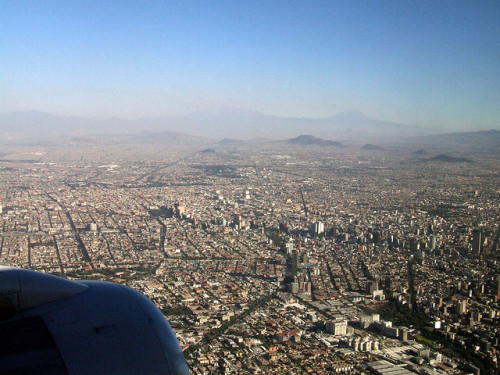 When most people think of Mexico, images of crystal clear waters, white sand beaches and little mustached, sombrero wearing men strumming handmade guitars come to mind.
Of course, Mexico is one of the finest places to spend a relaxing beach vacation with thousands of miles of pristine coastline. But,When the sun soaking is satiated, head inland to see the real Mexico, and what truly makes this country one of the best places to visit on vacay the world over.
Any trip to central Mexico begins at one of the coolest cities in the world, the one and only, Mexico City!
Yes you read right, Mexico City, El. D.F. (stands for the Distrito Federal) is truly an amazing city. With almost 9,000,000 inhabitants just in the city proper (over 25,000,000 in the metro area!), Mexico City is the most populous city in North America.
Many international flights to Mehicccooo fly through Mexico City so it makes it very easy to book from basically anywhere in the world.
While some might think it would be crazy to visit Mexico now with all the drug related crime and horrible press the media gives it, Mexico City is not at the forefront of these problems as the US-Mexico border region is where the real action is happening. Kidnapping? Don't worry about it. Kidnappings are planned ordeals with plenty of research being performed beforehand to see what you're actually worth. People don't just scoop up teva-wearing yanks off the streets and throw gags in their mouths!
Like every major city, there are places you shouldn't walk around at night time (hell the day too) but for the most part, the western and central neighborhoods of the city are perfectly safe and surprisingly nice. Try and book accommodation in the swank area of Polanco, bohemian Colonia Condesa or the quaint colonial center of Coyoacán which was actually its own town before it was absorbed into the city.
Getting around is very easy with am ultra-efficient and modern metro system that basically spans the whole city and only costs around 25 cents per ride! You can also take a taxi but avoid rush hour as traffic gridlocks.
You could easily spend a whole week in Mexico City as there are a wealth of world-class museums like the Anthropology and History Museum, Palacio de las Bellas Artes and the National Palace which houses interesting and beautiful murals by artist, Diego Rivera.
There are plenty of cheap and even free walking tours around the historic center which is one of the largest and most impressive Spanish colonial centers in Latin America. You might think you're drunk at some points as you wander the streets (you probably will be anyways) as it appears that many of the buildings are leaning in towards you, don't worry, they actually are. Mexico City was actually built upon a big lake and the Aztec city of Tenochtitlan, so the majority of it is reclaimed land, especially in the historic center. Many of the older, heavy stone buildings are in fact, sinking. Below is what the area looked like before Mexico City was built over it.
Have a stroll into the Mexico City Metropolitan Cathedral (oldest and largest cathedral in the Americas) on the main square called the Zocalo, and you'll see the chandeliers looking like they are hanging at precarious angles, they are in fact plum as the building is the one doing its best attempt at "lean back". Not somewhere you want to be during an earthquake!
Mexico City is a gastronomical wonderland with delicious street foods costing cents to full blown, world-renowned dining establishments. You won't go hungry, that's for sure. Just be a bit wary of eating things that might have not been cooked in boiling water as you might catch a mean case of diarrhea. Never drink from the tap (Mexicans don't even do it) and make sure to bring some Imodium and antibiotics just in case you get the runs (you can get antibiotics over the counter at any pharmacy in Mexico as well)((Viagra too)) 8================D
Nightlife is epic as Mexicans truly love to party. Enjoy the premium tequilas at bottom shelf prices (Jose Cuervo will taste like piss after trying some of the real stuff!). There are infinite bars and cantinas (local drinking holes) to whet your whistle, but when it comes time to shake your ass, La Zona Rosa is a beautiful, central neighborhood with a ton of great restaurants, bars and clubs.
After you've enjoyed your time in Mexico City, there are many amazing colonial towns and cities to visit within just a few hours of Mexico City including Queretaro, San Miguel de Allende (big expat community) and the student city of Guanajuato.
The above is a guest post from Jeremy.