When people ask me where I'm from, I like to say I'm from Boston via Texas. Because despite my Texas roots I always identified with Boston in the seven years I lived there. So when I revisited Boston last year after nearly 2.5 years away, I was pretty excited to be "home." And whenever I go home, the trip is almost always centered around food…glorious food!
So on my most recent visit I went to some of my favorite restaurants in Boston—sampling and eating everything from cannolis to clam chowder. And with some of my favorite burgers, burritos & barbecue for good measure. Ones marked with *** are the places I just can't get enough of and come back to time and time again. So, in no particular order….
A Few of My Boston Best Restaurant Picks
Cafes, Coffee & Sandwiches
Trident Bookseller & Cafe — It's a bookstore really (and open-late, too!) but their cafe sells more than just good teas. Also on the menu are some amazing breakfast dishes and more than a few good soup & sandwich offers. If the books don't capture you, the food surely will.
City Feed & Supply — Health food store and sandwich cafe, their breakfasts are also amazing. One of my favorite places to eat when I'm looking for something healthy.
Pavement Coffee House — Serving bagel sandwiches and other typical cafe foods, Pavement is where you'll find most of Somerville's hipsters. Food is good and the music is good, so it's always a safe bet if you're looking for a quality cafe in Boston.
Bloc 11 — Trendy coffee house that hosts events (including an open-mic night), they've got a good menu. The cafe is located in a former bank so you can even sit in a bank vault if you so desire. It's a good place to chill out and get some work done if you don't mind paying for wifi.
Diesel Cafe — If the hipsters at Pavement aren't enough for you, Diesel should do the trick. On the menu are your cafe classics (sandwiches, salads), but the real attraction is the coffee.
Burger & Barbecue Restaurants
RF O'Sullivan's — In my opinion, it's Boston's best burgers (even if the restaurant is in Cambridge). They're big and juicy, served with great sides, and the bar is well-stocked with local beers.
B Good — Fast food burgers that are healthy. There are B Good's all over Boston and if you're looking for something organic and tasty, it's a good option
Mr Bartley's Burgers — Boston's most famous burgers, Mr Bartley's has been around for over 40 years. Burgers are named after celebrities and politicians from around the world. Everyone from Johnny Cash to Al Pacino has eaten here, and the communal setting of long picnic tables makes for a social and fun eating experience.
Redbones BBQ — My go-to barbecue joint in Boston (well, actually I guess it's Somerville). The basement bar (Underbones) is fun and full of lively characters and the restaurant upstairs is just like typical BBQ joints back in Texas: homely, loud, crowded and most importantly—messy!
Burritos & Mexican Food Restaurants
Anna's Taqueria — Boston's best burritos, hands down—though this is something that is regularly debated in Boston. There are a handful of shops across the city and it's the first place I always visit on my return trips to Boston. No joke. I take these burritos very seriously.
Boloco — Local burrito chain, Boloco knows what's up. Their food is tasty and their social media is fun. Rewards programs and friendly staff keep me coming back.
Herreras Mexican Grill — Feels like a fast food chain, but their food is actually pretty decent. Only located in or near Downtown Crossing.
Sunset Cantina / Grill & Tap — With hundreds of beer selections and good Mexican food, these two restaurants continually make Boston's "best of" lists. Waits can be long mostly because the restaurants are located in the student-heavy area of Allston—so expect to find lots of university students. But sometimes it's the only place in Boston to find those domestic craft beers that have been hyped up. The beer selection regularly changes to keep people coming back for more. Nachos are good.
Border Cafe — Near Harvard Square, Border Cafe is another great place to get Tex-Mex in Boston. The complimentary chips & salsa make for a good match with the margaritas.
Yuppie Restaurants: For Gen Xers
Parish Cafe — A Back Bay classic restaurant, Parish Cafe deservedly has a great reputation. It's a yuppie bar and restaurant popular with men in tailored suits and women in heels. The Boylston Street location's patio is one of the best places to see and be seen. The menu is composed of selections crafted specifically for the restaurant by local chefs from other Boston restaurants. You can't come here without trying the Zuni Roll — it's amazing! There's a large beer selection as well.
Eastern Standard — A Kenmore Square favorite, Eastern Standard is one of those restaurants & bars where you just can't go wrong. Their cocktails are amazing and their food is top-notch. You'll find it on most people's recommended lists but that's because the French-fusion food is actually great. Brunch is popular, but the real scene is in the evenings.
The Paramount — Charles Street, near the Massachusetts General Hospital, is one of those beautiful Beacon Hill streets that's so characteristic of old Boston. Classy, high-end restaurants are interspersed with design shops and boutiques. The Paramount serves up some of the street's tastiest food (great salads and a good grill menu).
The Butcher Shop — Boston's South End is home to more than a few popular restaurants—many of which are expensive and overbooked. The Butcher Shop isn't any different, but as a fan of Barbara Lynch's food & drink empire in Boston, this was always a good place to visit. The restaurant is small but the atmosphere inside is reminiscent of a small European shop. Order some wine and a steak and sit back and enjoy the view!
Silvertone Bar and Grill — An old Boston favorite, Silvertone may not be living in its former glory days but it doesn't matter—the truffle mac & cheese is still delicious. Cocktails used to be good, but they've lost their charm in comparison to Boston's better cocktail bars (Eastern Standard, Drink, Deep Ellum).
Drink — A location by celebrity chef Barbara Lynch, Drink Fort Point caters to fans of quality cocktails. That's all they serve, but if you want food, there's a high-end restaurant upstairs. Famously without a cocktail menu, the bartenders at Drink ask you your mood and your favorite spirits to design a speciality cocktail just for you. They're often old classics, but their Old Fashioned is always popular too.
Seafood Restaurants in Boston
The Sail Loft — The North End is Boston's Little Italy and The Sail Loft is the place to visit if you want seafood in the Italian style. The restaurant is tiny and juts out over the water on a few stilts, so you know the food is fresh. Inside, the atmosphere is pretty much what you might expect from a small fisherman's restaurant up on the shore.
The Barking Crab — This popular seafood restaurant is relatively affordable and its atmosphere makes it one of the most enjoyable. Not far from Boston's financial center, it couldn't be more down-to-earth. Adam Richman made the place famous on his TV series Man v. Food when he tried to eat the Fisherman's platter—which is just about every fried seafood imaginable.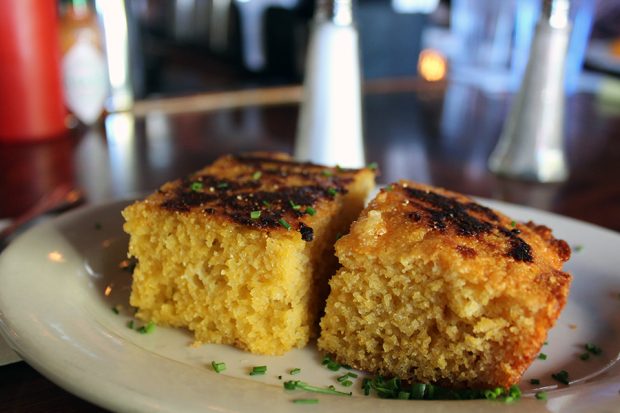 Gastropubs in Boston
Deep Ellum — An amazing bar hidden in the student-heavy area of Allston-Brighton, Deep Ellum was one of Boston's first bars to start serving absinthe when it was finally made legal again. High-quality cocktails and the craft beer selection is good, but the menu is a real treat. The truffle-gorgonzola fries are one of my favorites, but you'll find everything from bahn mi sandwiches to poutine and schnitzel on the menu.
JM Curley's — Newer on the food scene, JM Curley's is a chef's restaurant and bar. You may have to wait for a table, but luckily the bar serves good beer. Try their specials—or their burgers are always a good choice.
Highland Kitchen — A Somerville favorite restaurant, Highland Kitchen serves everything from delicious hushpuppies for brunch (seriously! go for brunch) to oysters at their raw bar. You're sure to spot the local Somerville hipsters here, and the food is top-quality.
James's Gate — Irish pub in the trendy Jamaica Plain neighborhood, James's Gate is your stereotypical pub. They serve pub food classics like curry fries and bangers & mash, but the real attraction is the fireplace. There's no where better to be in the neighborhood on a winter evening.
Charlie's Kitchen — This bar, beer garden and restaurant in Cambridge has some great food deals and an awesome atmosphere. Foods range from great seafood (try the double lobster roll meal) to traditional American dishes. The beer selection is one of the best for the Harvard Square area.
International Food Restaurants
Pho Pasteur — One of my go-to spots in Boston's Chinatown, Pho Pasteur serves Vietnamese foods. While the soups (pho) are amazing, the other dishes are equally good. Great for eat-in or takeaway.
Brown Sugar Cafe — Thai food and a popular spot for college students because of its Commonwealth Avenue location on the Boston University Campus. It can be crowded on weekends so plan accordingly.
Moody's Falafel Palace — Cheap and open late, the food is ALWAYS delicious. It was my go-to place for shawarma in Boston.
India Quality — Near Kenmore Square, it's one of my all-time favorite Indian restaurants. Not the cheapest Indian food in town, but you're paying for quality and it's still a good deal. Try one of the Indian beers. The staff and owners are super friendly.
FuGaKyu — This Japanese restaurant in Coolidge Corner is a great sit-down place for sushi, though I'm honestly more drawn to their authentic Japanese curries.
Regina Pizzeria — This pizza place is often ranked among Boston's best. It's a long-time North End landmark (since 1926!), though they've opened up more fast food-style shops across Boston since.
Zaftigs — A Jewish delicatessen in Brookline, if you try to get a table on the weekend, expect a long line out the door. Great for brunches, the place is perfect for loud and large groups. If the queue is just too long, you can chill out in one of the many boutique shops at Coolidge Corner (my personal favorite is the Brookline Booksmith).
Dessert Restaurants & Ice Cream Cafés/Bakeries
J.P. Licks — You haven't been to Boston until you've had ice cream at J.P. Licks. It's an ice cream parlour and coffee shop (the coffee is good, too!) with shops across Boston and Cambridge. They're famous for their quirky and unusual seasonal flavors—many named after Red Sox stars.
Sweet Cupcakes — Already around for a few years, Sweet serves up some of Boston's best cupcakes. Not cheap by any means, but they're quality and the flavors are good. Try the frosting shots!
Mike's Pastry — There's a long-running battle between the North End's (that's Little Italy) two most famous bakeries. Mike's Pastry and Modern Pastry are across the street from one another and they seem to inspire incredible passion among their fans.
Mike's is probably the more famous of the two, receiving plenty of recognition in tourist guidebooks and travel stories, but Modern certainly holds it own. I suggest trying both…because really, what's the difference between one cannoli or two?
Beer Bars & Pubs 
Silhouette Lounge — What was once a neighborhood bar which seemed to be home to more than a few homeless folks, its now become a hipster hotspot. Wednesdays used to be scary movie night and the dart boards in the back room always make for a fun night out. Order a pitcher of cheap beer and sit back while watching young & drunk hipsters mingle with Allston-Brighton's dirty hippies & alcoholics. It's an experience. Comes with free popcorn too.
Bukowski Tavern — With two locations, Bukowski's is a cheap bar popular with students and after-hour workers. Daily food specials draw in fans of cheap eats (burgers, mostly), while the cool atmosphere inside inspires crazy fun nights out.
The Pour House — On Beacon Street, steps from the commercial Prudential Center mall, The Pour House is a long-time tourist favorite. Food is "meh" but the atmosphere isn't awful. It can even be fun with the right crowd.
Grendel's Den — Around the corner from Harvard Square, this underground bar and pub serves wintery comfort food and has a good deal on beer. The atmosphere inside can be quite cosy on a cold afternoon.
Brendan Behan Pub — Named after the Irish poet, this hole-in-the-wall bar is an absolute favorite! Serving a variety of cheap and craft beers on tap, it's one of the few places in Boston where dogs are allowed inside. The narrow bar means it's often crowded, but if you're looking for a true neighborhood pub, this is the place. Cheap Asian and Mexican food can be found in nearby takeaways and brought inside if you get the munchies.
Boston Beer Works — Popular with frat boys and baseball chumps, the Beer Works is a fairly mass-produced bar and restaurant. It's proximity to Fenway Park and large seating space and bar, though, make it a convenient place for groups and parties. They brew their own beers so be sure to try the seasonal selections.
The Littlest Bar — Though it's not as little as you might expect, if you find yourself in Boston's financial district late at night, this is just about the coolest place to be. Admittedly, though, Boston's financial district is probably *not* where you want to be late at night because it's rather boring. Beer is the drink of choice here.