Hidden in plain sight on one block of Columbus Street in the middle of last bastion of old Italy in San Francisco's North Beach district are six dining locales offering hearty Italian fare. When tourists and friends come to San Francisco asking for some "authentic" San Francisco Italian dining, I always steer them to this one stretch of the Corso Cristoforo Colombo.
Now, we all know that these restaurants are tourist traps. But as traps go, they're darn tasty and reasonable in price. There are many more restaurants in North Beach besides these, but I point these out because they're all on the same block, two on one side of the street and four on the other.
Sitting at the south end bestriding Columbus Avenue on Vallejo are Colosseo and Trattoria Pinocchio. North of the two are, respectively, Calzone's and Caffe Puccini. Then there's Caffe Greco up from Puccini and holding up the north end is Panta Rei.
Having tried all of them, I can now offer through this blog a one-stop shop on which one to go to, depending on your moods and needs. First thing first, we can discard Caffe Greco because it's hardly a restaurant. Caffe Greco is really just a coffee shop serving Illy coffee, which I like, and various pastries. I'm not even sure they serve alcohol, as I've only been there for the coffee and croissants.
Before I lay out the pros and cons of the remaining five, I should mention that there are many other ones south of this block: Stinking Rose, Franchino's Mona Lisa and several others closer to Washington Square and other parts of North Beach. But, as I say, this block is chock-a-block with five great restaurants, battling each other for supremacy and to be able to call itself the Capo di tutti capi on Restaurant Row.
Let's start at the south end. Trattoria Pinocchio is probably the most high end among the five with a fairly expensive menu and boasting fairly grand sounding items. The interior has a very clean, noble feel to it. The food is good, but not commensurate with the prices. Perhaps the difference goes to the ambiance, which felt a bit too snobbish for me. Maybe I ought to try it again just to be sure. Pinocchio has outdoor seating, but in this case, I would much prefer indoor seating because of the supposed ambiance.
Pinocchio is the go-to place if you're forty-plus and want to make a great first-date impression. Probably not a great place for a family of four. Be prepared to shell out no matter what.
Across the street is Colosseo (top photo). Prices here are more reasonable. The servers are much more friendly. I've been here a few times and can't say enough good things. Great food. Their fettucini is really ribbon sized: nice wide pasta that just mingles perfectly with a cream sauce. The servers, especially the bartender, are really friendly and easy to chat with. Never a sourpuss anywhere. Now, I'm not claiming the others have bad service personnel. None do, but Colosseo excels with the human touch.
Colosseo is where you'd go after your first date. Say, your sixth month anniversary or even a night out on the town with the spouse and the kids are locked away with nanna or a sitter. Secret for guys: go here several times to chat up the servers. Then bring your date here after you've been to other places and get friendly with the servers. They'll wing man you that evening. Can't say if it would work for the ladies.
Back to the east side of the street, we come to my favorite, Caffe Puccini. Caffe Puccini is actually the least fancy of the five with the smallest most basic menu among the five. They only serve pasta dishes: no Bistecca alla Fiorentina and the like. Also, they only serve beer or wine for the alcohol. All the others have a full bar and bar seating. Puccini doesn't have a bar seating area.
What makes Puccini my favorite? Well, it's the least tourist-trappy among the five. It's really a regulars' place of dining. You will often see police officers come in for coffee and a quick bite while glancing at the big screen to check the Niners' or the Giants' score. While they do have a steady stream of tourists coming through, I am there frequently enough that the staff know me and I see a number of very familiar faces. In fact, I'll probably drop over there later today to watch the game and have a bite.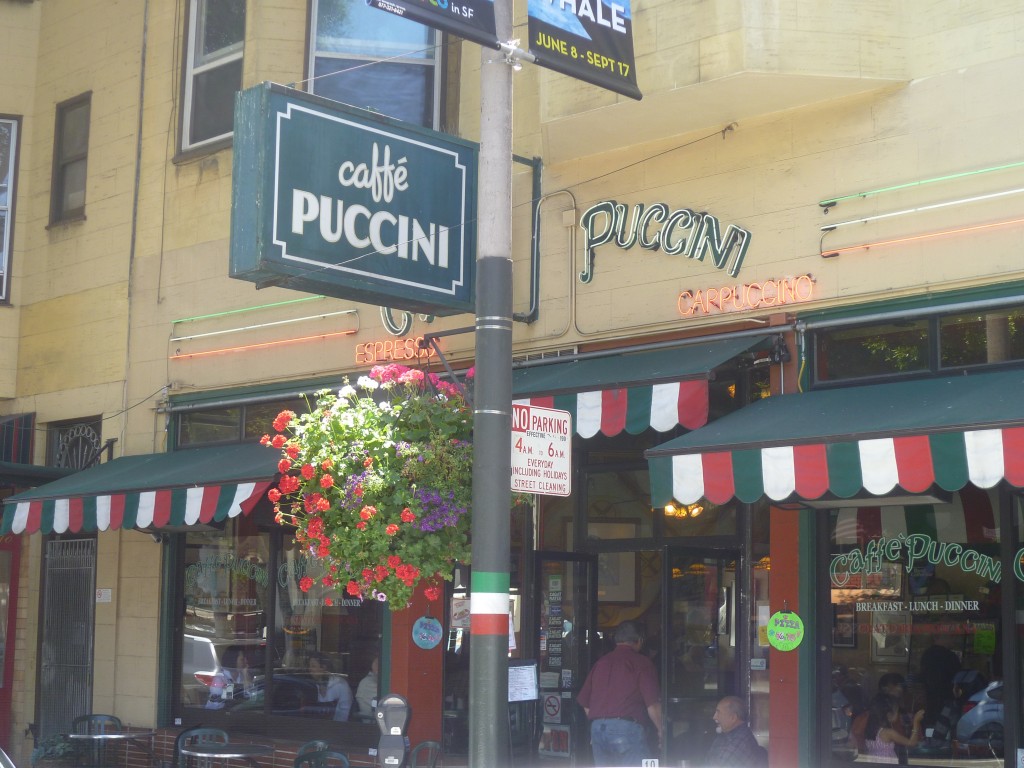 Another reason Puccini is a personal favorite is because of Puccini himself. The opera composer, that is. There's a juke box to the side and every once in a while, we get strains of Luciano or Placido singing che gelida manina or nessun dorma. It warms my heart because my ears aren't pounded with loud heavy-beat music that almost all other restaurants around the city pumps out.
While Puccini, for me, is my place of comfort and solitude, I see plenty of large groups or families coming in. It's because they're the cheapest among the five and have a very familial feel to the place. No wingman help here, but definitely mamma Puccini will get everyone settled and comforted by the end of the meal.
Straight across from Puccini is Calzone's. Now this place is a revolving door tourist-trap restaurant. It's almost a Vegas spectacle, the way they move people, food and drink around. There's a long stretch of outdoor dining area, which is de rigueur for this restaurant as opposed to the others. Hey, it's almost Vegas, baby, and you can't be seeing without being seen. Calzone's prices are also very good and has a great mix of items in the menu.
Food is great (OK, seriously, how can anyone mess up Italian food, right? so this should go without saying) and plenty  of options on the drinks.
Calzone's is definitely the place to go if you managed to get a room upstairs at Hotel La Boheme. Have fun, you two. Groups of couples can also benefit from this locale because it just oozes conviviality like no other. You'll have a fantastic time here, and hey, the food's great too.
Holding up the fort at the north end is Panta Rei. This wedge-shaped restaurant hints to the modernity and fashion of downtown Milan. Very modern and eclectic look and feel, not neon-ized like Calzone's, but very euro. The patrons here are also a younger crowd. You can bring a date here, as long as you don't plan to get any later that evening, because there's very little intimacy here. On the other hand, everyone here, from the servers to the patrons are all Italian-model sexy. It's like the place where all the magazine models go after a shoot, so there's the eye-candy aspect of the place. There's a full bar with crazy cool bartenders – you know, the ones that works up the crowd because the crowd is young and energetic. The food is quite good. I've not sampled everything on the menu, but the linguine nere – linguini in black squid ink, is my particular favorite here. The menu is more outre than the others with their fairly standard Italian options.
So there you have it. Let the battle royale begin, and beviamo!
For more on San Francisco restaurants in general, visit our San Francisco dining and San Francisco food/wine section.