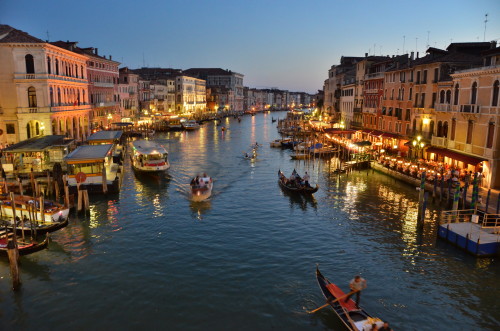 I was terrified when I got off the train in Venice. The city wasn't just full of tourists; it was infested with them. I saw only foreign faces along the canals, the occasional on-break gondolier notwithstanding.
Worse, directions to my hotel simply read "cross three bridges, then turn left." This would've been fine, except that (a) There were four bridges and (b) They were all totally blocked by said tourists. 
I won't mince words: I kind of hated Venice for the first few hours I was there. And as charmed as I've been by the canals, gondolas and other associated kitsch, I'm not sad to be departing for Slovenia tomorrow.
That's the paradox of Venice: Venice, you might say, is like an extremely attractive (but extremely annoying) man or woman.
If you look at photos such as this one, you might think Venice is like Amsterdam, i.e. a city with canals carved into it. In fact, Venice is precisely the opposite: An expanse of buildings rising out of open water.
Indeed Venice isn't coastal — it is entirely surrounded by the Mediterranean! It's isolated and relatively difficult to reach, which is why it's not surprising to me how small a ratio of locals to tourists there seems to be.
There are locals living here, but tourists certain enjoy themselves more. I initially thought this woman was coming out on her patio to enjoy the violin music being played on Ponte degli Scazi bridge below — turns out she was trying to get the fellow to shut the F up!
Once I found my hotel, I set immediately to the streets and began snapping away. Venice is without a doubt one of the most photogenic cities I've ever visited — and I'm quite obviously not the only one who feels that way.
I won't lie: It is extremely difficult not to be charmed by Venetian kitsch like canals, gondolas and masks. Don't want to shell out the 30 or so euros it costs to hire a gondola for a short ride? Grab a seat along the side of a canal and chill.
Venice's most characteristic design feature (you know, aside from its aforementioned canals and bridges) is its serpentine maze of streets and alleys. They're enchanting, trust, but do take care not to make a wrong turn — it is very easy to get lost in Venice!
The vending machine is also something of an iconic Venice feature. Some Venice vending machines sell typical goodies, like snacks and soft drinks, while others carry items of a more personal nature, like the ones you see above.
Actually, come to think of it, I spotted a lot of people chilling in Venice. Let's end this photo essay with a montage of relaxation, shall we?