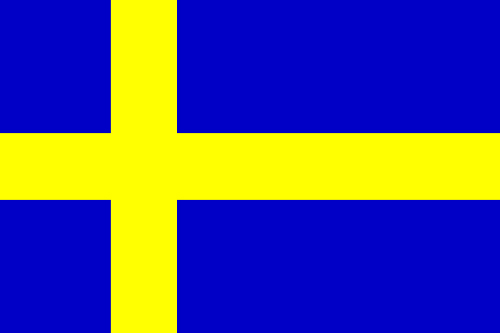 I'm typing this post from onboard an SJ train, "SJ" being Sweden's national rail company. I recently crossed the Norway-Sweden border and entered Sweden for the very first time.
People who know me very well will know that I had actually planned to visit Sweden back in 2008, but a series of unfortunate cancellations — and, frankly, poor planning on my part — f'ed all that up.
I'm nonetheless excited to begin my week in Sweden, which will see me visit the forests in the western part of the country, northern Sweden near the Arctic Circle and, of course, the city of Stockholm.
If you're curious about why it's only now that I'm visiting the home of ABBA, H&M and IKEA, read on.
My best friend Bianca wasn't the only European who traveled through Europe with me in 2007. I was also joined by Sara, a Swedish girl I'd first met two years prior in Paris.
If I ever traveled to Sweden, Sara told me, I would be welcome to stay with her in Uppsala, a city near Stockholm.
Her sexy friend Jacob (whom I bedded later on that trip in Copenhagen) also offered me a place to stay.
Unfortunately for me, both Sara and Jacob cancelled on me just days before I was to arrive in Sweden. I was dirt poor at the time, so even a hostel in expensive Sweden was out of my financial reach.
Reluctantly, I aborted my first Sweden trip. But I vowed, eventually, to make it back someday.
Introducing Anna
"It's called caviar," the blonde girl whose Beijing apartment I'd just wandered into said, "but it isn't actually caviar." She smeared the pinkish cream onto the hard-boiled egg and ate it.
I attempted to do the same, but quickly spit mine out. "What the hell is this, if it isn't fish eggs?"
"Fish by-products." She laughed. "Not a fan?"
Indeed, I wasn't a fan of Swedish caviar in the least. But the more I got to know Anna, a friend of my friend Rick who was nice enough to host the Rick, myself and my friend Dora when she was living in Beijing, the more charmed I became.
It would be nearly two years before I would see Anna again; Specifically this January, when she came to visit Dora and I in Austin. At the time, she was contemplating ending her relationship in China and moving back to Sweden, having just lost her father.
"But nothing is certain yet," she reminded me when we dropped her off at the airport.
A Matter of the Stars Aligning
The fact that Anna did, in fact, break up with her boyfriend and move back to Sweden was my primary motivation for making Sweden a stop on this particular trip, but it isn't the only one.
My having decided to start this particular Europe trip in Norway — however foolish my motivation for said decision might have been – made an excursion to Sweden especially convenient.
Although I am far from rolling in dough, I am also more financial stable these days; the prospect of traveling in Sweden for seven days, some of whose nights will be spent in hostels, isn't one of financial ruin.
With my arrival at Anna's place in Karlstad less than an hour away, I'm still almost complete unsure what awaits me in this fabled land of pop music, bargain bin fashion and stylish furniture.
Bring it on, Sweden!