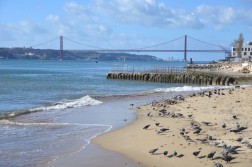 Lisbon is probably the first place you will visit when you travel in Portugal, and maybe the last. Lisbon is not only the beginning of your adventure in Portugal, but was also the birthplace of the country we now know as Portugal.
The region surrounding Lisbon has been continuously inhabited since the Neolithic period, so it's difficult to say when modern Lisbon was first established. Some date it all the way back to the Roman period when the city was known as Ulyssippo, while others consider the year 1147, when Portugal was re-conquered (from the Muslims) by Alfonso I of Portugal, as the beginning of the city as we know it.
Whether you consider it a must-visit tourist destination or one of the most significant societies in Western history, Lisbon is the origin of whatever Portugal means to you.