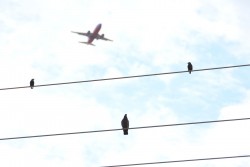 I fly a lot — I've taken about 30 flights in 2011 so far, and counting — so as you can probably imagine, I spend a lot of time in airports. I'm  a pretty bare-bones traveler, so it doesn't take much to please me. Likewise, it's difficult for me to actually hate an airport.
Still, I do have certain preferences that I like to be met whenever possible. I thought it would be fun to make a list of my favorite and least favorite airports around the world. While this list is far from definitive, it gives you an idea of some of the features of airports I find most important as a frequent budget traveler.
World's Best Airports
Amsterdam Schipol International Airport:
My first reason for including Holland's largest airport in this list is how well-connected it is to Amsterdam's city center. Beyond this, the airport is well-maintained and lit and is home to a good selection of dining and shopping outlets, without being overwhelming.
Additionally, Schipol Airport is a manageable size — it doesn't take longer than a few minutes to get from any gate to baggage claim and then to the airport train station, provided that you don't have to go through customs and that you didn't smoke before arriving in Amsterdam.
Bangkok Suvarnabhumi International Airoprt:
I always feel like I'm coming home when I arrive at Bangkok's Suvarnabhumi International Airport. From the golden buddhas and other traditional Thai statues and artwork, to the fact that the leather seats in boarding areas are Thai pink and purple in color, to the airport's futuristic domed structure, Suvarnabhumi's aesthetic is decidedly welcome. The airport is just a quick train ride away from Phaya Thai station in central Bangkok — and cheap, too, at just 15 baht one-way.
Although most "best airports" lists go on about Suvarnabhumi's extensive luxury shopping opportunities, I am more pleased by the fact that all the gates are connected to one another — you don't have to exit and re-enter security in order to get from one concourse to another. International connections are also a breeze thanks to Suvarnabhumi's transfer desk. Bangkok airport is also a great place to sleep when you're on a long layover, which is something that isn't always the case.
Lisbon Portela International Airport:
Lisbon's airport is extremely small by international airport standards, which makes using it easy, whether you're transitting on a TAP Portugal flight or Lisbon is your origin or destination. For an airport of its dimensions, it includes a nice array of high-quality dining options. The airport has a modern, dark color scheme — the inside walls are actually black! — which results in it looking cooler than many of the other airports I've used.
Entering or exiting the Eurozone? Lisbon's immigration facilities are modern and streamlined, with enough officers usually on duty that you shouldn't spend more than 10 minutes in line, even at extremely busy times. I did both in Lisbon and was amazed at how quickly I blew through security.
Zürich Kloten Airport:
My first memory of Zürich Airport was the video that plays on the train that takes you from the concourse to baggage claim and immigration. Kitschy and, strangely, holographic, the video welcomes you to Switzerland via a number of clichés associated with the country, including cows, mountains and a very provocative version of Heidi.
There is more to love about Zürich Airport than this, of course. Like Lisbon Airport, Zürich Airport is relatively small, which means you'll never have to travel very far between gates, from your gate to the airport exit, or from security to your departure gate. Like most things in Switzerland, the airport is pristine in quality. Even better, the airport is connected not only to central Zürich but to the entirety of Switzerland via the extensive SBB rail network.
World's Worst Airports
Dubai International Airport:
It might come as a surprise that I'm listing Dubai airport here, seeing as it's all new and, as far as I know, frequently makes it onto "Best Airports" lists. My problem with Dubai airport is its size and sprawl. Dubai airport has three terminals, two of which are of any importance: the main terminal, which is used by Emirates and other  large carriers; and the budget terminal, where the regional low-cost carrier FlyDubai is based.
After arriving to Dubai on Malaysia Airlines, I had to transfer to a FlyDubai flight to Beirut. Unfortunately, transfer areas within the main terminal at Dubai airport aren't clearly marked, so I ended up going through Dubai immigration, thinking I could simply take a shuttle bus to the low-cost terminal. Not so: the terminal was several miles away, and I'd need to take a pricey — to the tune of $20 US — taxi to get there. I had several hours so I walked, but still! Sour grapes, I know.
London Heathrow International Airport:
Why I included this one should go without saying. Indeed, I don't know any traveler who likes using Heathrow. There's almost nothing to love about the airport: it's old and ugly; the security personnel seem to have been trained by the SS; it's extremely far away from central London. Next!
Rio de Janeiro Galeáo International Airport:
My feelings toward Rio de Janeiro's international airport are less of contempt or disgust and more of puzzlement: the gate agent made boarding announcements for my flight without the use of any speaker system, presumably because the airport doesn't have one. 'Nuff said.