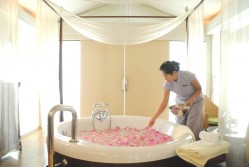 As a backpacker, I don't often get to experience luxury when I travel, so when I was invited to enjoy a morning of pampering at Bangkok's Devarana Spa, I jumped at the opportunity. "Devarana" translates to "garden in heaven" in the Sanskrit-hybrid language that preceded modern Thai — and this comparison is not made without reason.
To be sure, you'll pay a pretty penny for most services offered at Devarana Spa, so a visit there still falls into "splurge" territory for most budget travelers, even if prices are cheap by Western standards.
How Devarana Spa Works
When you enter into Devarana Spa — I make specific mention of this because entering into the hotel and then the spa is an experience in and of itself — the staff member who greets you will present you with a menu, which lists all the spa's service offerings.
After confirming your treatment selection, you will be invited to select from among Devarana Spa's signature massage oils, which are hand-prepared daily and are therapeutic as well as aromatic. With names like "Romantic," "Balancing," "Energizing" and "Relaxing," the oils at Devarana Spa can purportedly treat ailments from insomnia, to anxiety, to poor circulation.
By default, you receive your treatment in an open area where other Devarana Spa guests may be receiving treatments. If you really want to treat yourself, upgrade to a private deluxe or grande suite, which features two massage tables so you can enjoy your Devarana Spa retreat alongside someone dear to you. As of April 2012, these upgrades cost THB 800 and THB 1,500 ($25 and $48), respectively.
Heavenly Nantha Garden Experience
You could take your chance and, like backpackers often do, choose the cheapest option on the menu. Or if you really, really feel like splurging, enjoy the signature Devarana Spa treatment like I did.
Dubbed the "Heavenly Nantha Garden Experience," the incredible treatment costs THB 4,900 ($158) and lasts two-and-a-half hours. It begins with a warm milk bath, complete with pink lotus petals floating on the surface. You can remain in the tub for as long as you want — the masseuses are literally waiting in the hallway for you to finish.
Yes, I said masseuses, as in two. After a brief body scrub, these masseuses guide you through Devarana Spa's famous 90-minute massage journey, which blends Eastern and Western techniques.
How To Get to Devarana Spa
Devarana Spa is located in the five-star Dusit Thani hotel in Bangkok's Silom district, some of the swankiest real estate in one of Bangkok's overall swankiest areas. Thankfully, while the hotel, the spa, the staff and the service are the most stunning I've ever experienced anywhere, nothing about the Devarana Spa experience is pretentious.
I have to admit that I felt a bit uncomfortable there, less because Thais are outwardly judgmental of foreigners (they're not) and more because I could never afford to come to a place comparable to Devarana Spa in the U.S. or Europe. To be sure, I doubt anyone would say anything if you walked into Devarana Spa hairy and smelling like patchouli, but it would be difficult not to feel self-conscious if you don't frequently visit luxury spas.
More Information About Devarana Spa
Awards and accolades are in some ways meaningless in Asia, what with how easily and cheaply counterfeit ones can be obtained. As a result, it isn't terribly important to me that Devarana Spa was named "Best Urban Spa" by Lifestyle + Travel magazine in 2008 and ranked among "Asia's Best Hotel Spas" at the 2005 Crystal Awards, hosted by Spa Asia magazine. What the hell are the Crystal Awards?
To browse Devarana Spa's full range of treatments online or to learn more about its concept, visit them at their website. Contact Devarana Spa directly using the information below:
Devarana Spa Co., Ltd.
9th Floor, The Dusit Thani Building
946 Rama IV Toad
Bangkok, 10050 Thailand
+66 (0) 2200-9999
[email protected]
Open daily, from 9 a.m.-1o p.m.