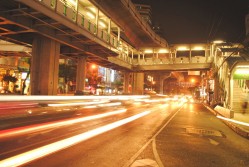 I make no mistake about the fact that I love Bangkok, from sleazy Khao San Road, to cosmopolitan Silom and everywhere in-between. I would happily fly all the way to Southeast Asia just to spend time in the Thai capital. In fact, I've even considered moving there.
Another advantage of traveling to Bangkok is that the city is perfectly situated as a base for travel in the region as I detail in "How to Country Hop in Southeast Asia." Taking a weekend trip from Bangkok to almost anywhere else in Southeast Asia is quicker and cheaper than you might think.
City Breaks from Bangkok
Hanoi
Hanoi recently celebrated its 1,000th birthday and the ancient, decidedly Chinese influence you find here is a nice counterpoint to the not-very-collected chaos of Bangkok. The only downfall of taking a cheap AirAsia flight from Bangkok to Hanoi? You need to get a Vietnam visa in advance, if you don't have one.
Hong Kong
I hesitate to call Hong Kong Southeast Asia, but with non-stop flights from Bangkok to Hong Kong on AirAsia running just two hours gate-to-gate, it might as well be. Hong Kong fuses the best of China and the West together in one exciting, world-class city-state. Plus, you can apply for a Chinese visa in Hong Kong.
Kuala Lumpur
Malaysia's largest city is a popular destination from Bangkok if only because of the fact that it's less than an hour away by plane — and a one-way ticket usually costs you under 25 USD, all-in. Enjoy a panorama of the Malaysia peninsula from the Petronas Twin Towers, shop or dine the weekend away, or simply use the trip if you've exhausted your current 30-day stay in Thailand.
Singapore
Multicultural, clean and futuristic, Singapore might as well be on a different planet that neighboring Malaysia. At just 25o square miles in size, Singapore is small enough that it's feasible to see most of its important sights over the span of a weekend. Make sure you savor the country's interesting local food or even a swim at its swanky Marina Bay Sands Hotel infinity pool, if you've got the cash to spare.
Train Trips from Bangkok
Train to Cambodia
As I detail in my article about how to travel by train from Thailand to Cambodiale, it's possible to leave Bangkok's Hua Lamphong railway station in early morning and arrive in Siem Reap, the super-cool city super close to Angkor Wat, in time for dinner. Taking a weekend trip here or to Phnom Penh, the capital of Cambodia, is a great short break from Bangkok.
Train to Laos
It's also possible to travel from Bangkok to Laos by train, namely to the capital city of Vientiane, located just across the Mekong from Nong Khai, Thailand. The journey takes about 13 hours and can be done on an overnight sleeper train. Hang around French-inflected Vientiane or travel a few hours north and explore the charming river town of Vang Vieng.
Weekend Trips Within Thailand
Of course, you don't have to leave the Land of Smiles to have a happy weekend away from Bangkok. Travel to Chiang Mai or Chiang Rai in the north, to famous islands like Koh Mak and Phuket or to the sex tourism capital of Pattaya. Most points in Thailand are easily reached from Bangkok by any combination of bus, plane or train.