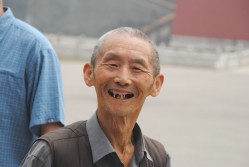 As 2011 winds down, I'm beginning to inventory myself on what I want to do in 2012 — and high on the list of priorities is finding a new place to live. Although I've been lucky enough to visit more than a dozen new countries this year, I long more than anything to live in Asia again.
If you don't already know, I lived in Shanghai, China from November 2009-July 2010, working first as a teacher of English as a second language (commonly known as ESL), then briefly as a contributor to the CNNGo website. I've additionally traveled extensively in Southeast Asia: I spent well over a month in Bangkok, Thailand alone over the course of my three visits there, for example.
Travelers are especially prone to thinking the grass is greener on the other side, so I've been careful not to build up false expectations built off romanticized memories of a past that wasn't quite as rosy as it seems in my head. This being said, it has been my experience that Asia offers the best quality of life for expats, no matter which set of metrics you use to qualify it.
In spite of the difficulties and headaches I encountered during my first weeks and months in Shanghai, I look back on the time in Asia fondly. In fact, I consider returning there more seriously with each passing day.
Positive Attitudes and Hopefulness
When I first set off to Shanghai at the end of 2009, it was after having lived in the post-recession United States without a job for the better part of the year. As if the difficult financial circumstances I'd endured hadn't been enough, the constant barrage of gloom and doom from the media, politicians and even people in my daily life was a huge psychological weight on my already troubled mind.
If you know anything about current affairs, it's no secret that Asia — and, in particular, China — is in a period of unprecedented economic growth at the moment. The region has long since emerged from its own recession, which occurred in the 1990s when the West was booming — and in a big way. This has resulted in cities and countries where work is plentiful and where the vast majority of the population is working and experiencing a progressive increase, rather than a decrease, in their standards of living.
One esoteric side effect of a healthy economy is a decidedly positive mood, whether you watch the news, listen to politicians speak or just interact with people on the streets. It was inspiring and motivating to walk down Shanghai's busy Hengshan Road and see buildings going up, people out and about and things just generally happening.
Working as an English teacher for young adults also gave me the opportunity to speak to young Chinese people, many of whom were enjoying a middle class standard of living for the first time in their lives.
The story of Daisy, one of my favorite students, was particularly memorable. Just 15 years ago, she and her family had lived on a farm in the countryside outside Shanghai and Daisy attended a poor-quality local school. Today, they live in a nice apartment within the city center and are able to supplement Daisy's university education with private English classes at English First.
Attitude is everything, they say. And in my experience, anyway, the positive, hopeful attitudes with which Asian people live their lives making being there as a foreigner a more wholly enjoyable experience then living here in the United States.
Respectful Treatment by Locals
One of the more frustrating aspects of attempting to seek new employment in the United States before I made the decision to go to Asia was how few prospective employers I contacted seemed to take me seriously. To them, the only matter of importance what that I lacked a significant amount of professional experience. My creative aptitude was neither relevant nor impressive; my deep desire to realize my life's dreams was an impediment, not an asset.
I vividly remember my first day interacting with students at English First. Rather than interrogating me about what I'd been doing for work prior to arriving in China, they wanted to know about what kinds of activities I'd like to find in Shanghai to occupy my free time. They were curious about my interests and hobbies, about my skills and accomplishments. They listened intently and completely and rather than responding with judgment or criticism, proceeded to tell me about their own lives.
This extended to many of the personal relationships I developed in Asia as well, whether with students who wanted to spend time with me outside of class or acquaintances from bars I frequented that became friends. I'd been fearful of being the proverbial "other," since here in America, we ridicule, ostracize and in some cases legally remove foreigners who try and make a home on our shores.
In China — and later in Thailand — however, I'd find the exact opposite to be true. When you walk onto the Shanghai Metro or through Lumphini Park in Bangkok, people look at you with a childlike curiosity, will ask your name in English if they  can (and if they can't, test your grasp of the language they speak). And that's just the beginning — I don't know a single foreigner who has lived in Asia without being asked to pose for a picture with a complete stranger at least once.
High Income and Low Cost of Living
Many of the benefits of living and working in Asia are of the more tangible sort. Generally speaking, foreigners earn monthly salaries that are several times higher than local people make. When I taught English in Shanghai, for example, I made RMB12,350 per month, or about $1,800 at the time.
With the exception of Hong Kong, Japan and Singapore — in other words, the most developed countries of Asia — living costs are extremely low, no matter where in Asia you choose to settle down. In Shanghai, I paid RMB2,800 (or around $440) per mont for a one-bedroom apartment in the center of the city. Some of the prospects I'm looking at in Bangkok are even cheaper!
And food? Forget it! Whether you want to enjoy a delicious jian bing breakfast crepe in Shanghai (¥2 or $0.28), Pad Thai noodles in Bangkok (฿20-35 or $0.65-1.15, depending on ingredients) or a bahn mi sandwich on the streets of Saigon (₫15,000 or $0.70), delicious, local food can be had for almost literally nothing. Even restaurant meals in Asia are extremely affordable, although alcohol tends to be expensive when you buy it at a bar.
Disadvantages of Living in Asia
Of course, living in Asia isn't all smiles and rising suns. Many potential disadvantages do exist, although most are endemic of living abroad anywhere in the world and resolve themselves after a few weeks or months — things like knowing where to edible groceries, how to ensure proper service at a local restaurant or the best way to communicate with your seemingly dumb landlord.
The most frustrating aspect of living in Shanghai for me was the fact that apartments there generally don't have central heating and cooling, which makes them frigid during the city's long, wet winter and unbearably hot during the scorching summer. The effects of the polluted air and water on my health — namely limp, lifeless hair and a perpetually broken-out face — were made even more stressful by the fact that asking someone about a pimple isn't considered taboo in China. It nonetheless bugged me.
Living happily somewhere is always a matter of balancing benefits and costs — and in the case of Asia, the benefits pretty steadily outweigh the costs.
Why then did I leave, you ask? The answer is simple: I acquired a location-independent income source and had the opportunity to travel — who wouldn't take that? Indeed, my secondary motivation in having moved to Asia — you know, besides being able to eat and put a roof over my own head — was traveling extensively.
Now that I've traveled like a madman for most of the 18 months that have passed since I departed Shanghai (and had a year to indulge in everything I missed about the West while I was away) I long to get back to the mostly peaceful, usually pleasant life I left back in the Far East.