Taiwan's capital is a decidedly modern city (even if the definition of "modern" in many districts is "mid-20th century"), so for many visitors the topic of Taipei temples can seem superfluous. Who wants to waste time seeing sacred structures that are neither that old nor that impressive when there's bubble tea to be drunk, viewpoints to be hiked and Taipei 101 looming over everything?
Baked into such assumptions, of course, is a lot of misinformation that clouds the perspective of many visitors from the outset. While it's true, for instance, that many temples in Taipei aren't all that old, a good number of them are very impressive, to the extent that I always list at least a few as the top examples of where to go in Taipei.
Below, I'll recommend some of my favorite places to say a prayer in Taipei, and also explain how to integrate each into your Taipei tour. I have a feeling you're going to be impressed by the options!
Types of Temples in Taipei
Taiwanese temples as a whole aren't as famous or well-known as they deserve to be—my means of classifying Taipei temples are totally my own, and not based on any sort of science:
City temples are structures that serve primarily as local places of worship, though they can be exemplary
Anchor temples are most interesting because they are a gateway into a neighborhood you might not visit otherwise
Viewpoint temples offer a perspective on the surrounding area, in addition to being stunning examples of architecture
It's my hope that by delineating the different sorts of temples you're likely to visit in Taipei, you can more seamlessly combine them with the rest of your Taipei sightseeing.
My Favorite Temples in Taipei
Bishan Kaizhang Shengwang Temple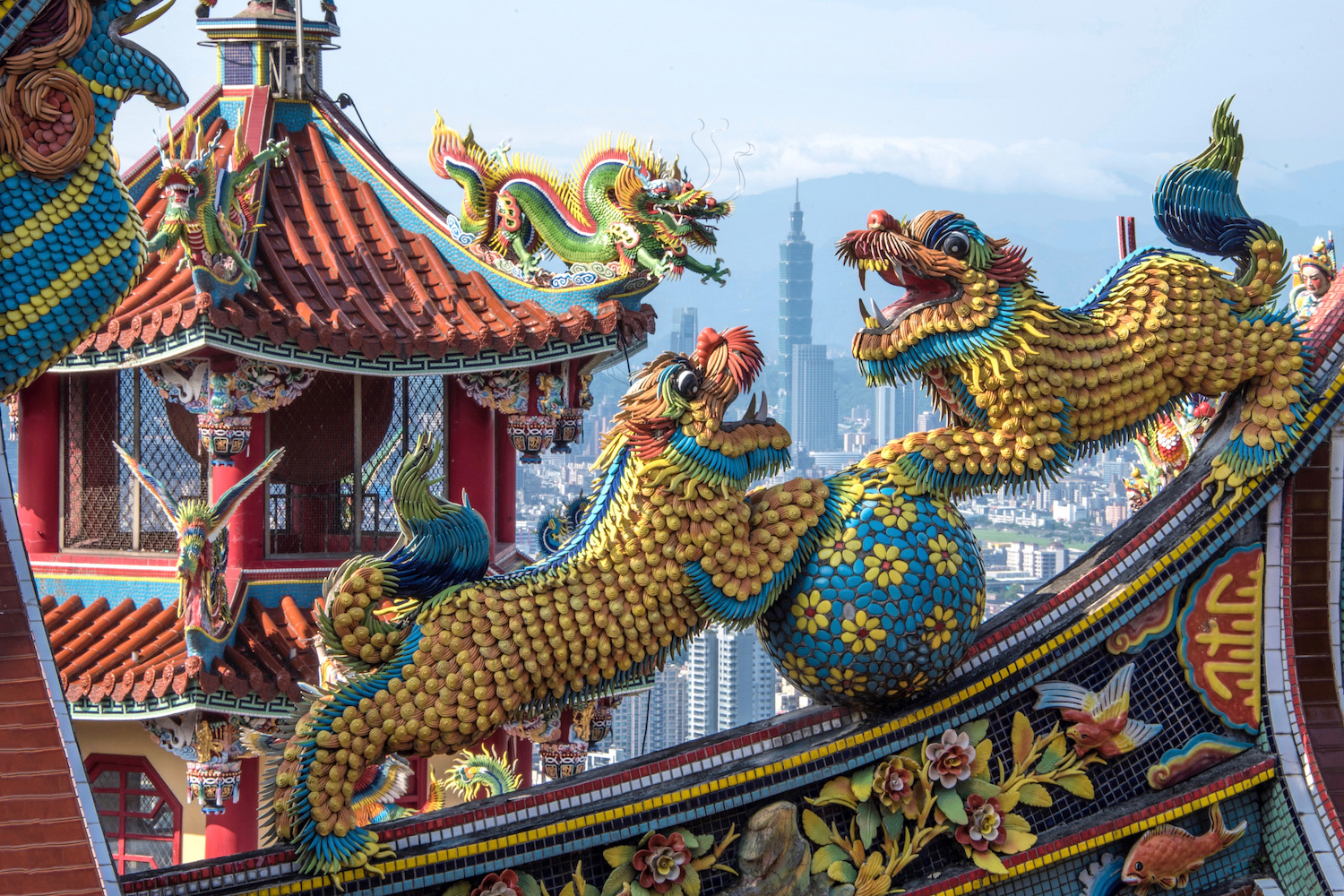 This spot doesn't often top (or appear) on lists of places to go in Taipei, but I'm telling you: Prioritize it. While the temple itself is gorgeous and massive, set atop a hill just north of Taipei's Neihu district, the real attraction of Bishan Kaizhang Shengwang Temple is the view it offers. Specifically, if you position yourself just-so, you can actually see Taipei 101 framed perfectly by its colorful phoenixes. You can walk here from Neihu MRT in about 30 minutes, but most people simply take an Uber.
Bao'an Temple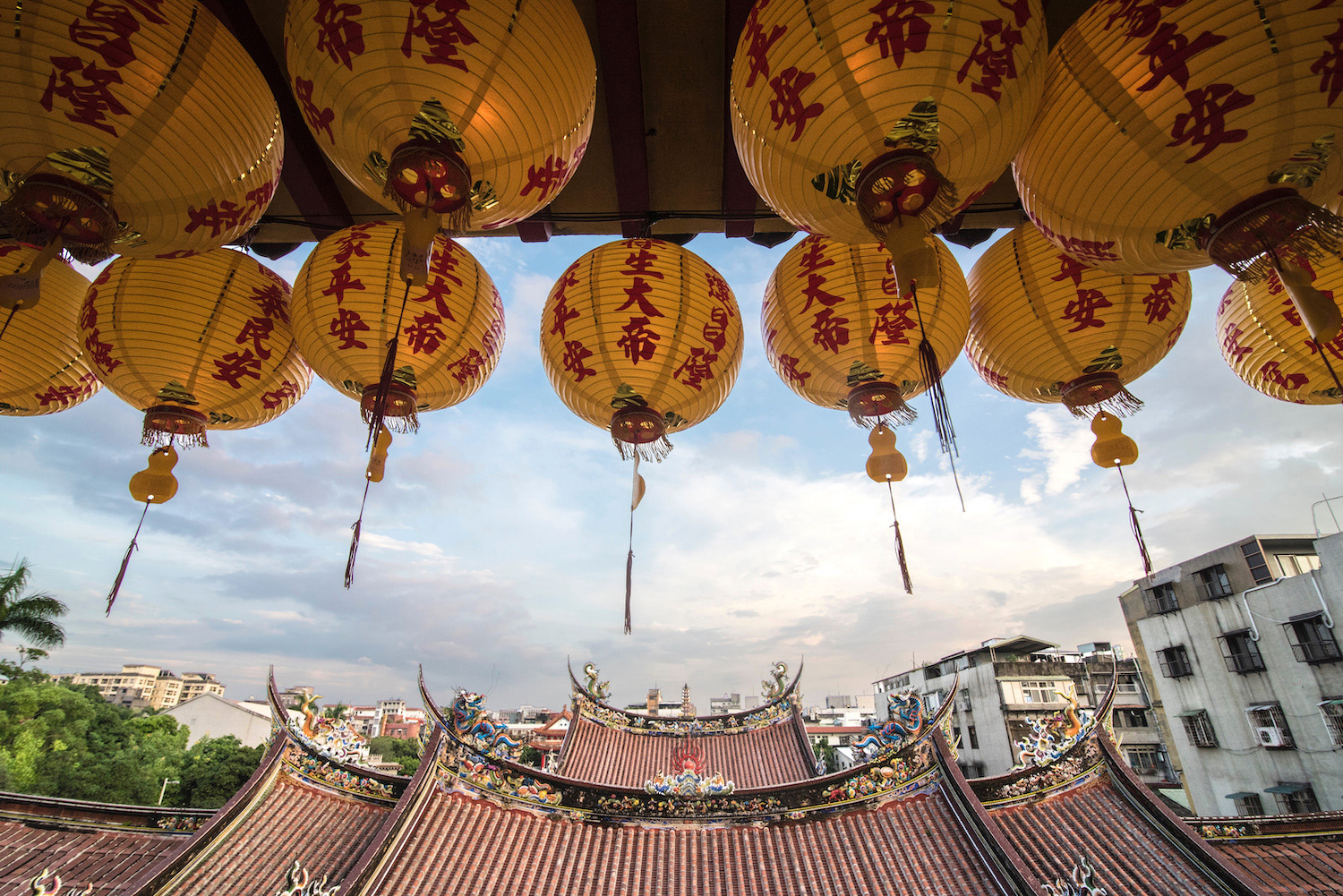 Another temple you might not see in many a Taipei travel guide is Bao'an Temple, which is located about 10 minutes by foot from Yuanshan Metro station (like the next temple on this list, as it turns out—more on that in a second). At any rate, there's another major advantage to exploring this six-story temple, besides its towering height and ornate details. Namely, you can watch airplanes land over the Yuanshan area, since Taipei's Songshan Airport sits just to the east.
Taipei Confucius Temple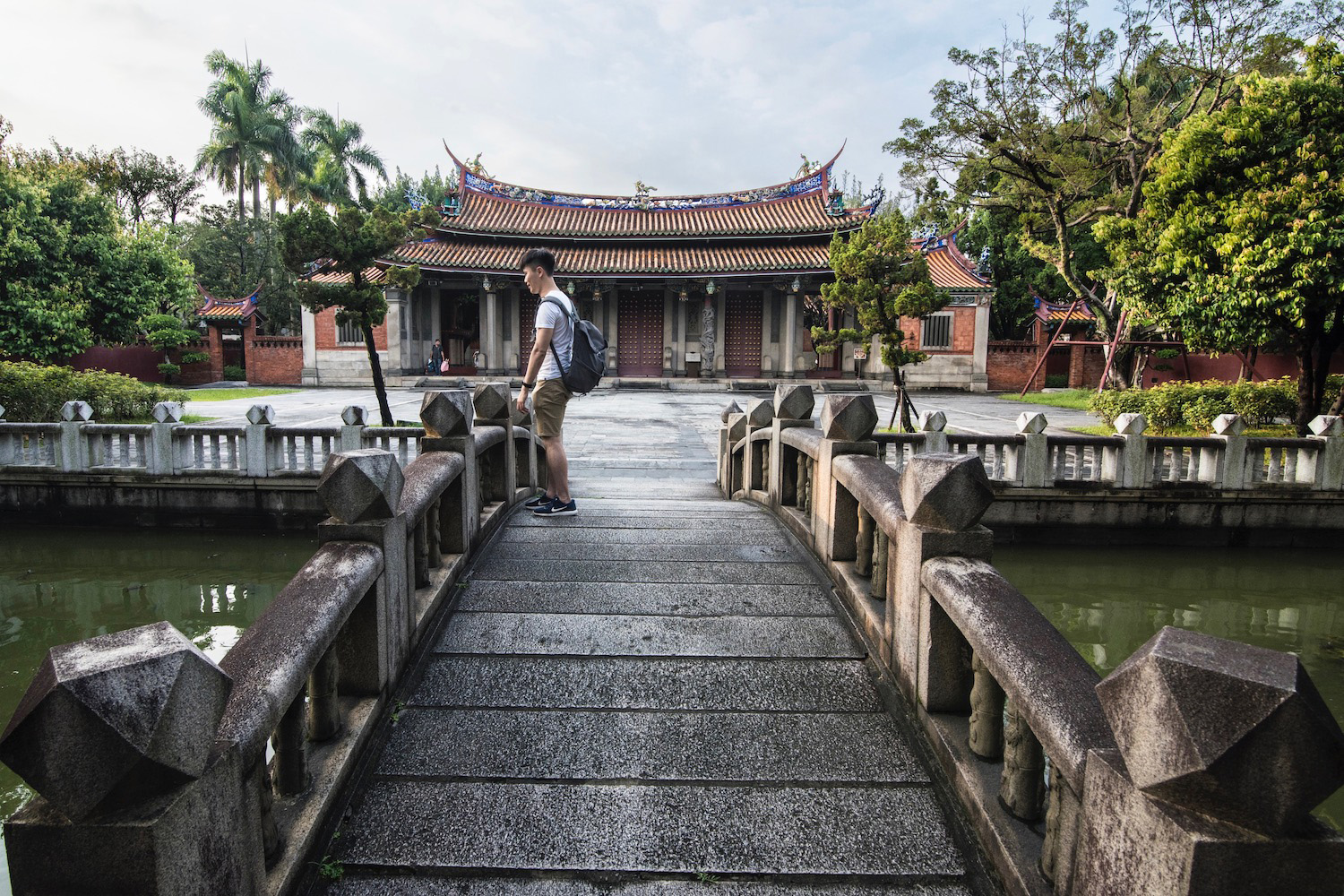 This is the first entrant on this of Taipei temples that you'll probably find in many other places online. Located adjacent to Yuanshan MRT like Bao'an Temple (and in fact, literally two minutes by foot from it), this famous temple is a grower, not a shower. (Which is to say that while I wasn't a huge fan of it the very first time I visited, I've grown to like and even love it over time). Another selling point of Taipei Confucius Temple? Performances often take place here, so you can make an afternoon of it.
Jieyun Temple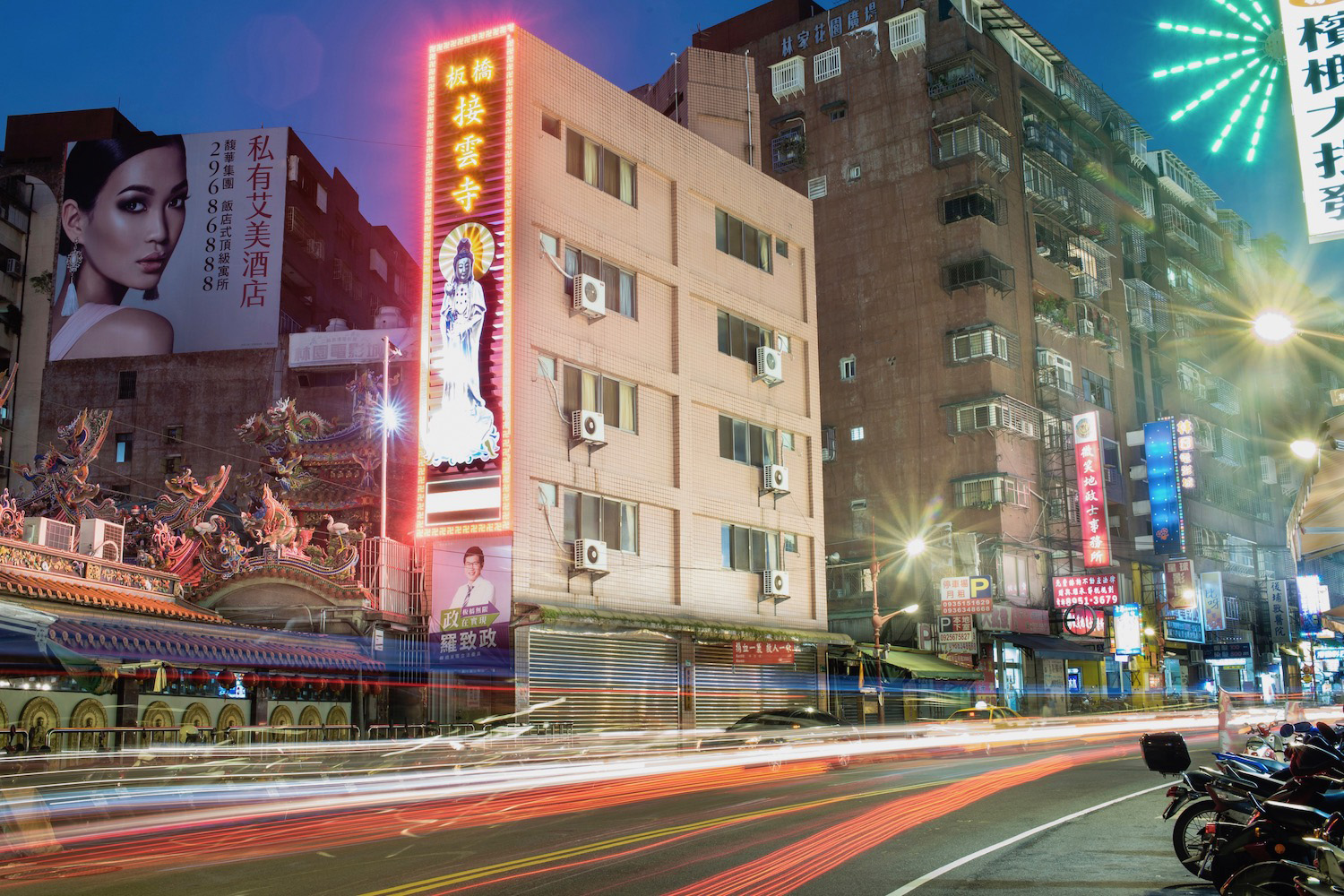 I'll be honest: The majority of traveling don't make it outside the core of the city during their Taipei trip, and that's a shame. The most worthwhile place to visit in New Taipei City is Banqiao, a district that has the hustle-bustle of the city center, but feels more authentic (and, for lack of a better word, Taiwanese) than districts like Da'an and Ximen. Among the treasures worth seeing in Banqiao is Jieyun Temple (which, in addition to being beautiful, sits nearby half a dozen amazing Vietnamese restaurtants).
Tianhou Temple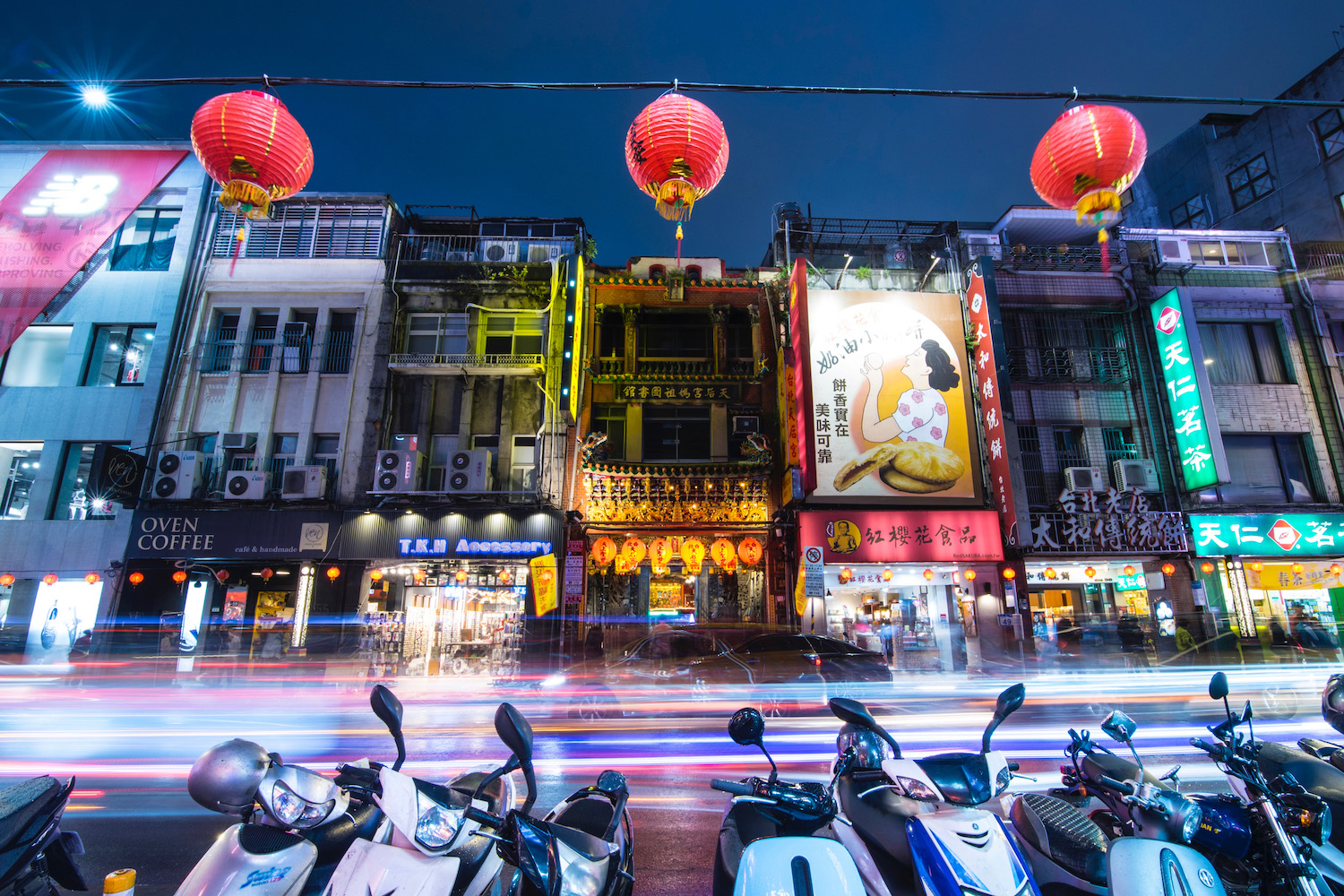 When it comes to Taipei districts you associate with temples, pulsing Ximen might not be the first. But in addition to being home to the famous Longshan Temple, Ximen is home to a blink-and-you'll-miss-it temple that's one of my favorite places in Taipei to photograph. Wedged between a coffee shop and a clothing store just one minute west of Ximen Station by foot, Tianhou Temple is beautiful inside, and also has a facade that is singular and iconic, especially if you photograph it at nighttime.
Other Traditional Architecture in Taipei
The bad news? A lot of buildings in Taipei that are meant to look old (Taipei railway station, I'm looking at you) are absolutely hideous, due in large part to architectural miscalculation on the part of the KMT, a political party that has perpetually (and inexplicably) ruled over Taiwan. The good news? There are still a few examples of attractive, traditional architecture in Taipei (that aren't temples), although these are few and far between.
The Lin Family Mansion and Garden, for example, sits just a stone's throw from Jieyun Temple, one of the Taipei temples I've listed above. Want to see quasi-traditional architecture closer to the city center? Both the 228 Martyrs Memorial Park and Chiang Kai-Shek Memorial Hall are less than 20 minutes south of Taipei Main Station by foot—and it's ironic that I associate them, given that one is dedicated to the memory of victims, and the other named for the butcher who maimed them.
Amazing Temples Elsewhere in Taiwan
Outside of Taipei, many of the most impressive Taiwan landmarks are temples. Here are a few of my favorite temples throughout Taiwan, in no particular order:
Dragon and Tiger Pagodas in Kaohsiung
Fo Guang Shan Monastery in Kaohsiung
Quanhua Temple in Miaoli
Tainan Confucius Temple
Don't plan to travel in Taiwan outside of Taipei? Not to worry. Another way to spice this up is to include some of the temples I've listed on your list of things to do in Taipei at night, when they're lit-up and beautiful.
The Bottom Line
Whether you want your trip to Taiwan's capital to focus on Taipei temples, or you simply see them as an accent, you're in the right place. Since I've been living in Taipei the past several months, I've done the work of sifting through overrated temples (cough, Longshan) and discovering ones even many locals have never heard of, so trust me when I say it: This list is legit!