My experience in China Airlines business class did not start well—though to be fair, my day wasn't going great as it was.
After arriving to the airport on a Narita Express train that was nearly 30 minutes behind schedule, I managed to get through security at what I thought was the last minute, only to find that boarding had been significantly delayed. Once at the gate, each agent insisted on performing the same document check herself, with the last one attempting to make me wait until general boarding to take seat 10A.
I was relieved when I finally got to said seat, looking out the massive window of the Airbus A350 at the Tokyo rain—leaving this behind was the only bright spot of my Japan winter trip ending. However, my lackluster experience with China Airlines' much-lauded business class didn't end when I passed through the aircraft door.
China Airlines Business Class: Soft Product
I'll get back to commentary in a minute, but let's talk facts now, shall we? Fact #1: No member of the cabin crew greeted me by name until right before our scheduled pushback time, in spite of the fact that I was the first one on the plane. To be fair, the purser was extremely friendly, and she smiled widely when I told her she had the same name as my mother.
If you don't count the welcome water (alcohol can't be served prior to departure at Narita Airport), I didn't receive a beverage until nearly two hours after boarding. Part of this is because of the long ground stop that delayed our departure by nearly an hour. But part of it is also because of what I can only describe as timidity on the part of several cabin crew members—everyone, in fact, except the aforementioned purser and one other woman.
Which is not to say this China Airlines review is just going to be a bitchfest. The service became more attentive throughout the flight, especially after the meal (which was served, with the exception of dessert, on a single dry) was finished. After cycling through several alcoholic drinks, I took a liking to the airline's black tea, which the crew seemed practically on standby to refill.
Speaking of the meal, while the Kung Pao Chicken was delicious, I thought it might've been a bit too casual for business class on an "elite" airline; the pecan tart, however, was probably the best dessert I've ever had on a plane.
If I can use one word to describe the service on my China Airlines flight from Tokyo to Taipei, it would be "disheveled." For the entire time on the ground and at least the first hour of the flight, most of the crew were running around like chickens with their heads cut off, even though none of the passengers seemed obviously demanding, present company included. I can't help but wonder whether China Airlines deploys its best and brightest on regional routes.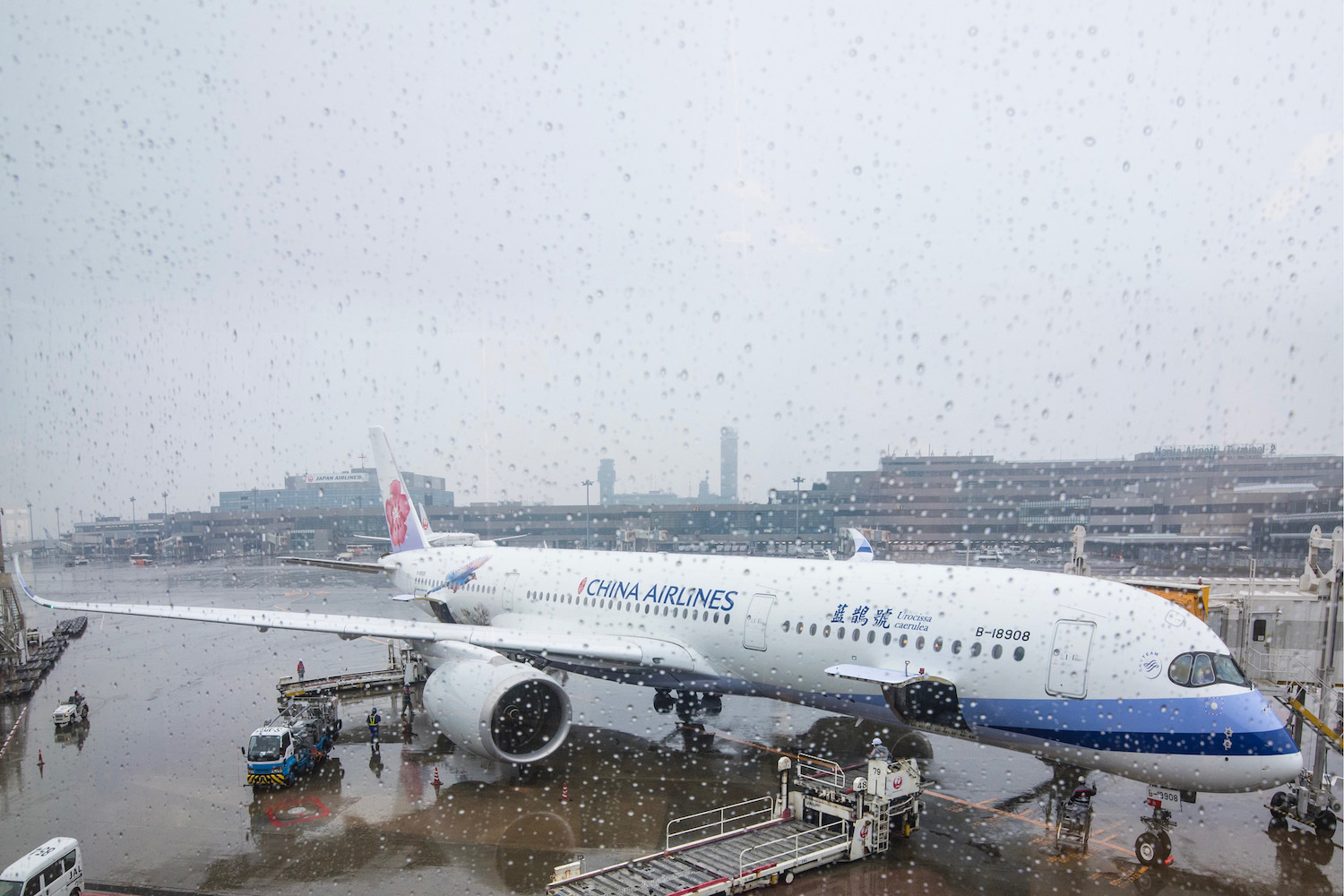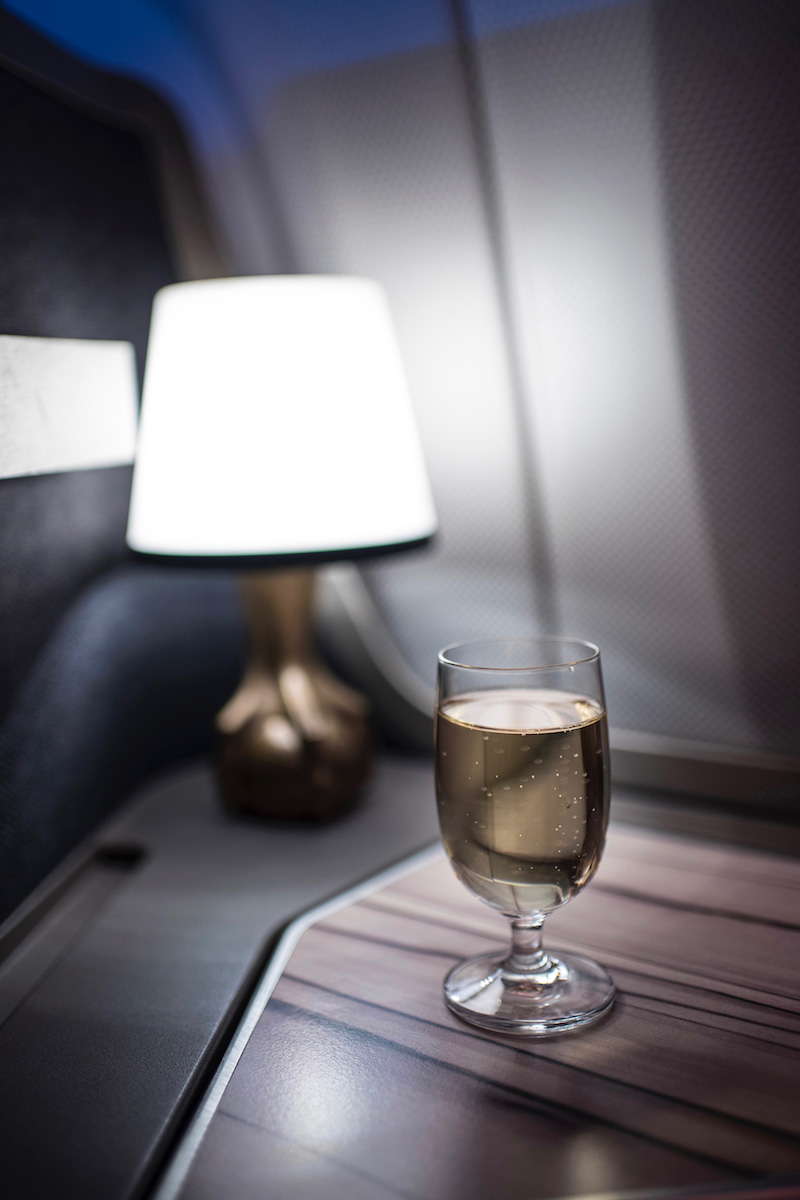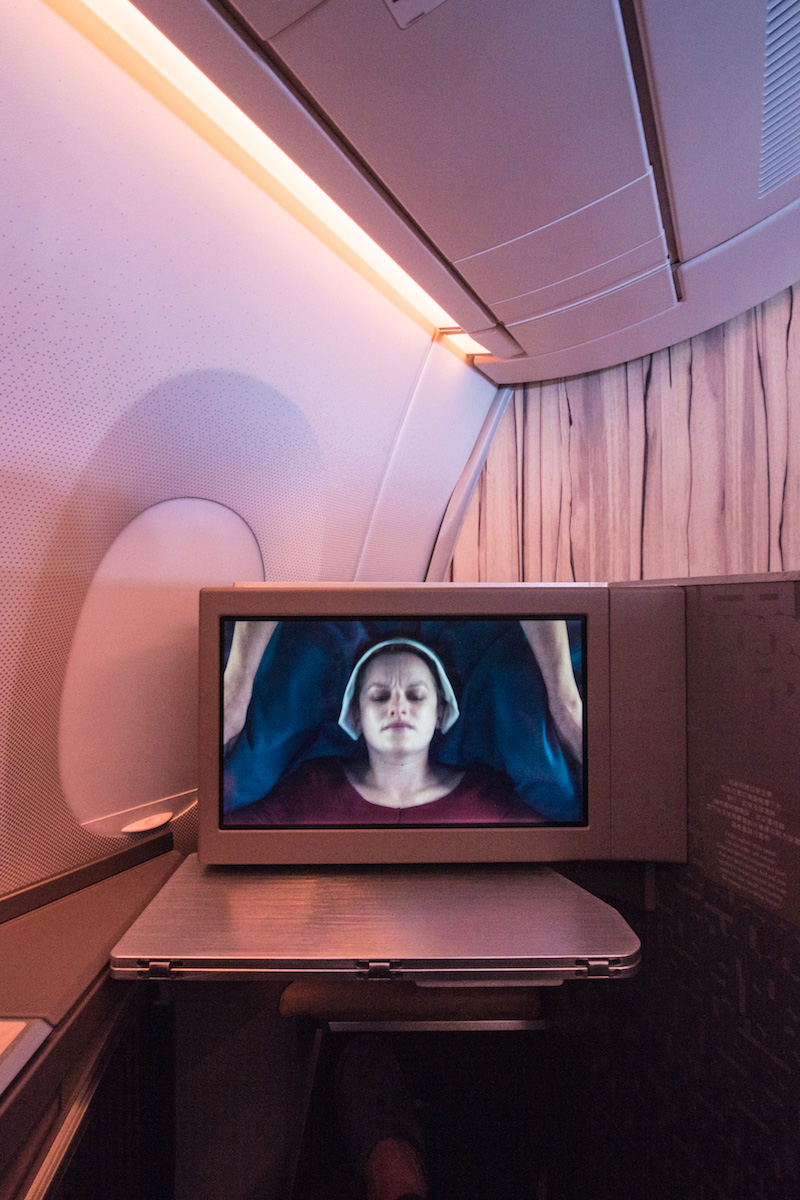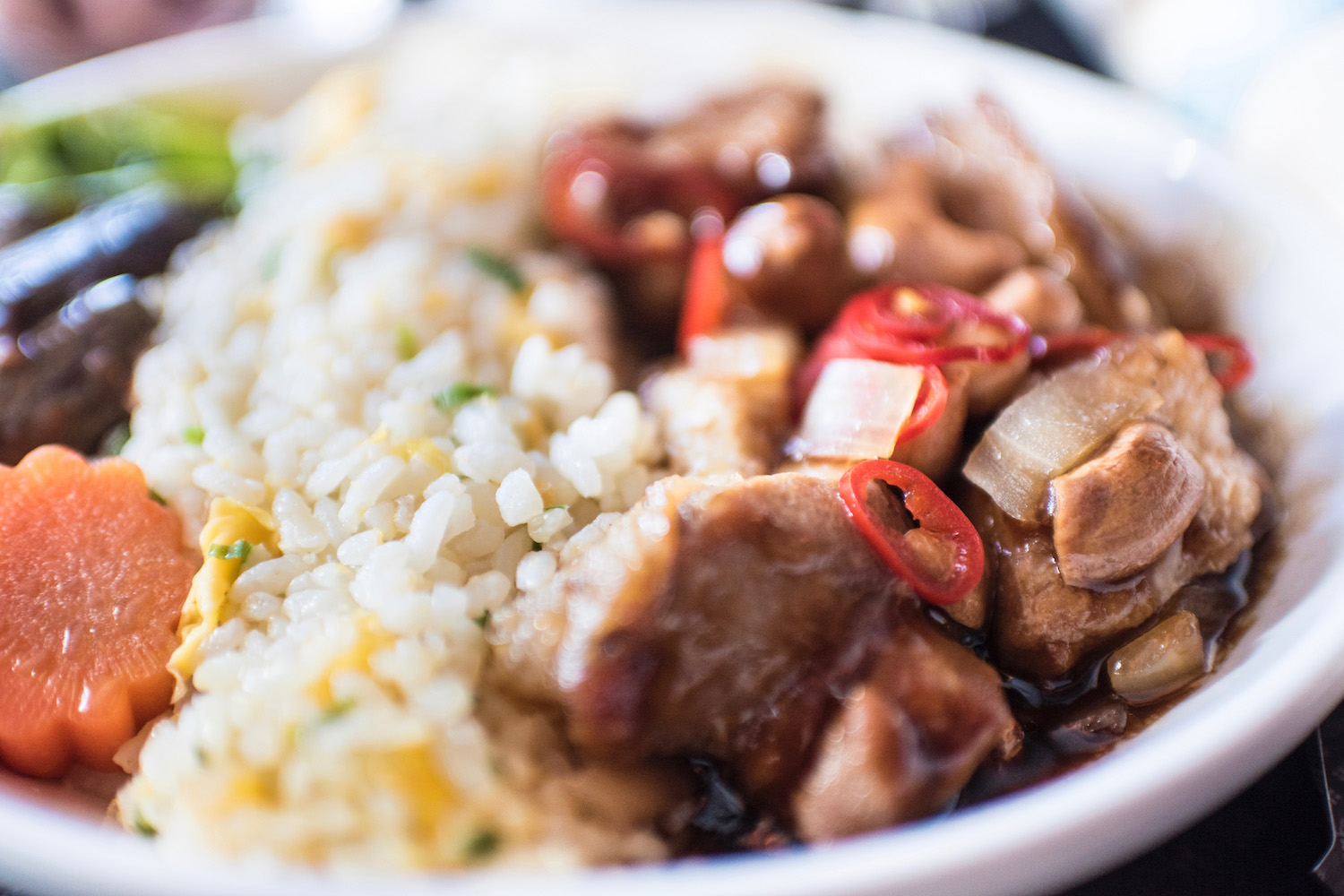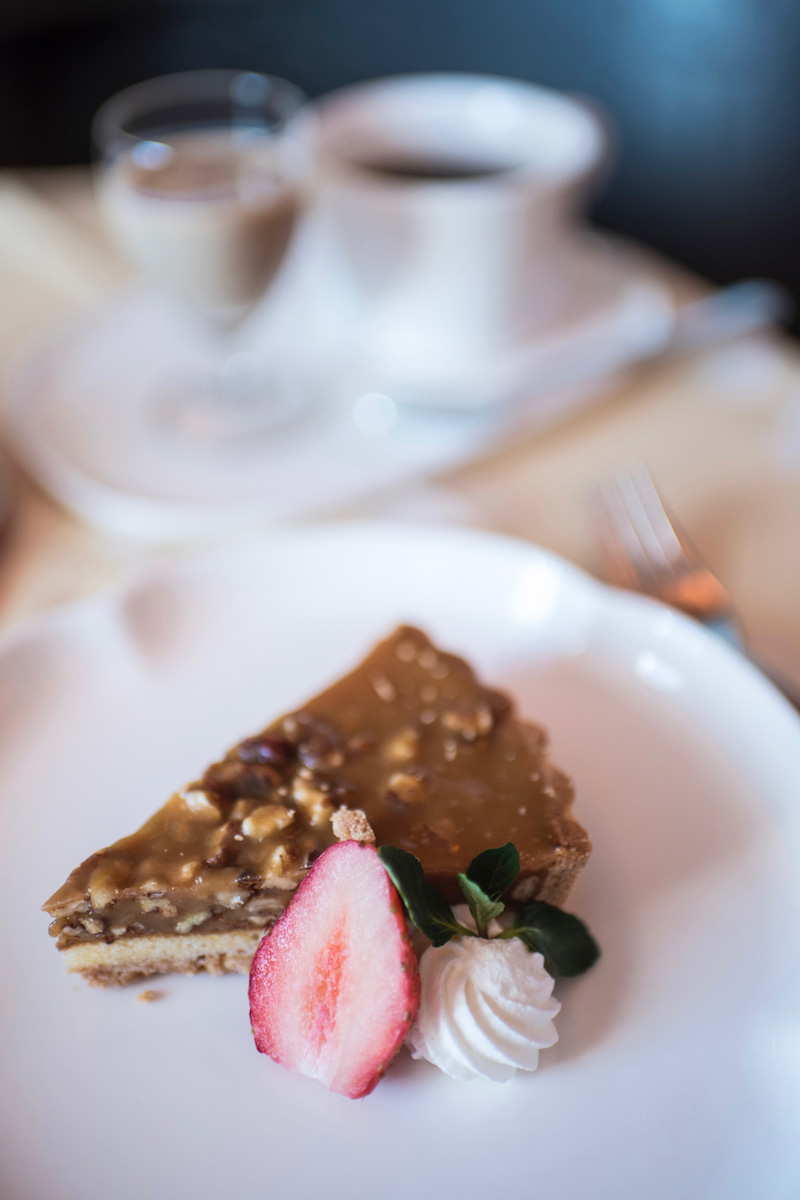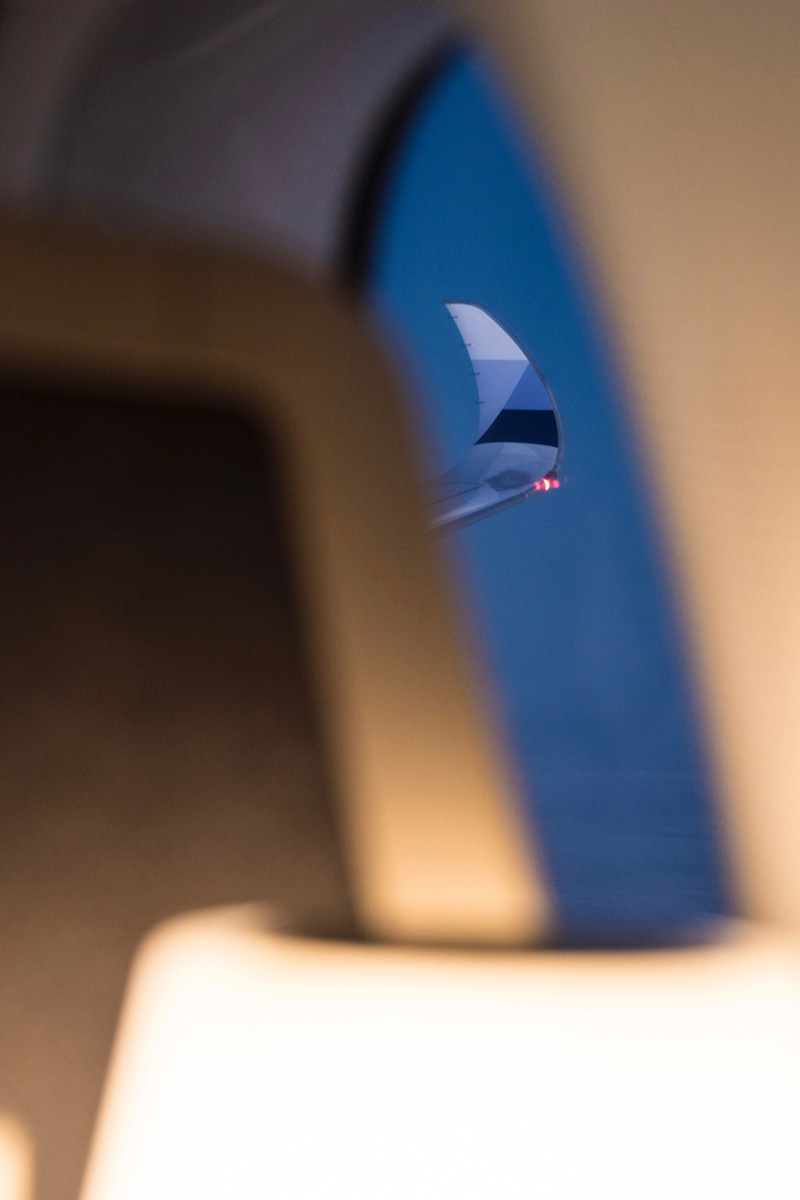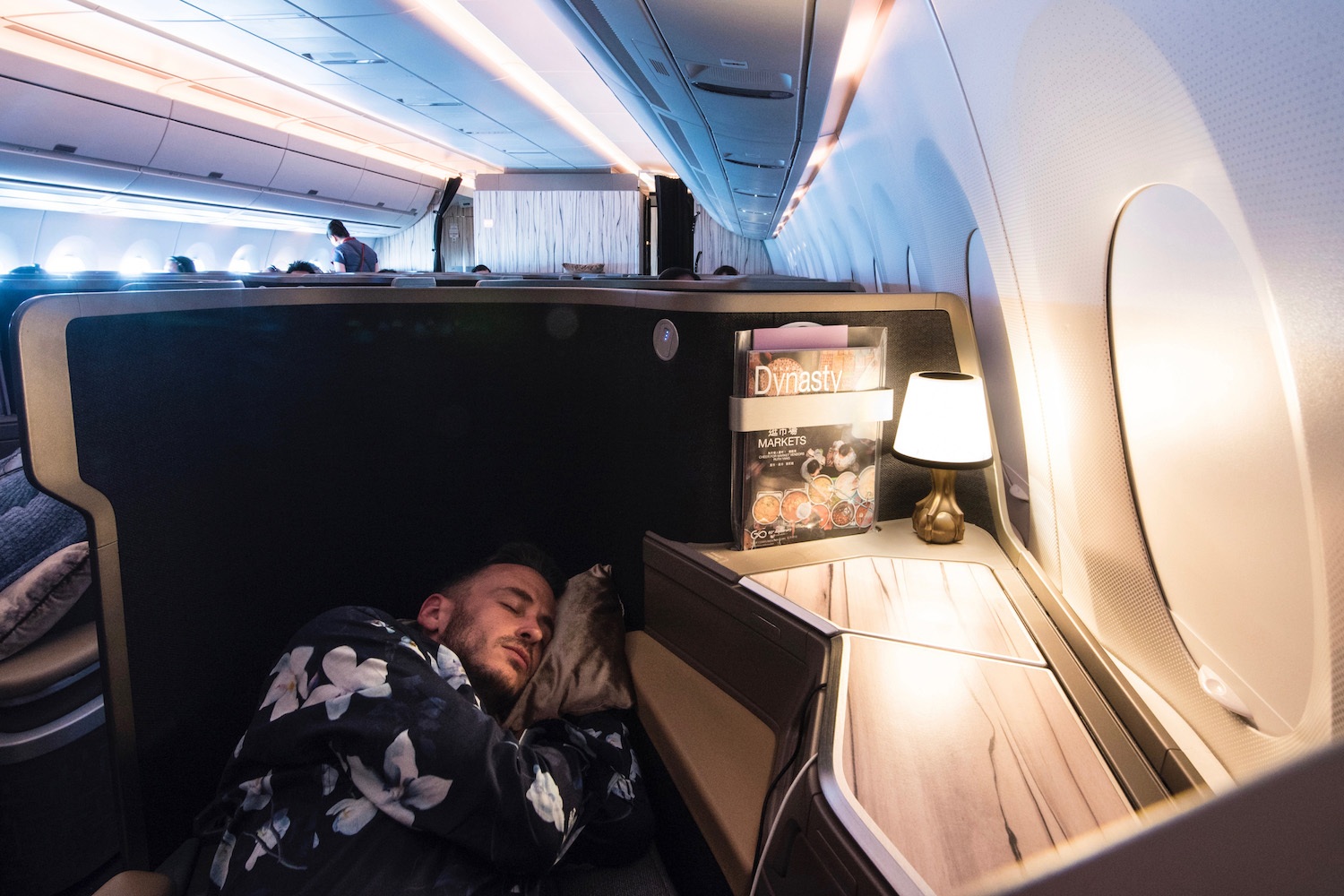 China Airlines Business Class: Hard Product
Regional service or not, I got to fly on China Airlines' newest long haul aircraft, and what is probably my favorite plane in the sky right now. As countless reviewers before me have noted, the interior of China Airlines' business class cabin is extremely attractive, which individual lamps at each seat, tasteful wood-laminate paneling (yes, there is such a thing) and accents like plush velour pillows.
Speaking of seats, China Airlines A350 business class is equipped with what seems to be every blogger's favorite one: Reverse-herringbone style in a 1-2-1 configuration. Notably, these are the same as the ones featured on the airline's older 777-300ER aircraft, which I was briefly booked to fly from Taipei to San Francisco last December.
The big picture of China Airlines' A350 business class is a beautiful one, though many small details were lacking. No-name champagne notwithstanding, the menus themselves were somewhat tacky, with bizarre imagery (why is there a strawberry on the cover of the dinner menu?), fonts and colors that are inconsistent with China Airlines' admittedly eclectic brand and a font that was just plain tacky.
Likewise, the interior of the restrooms left a lot to be desired. It was poorly stocked, with only facial lotion and an identically scented (citrus something-or-other) eau de toilette spray. It also lacked any sense of decoration, neither the finishes of the cabin itself, nor the lively touches (I'm thinking fresh-cut flowers) that most Asian airlines have as a bare minimum.
My flight wasn't long enough to comment much on the comfort of the bed, but I do give China Airlines kudos on its screen (which is massive and very high-resolution) and the selection of IFE, which is one of the most substantial I've seen on an Asian carrier.
Is China Airlines Business Class Overrated?
Many a China Airlines review on the internet—no, most of them—are glowing. Whether (rightfully) praising the beauty of the business class cabin, or speaking highly of the crew and in-flight catering, I actually don't think I've read a negative review of China Airlines business class.
On the other hand, as I alluded to earlier, I can't help but feel that sampling the airline (on a long haul aircraft or not) during a relatively short flight was a big part of the reason I felt so short-changed. Most reviews of China Airlines are on flights to the US/Canada and Europe (or, at least, Australia and New Zealand), and I can't help but wonder if flight crews try harder on such long flights.
Which is not to give China Airlines a free pass: The airline did not live up to the expectations that I had of it, period. And I say this without having flown my second regional segment (Taipei to Bangkok), which is on an even older aircraft (an Airbus A330 in 2-2-2 configuration) no less. I'm typing this from the airline's newest lounge at Taoyuan Airport, which is visually stunning, but features subpar food and drink selection, and a very raucous clientele (this is admittedly not China Airlines' fault).
Although I'm open to have my mind changed in the future, I did feel disappointed by China Airlines business class. I do believe it is slightly overrated, but to be fair I also feel that way about industry darlings like Qatar Airways and Singapore Airlines.
How to Book China Airlines Business Class
Both on my aborted Transpacific journey late last year as well as on this shorter pair of regional hops, I used Delta SkyMiles to book my China Airlines business class flight. While the BKK-TPE-SFO flight I never took would've cost me 85,000 miles one-way, I spent just 40,000 miles one-way to fly from Tokyo to Bangkok via Taipei. Not a great rate, in my opinion, but better than I expected using a miles and points currency sometimes known as "Sky Pesos."
To be sure, now that Korean Air is no longer a Chase transfer partner, and since Air France/KLM have such strange redemption schemes, I do feel Delta (an American Express Membership Rewards transfer partner) is the most effective way to book China Airlines awards, though you can leave suggestions for an alternate method in the comments, if you have them.
The Bottom Line
My China Airlines review might seem harsh, but sometimes that's how the cookie crumbles. I wanted—and expected—to be wowed by China Airlines business class, but walked off the plane more than a little disappointed. Although the A350 is a beautiful plane inside and out, and certain elements of the meal and in-flight service were excellent, I definitely didn't feel like I was on an industry-leading airline. I also couldn't shake the feeling that flying regionally within Asia (even if I was on a long haul aircraft) subjected me to a sub-par experience, which is also a somewhat problematic truth about China Airlines.