Ganesh is one of the most beloved gods in India; rotund, elephant-headed and multi-armed; the son of Lord Shiva and his consort Parvati — Ganesh is the first god honoured during pujas, and he is the bestower of luck and remover of obstacles.
In honour of Ganesh Chaturthi — the 10 days of birthday celebrations and worship — I am posting some of the best photos I have seen of the massive parade and the immersion of the clay Ganesh idols in the Arabian Sea off the coast of Mumbai.
The photo above is from the GoIndia.About.com site which has a great guide to Ganesh Chaturthi — how the idols are made, where the best ones are located, etc. The editor, Sharell Cook, lives in Mumbai and stays on top of happenings there and in India in general. It's a great resource for news, information and fascinating stories. Following are the other five top photos.
The photo below is by Sephi Bergerson, a travel and documentary photographer based in India. He is running a photo workshop in Mumbai for Ganesh Chaturthi (plus, he has other photo workshops on his site — such as Indian street food — that look equally interesting).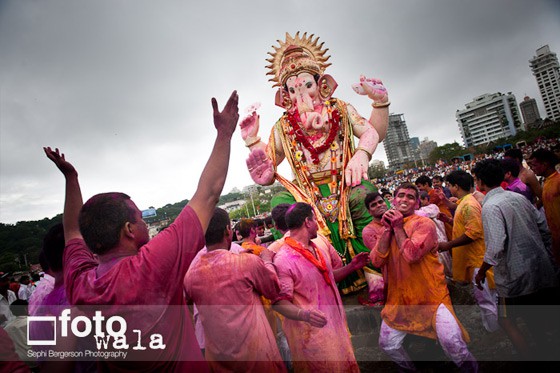 The photo below comes from The First Post's Pic of the Day page.
These two photos, below, come from Boston.com's The Big Picture feature. There are 36 eye-catching photos in total in this feature, which covers several exuberant and colourful Hindu festivals.
This photo, below comes from Digg Mumbai –– a site all about Mumbai, for Mumbaikers.