Truth be told, although I've been curious about Cathay Pacific Airlines, I haven't been in search of the best business class to Asia, though it might seem that way perusing my latest reviews, which have included Japan Airlines and Korean Air, among others. I have been aching to review Cathay Pacific business class for a long time, however, so when it an opportunity presented itself I didn't hesitate.
As has been the case with many of my past write-ups, this one will focus less on minutia than most Cathay Pacific reviews, and instead try to paint a more experiential picture, perhaps even an esoteric one. Care to come aboard Cathay's brand-new Airbus A350 with me?
Cathay Pacific Business Class Seats & Entertainment
The seed that sparked my desire to review Cathay business class was an economy class flight a couple years back, on a brand-new A350 painted in the airline's flawless new color scheme. Seeing the gigantic reverse herringbone seat, which was impeccable coordinated with the plane's minimalistic cabin, made me practically thirsty to review it for myself. (Though I must say, for the record, I didn't intend to match the plane so perfectly on my flight!)
My flight from Vancouver to Hong Kong was particularly enjoyable, since I had the "mini cabin" (Rows 20 and 21 on this seat map) all to myself. One of the friendly flight attendants (who asked me if I was a blogger, and got super excited when I told her I was) invited me to move up to the front cabin, but quickly agreed with me that I'd lucked out and should stay.
I took full advantage of the entertainment system on Cathay Pacific (for the record, it's probably the best I've ever seen on an Asian carrier), watching the films Lady Bird and Red Sparrow and listening to an hour long Japanese lesson before settling in for one of my best sleeps in the sky ever. I was curious about Cathay's inflight WiFi, but since I've come to view the sky as a sanctuary away from the internet, I didn't end up taking advantage of it.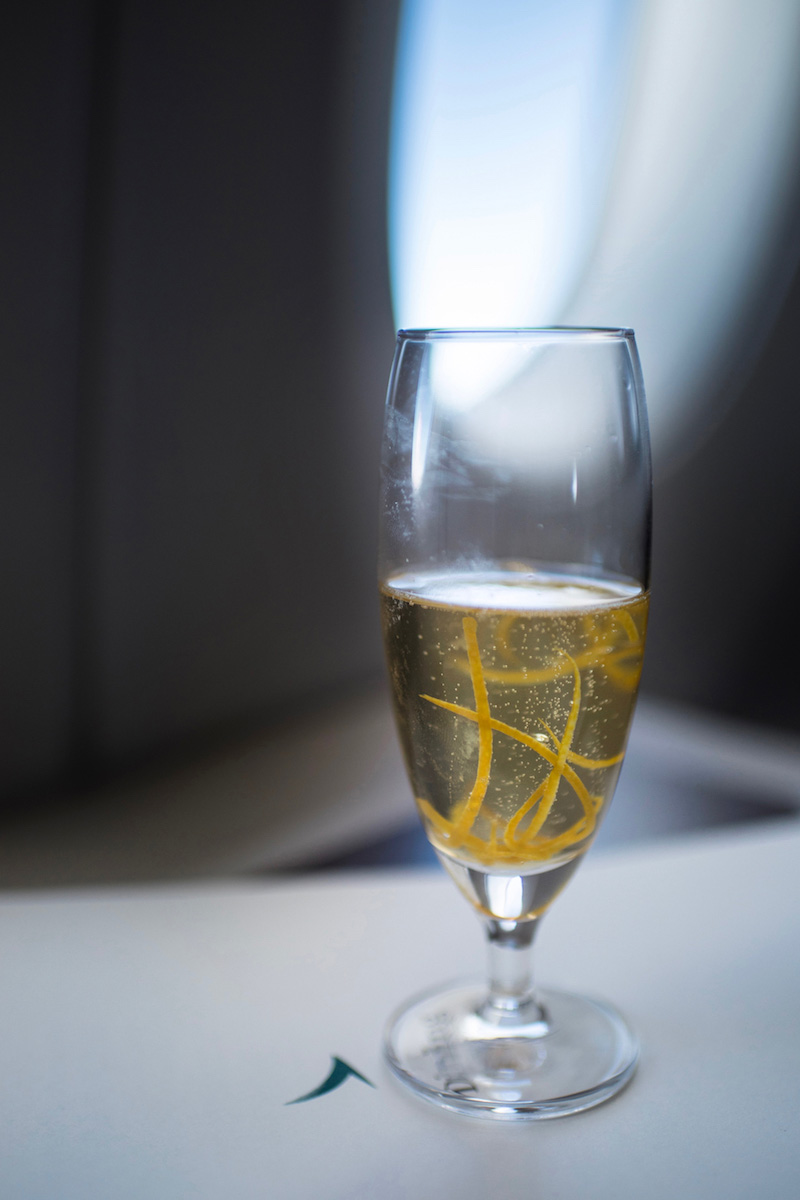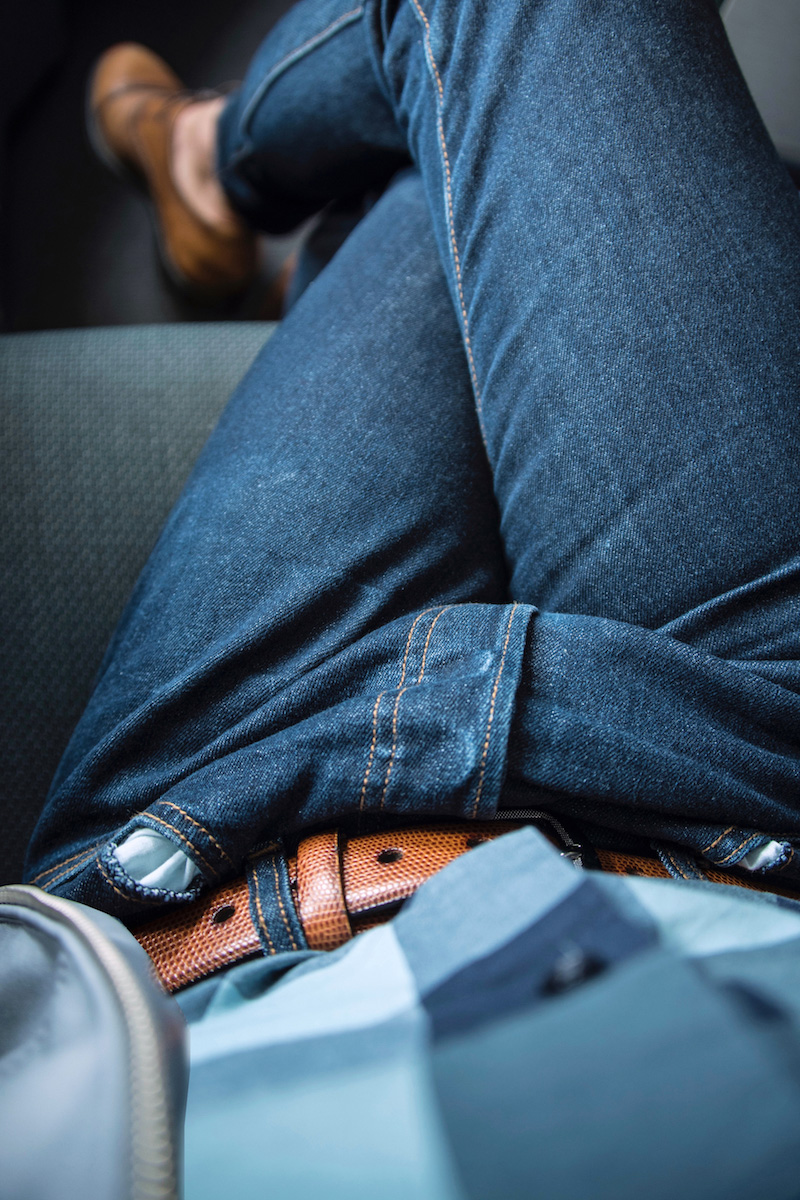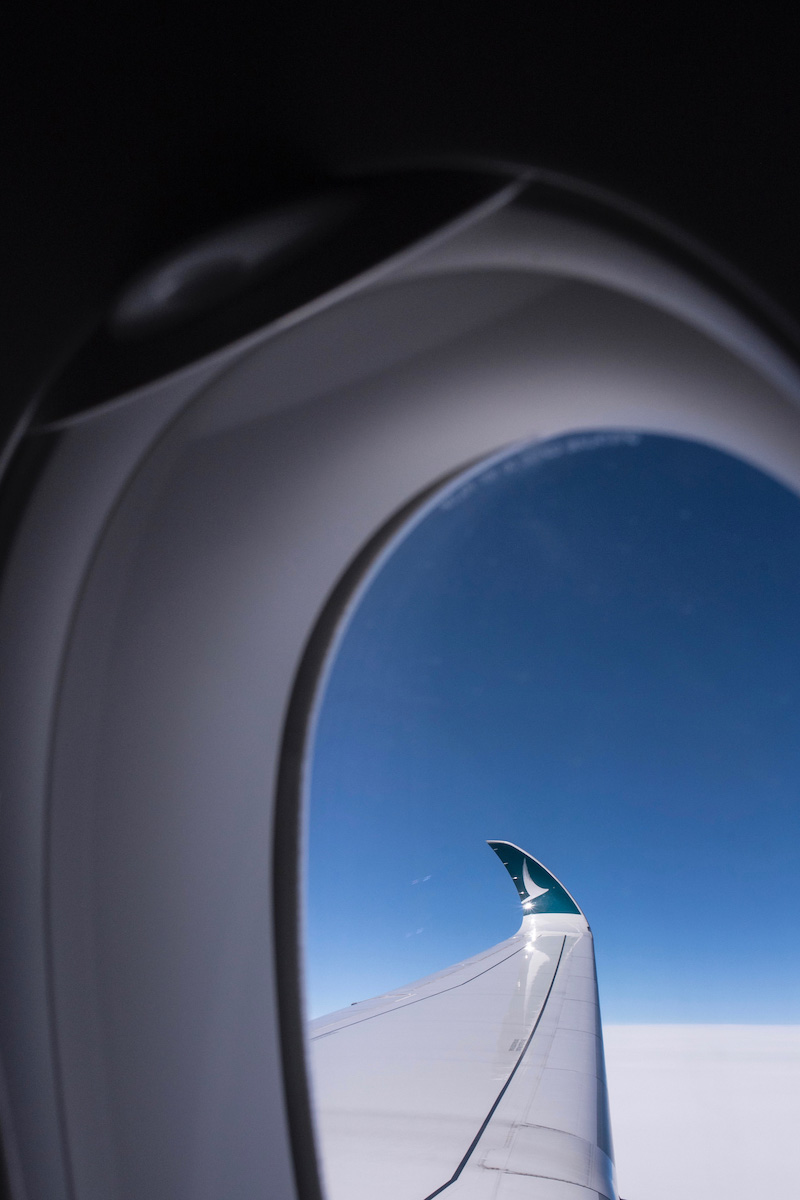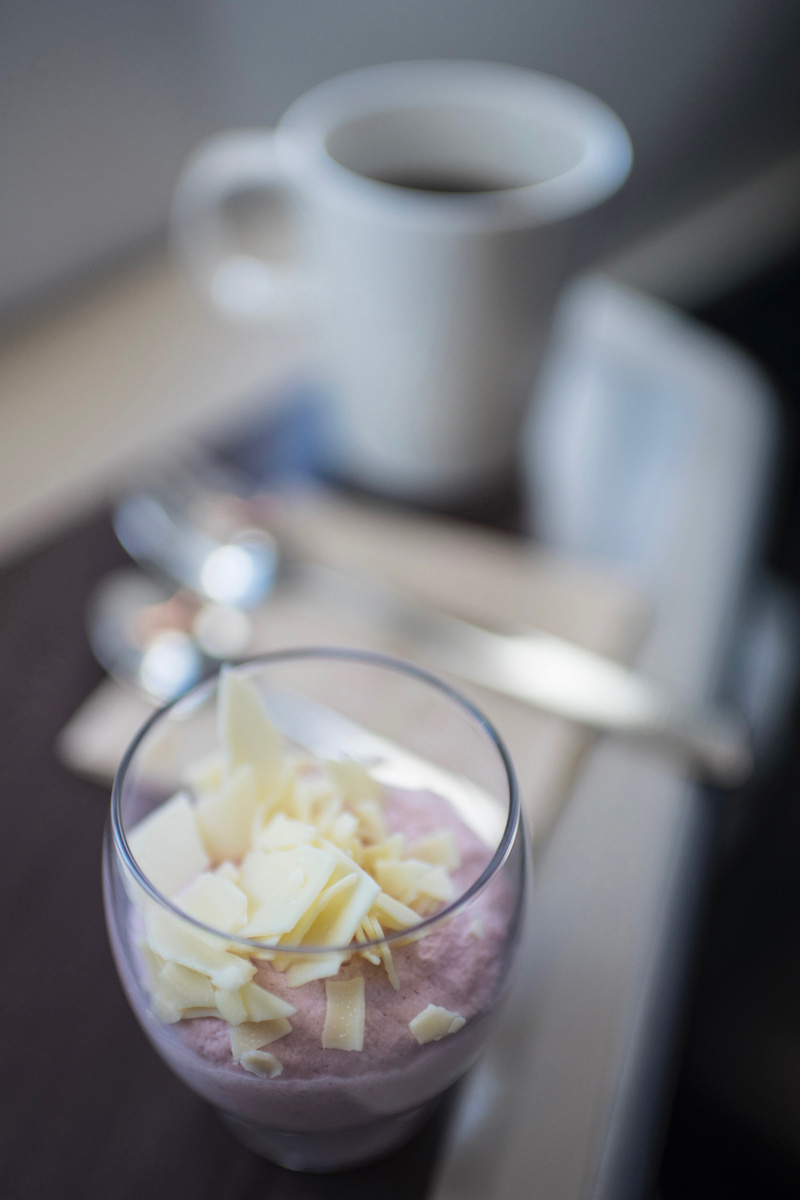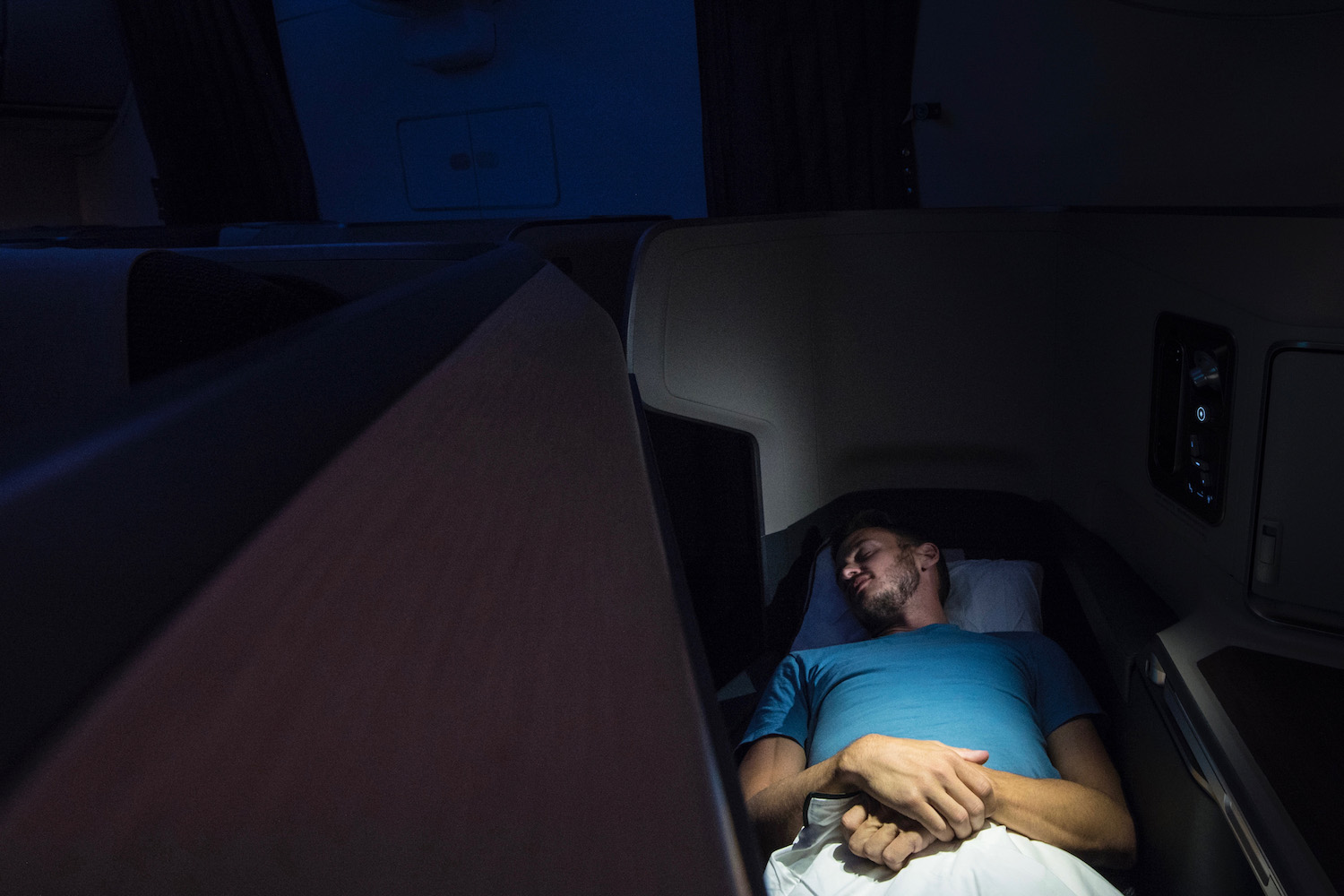 Food & Service in Cathay Pacific Business Class
I've never been a huge nut person—and I've never understood their ubiquity on planes. Thankfully, by the time my Cathay Pacific business class meal service began, I had a fruity glass of the airline's own "Pacific Sunrise" cocktail in my hand, and was flipping through a menu that was thoughtfully designed, both in terms of the delicious-sounding items contained in it, and the red stitching along its spine.
The meal service was surprising throughout. Cathay's famous garlic bread, for example, was forgettable; while the Cod with Saffron Cream sounded like it would be the most delicious lunch item (to say nothing of how familiar its description rang), the seemingly pedestrian Sweet Chili Pork was the most appealing item on the cart that rolled by. (Yes Cathay serves from a cart—and no, I'm not sure how I feel about it.)
Other highlights of my meal included a raspberry mouse topped with white chocolate shavings, a burger served halfway through the flight that was better than what you find at most restaurants in Asia and a cheese plate that didn't only include pungent European varieties I can't stomach. Moreover, the cod dish served just before landing proved immensely more satisfying than the one at the beginning of the flight.
I felt satisfied (and full) as the plane landed, but also apprehensive: Barring an aircraft substitution, the next leg of my Cathay Pacific business was going to pale in comparison to this one.
Regional Business Class on Cathay Pacific
If you're weighing a Cathay Pacific upgrade to business, this is the most important section of my review to consider. To be frank, if you'll be flying on a regionally-configured aircraft (i.e. the ones that operate most flights within Asia), I wouldn't think twice about spending your hard-earned miles or money—the product on offer aboard Cathay's regional A330 and 777 aircraft are so poor I can't believe they sell it under the same name.
The product and the service, I'm sad to say. To be sure, the only thing worse than sitting in a 90s style 2-2-2 configuration is having an inept (but kind, to her credit) stewardess elbow you in the face every time she serves drinks to the woman sitting next to you. And the only thing worse than that is seeing that the non-beef portions of your beef entrée (namely, the broccoli and rice) are burnt beyond recognition.
Of course, there are other factors to consider when weighing whether or not to fly Cathay Pacific business class on the A330. There's the lounges at Hong Kong airport (in my opinion most are unremarkable, though I do love the "Noodle Bar" at The Pier), presuming you're connecting here, or can pull yourself away from magnificent Hong Kong itself early enough to explore the lounges before departure.
Additionally, if you can score a serious bargain (such as the one that allowed me to sample Hong Kong Airlines last year), even a sub-par aircraft might end up being worth it.
Booking Cathay Pacific Business
When it comes to Cathay Pacific flight booking, many options exist—and many constitute an excellent value. For North America to Asia (Southeast or otherwise), the cheapest way to book Cathay Pacific business is to use Alaska MileagePlan miles. Awards cost just 50,000 miles one-way as of June 2018, though availability isn't always great. Cathay business class costs slightly more AAdvantage miles (between 60,000-70,000, depending on your final destination) but availability booking with American is much better than it is booking with Alaska.
Unfortunately for me, I primarily had British Airways Avios when I decided I'd fly Cathay back to Thailand after a family visit in the States, so I got stuck with one of the worst rates you can get for Cathay Pacific business—105,000 Avios one-way, from Vancouver to Bangkok. (The plus side, of course, is that I didn't have to buy top-up miles for another program, or peruse Cathay Pacific cheapest fares instead of booking with miles.)
The Bottom Line
Whether you're tempted to book Cathay Pacific business class or are simply weighing your options for a trip in the distant future, the airline offers a competitive product and service—if you get the right aircraft. The food and service in Cathay business is dramatically better on intercontinental routes, too, than it is within Asia.  I'm troubled by recent rumors that Cathay will incorporate more LLC elements into its core business, but if they don't get regional aircraft up to par with their long haul A350 and 777-300ER fleet, they might not have a choice.