For Beijing and me, it was love at first sight, so I was surprised when I nearly fell victim to a taxi scam in the basement of Capital Airport a few weeks ago, upon arriving for a couple days before my Mongolia trip. Previously, I'd always taken the train into the city, but decided to get a cab this time on account of the hour of my arrival and how many days in Beijing (or rather, how few) I planned to spend.
"260 yuan," the girl declared in English, without flinching, and obviously unaware this wasn't my first time at the rodeo. "That's the official price."
Had I been less exhausted, I probably would've summoned the minimal Chinese I remembered to tell where where she could stick her liang-bai-liu-shi kuai, but instead I simply walked to the end of the main taxi queue, where I ended up paying just over ¥100 to ride in the private vehicle of a caffeinated young man who had five cellphones, all of different makes and models, mounted on his dashboard.
To an outside observer, it might seem miraculous that I ended up at my Beijing hotel in one piece just 20 minutes later.  But there's always been a current of serendipity under my Beijing trips, no matter how many days in Beijing I end up staying—I hope the same will prove true for you.
A Bulletproof Beijing Itinerary: The tl;dr Version
No matter how many days in Beijing you plan to spend, you're going to focus on these Beijing attractions, almost without exception:
Tian'anmen Square and the Forbidden City
Lama Temple
Temple of Heaven
Summer Palace
Bird's Nest Stadium and the 2008 Olympic Park
Traditional Hutong houses around Houhai lake
Sanlitun Nightlife and Shopping District
The Great Wall of China
For more ideas about how to spend your days in Beijing and elsewhere, make sure to check out my one month in China itinerary.

Where to Stay in Beijing
I've stayed in my share of Beijing hotels over the years and loved Renaissance Beijing Capital Hotel, whose guest rooms don't actually offer the CBD view teased in the hotel's marketing materials. In my opinion, the best place to stay in Beijing sits between these two extremes both in ambiance and cost: Shichahai Shadow Art Performance Hotel, a boutique property located a short walk from Houhai. Of course, depending how many days for Beijing you've set aside, you could stay a couple different places during your trip.
Top Things to Do in Beijing
Historical Beijing Attractions
Regardless of how many days in Beijing you have to spend, head first to Tian'anmen Square and the Forbidden City—I know I always do. Another great place to go in this part of Beijing, where the contrast between the ancient/imperial and modern/communistic parts of China's past is jarring, is Jingshan Park. At the pagoda that sits atop this green space, you get a panorama not only of Beijing's historical center, but (on a clear day), the Beijing CBD as well.
Other places to visit in Beijing, of the historical sort anyway, are the Tibetan-inspired Lama Temple and the iconic Temple of Heaven. Assuming you're "temple'd out" by this point—no shame in the travel game!—make the hour-ish underground journey to the Summer Palace, which I've ironically found is more enjoyable (and, without a doubt, less crowded) during winter.
Beyond this, many of the things to see in Beijing are best enjoyed at night, particular the traditional hutong water houses (which, if you can believe it, were not so long ago the main type of structure in the city) you find near Houhai lake and in the Shichahai district. A dear (but estranged) local friend of mine once had an apartment here, so walking through the narrow lanes is always an emotional experience for me, to say nothing of the great photos I tend to take there.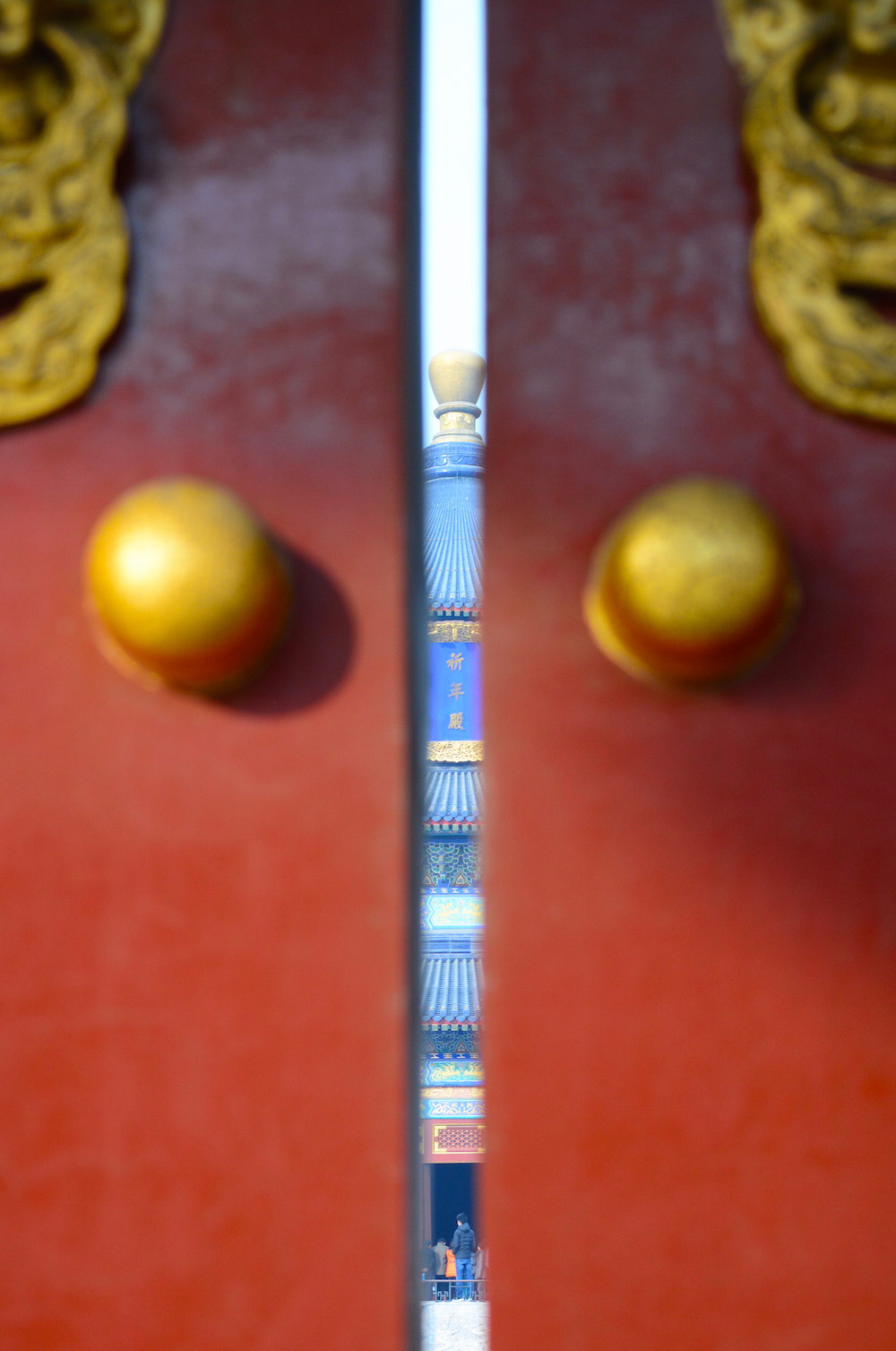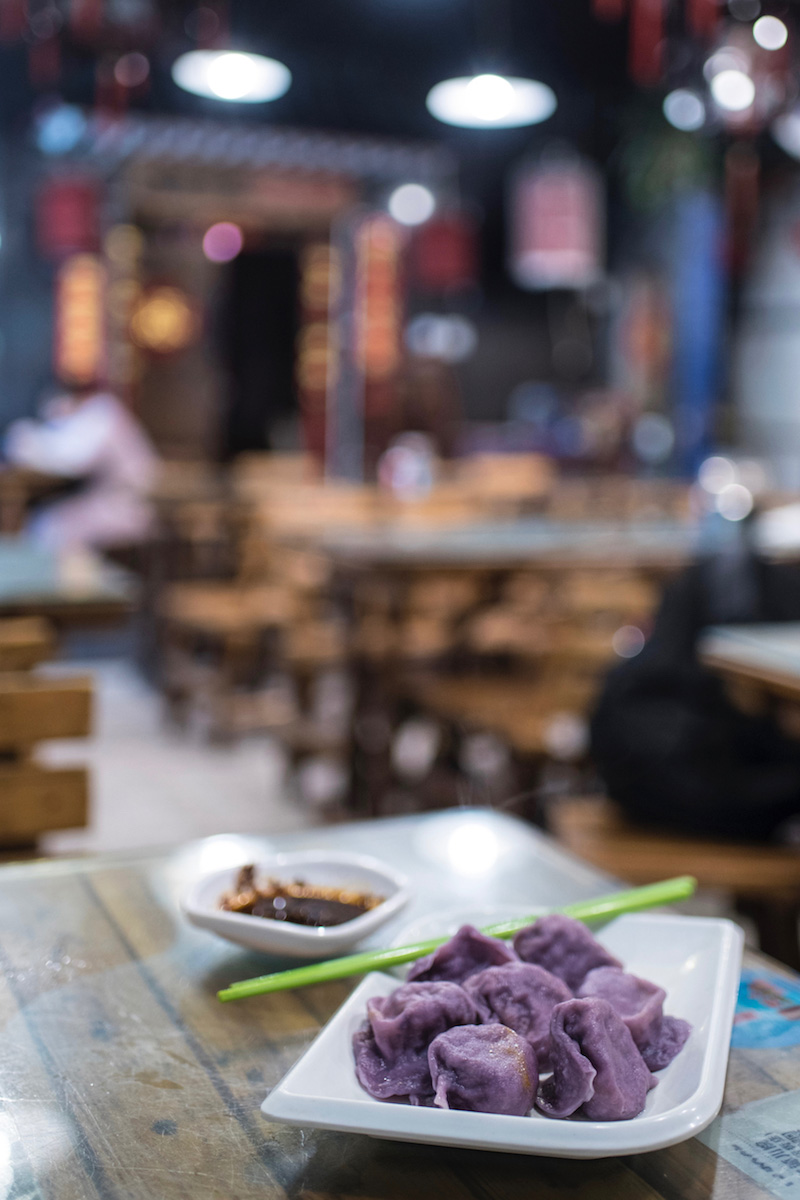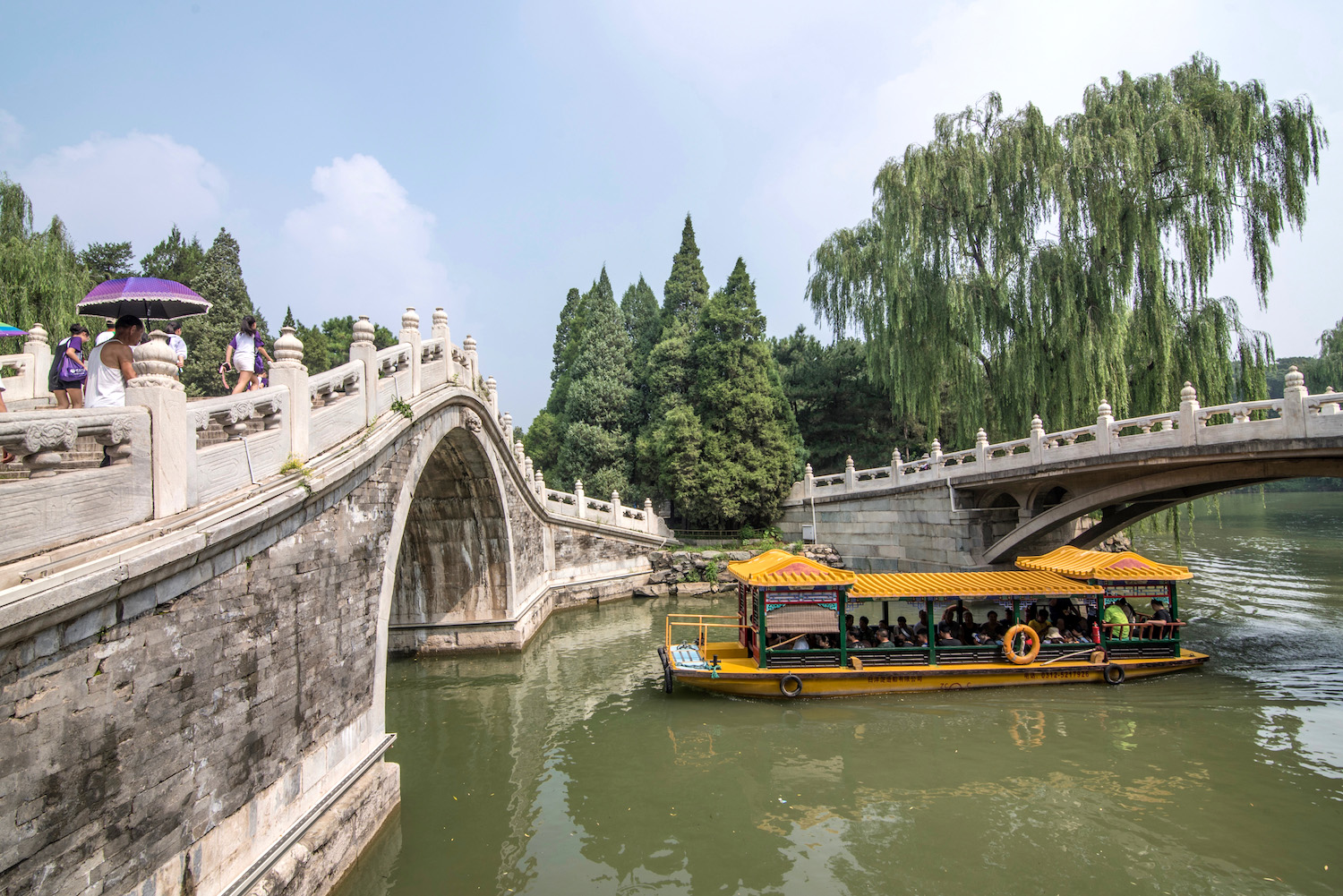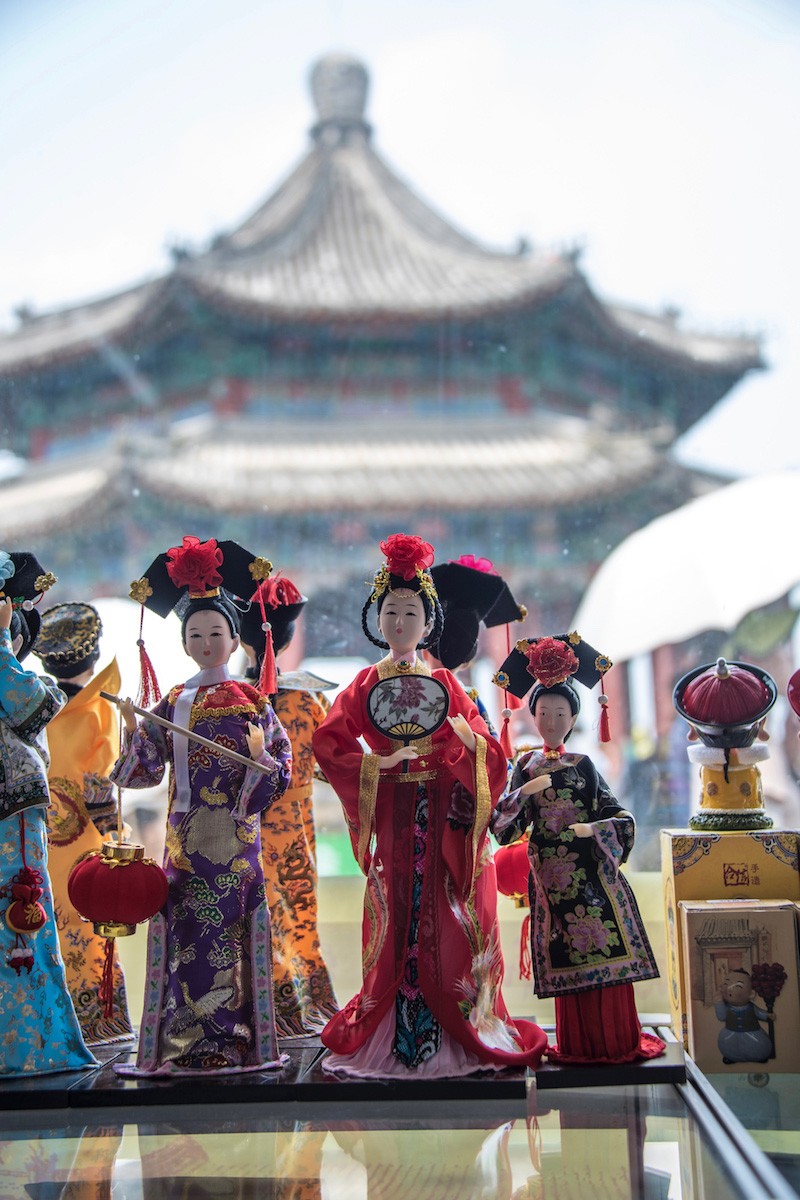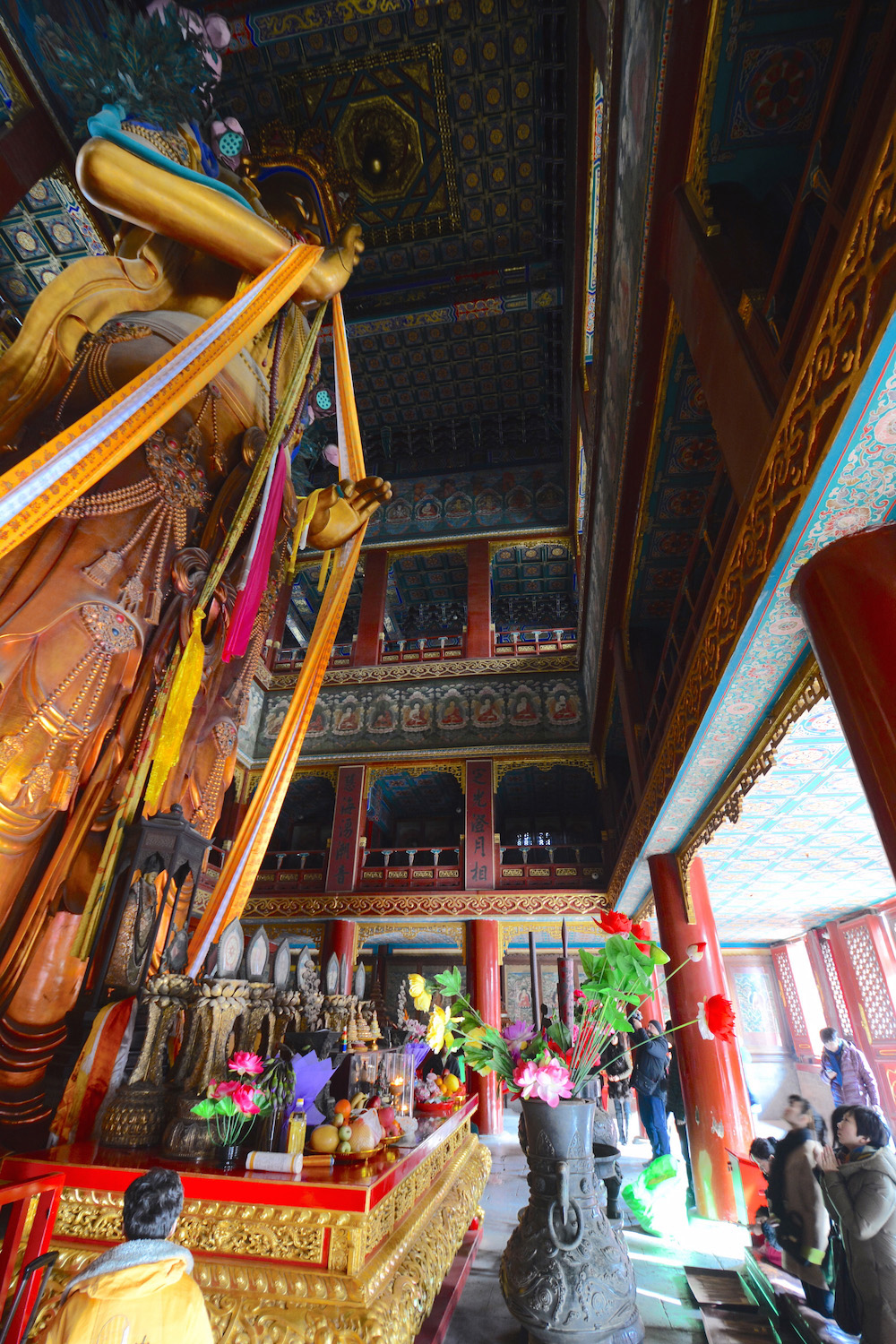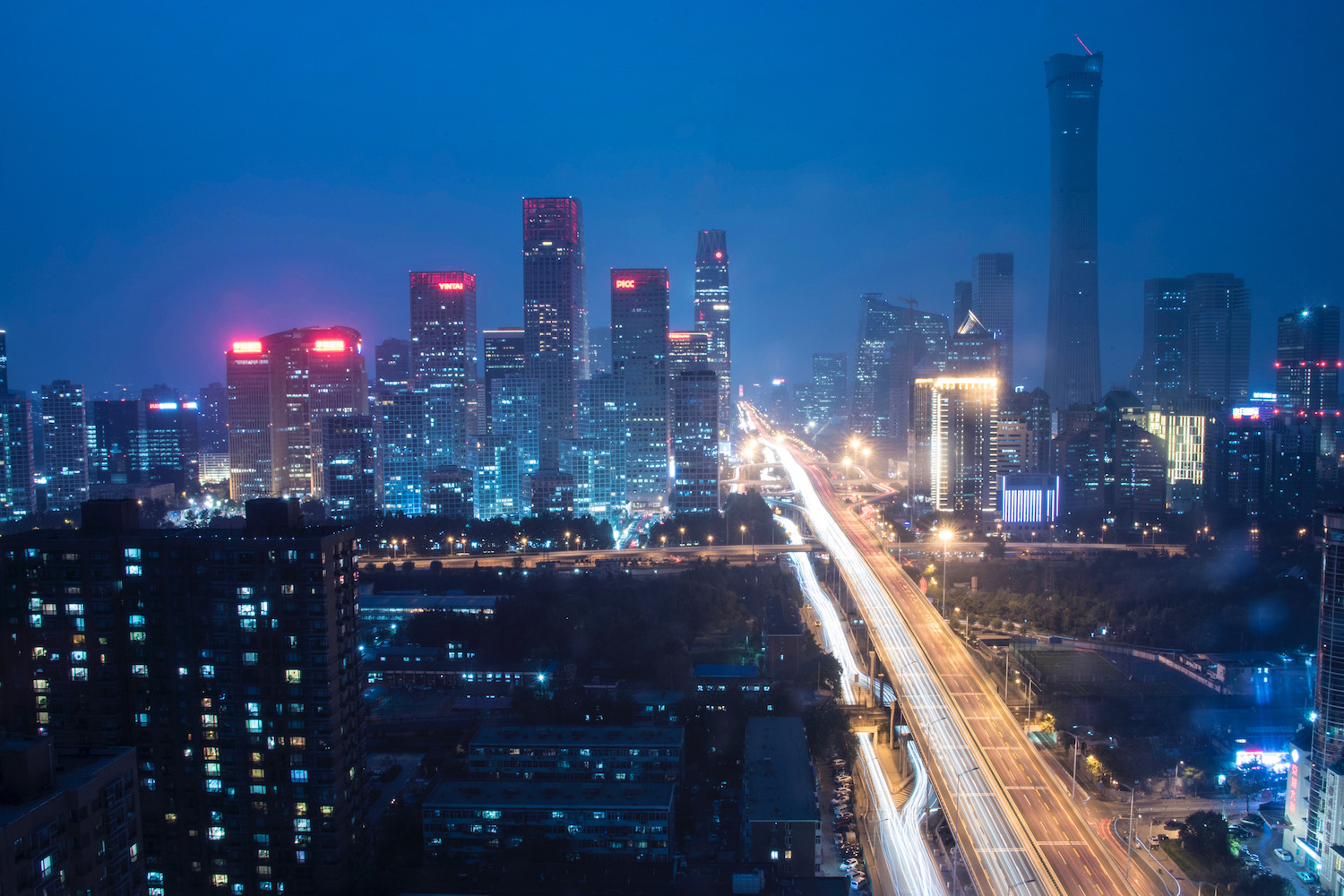 New and Futuristic Beijing Sightseeing
Beijing has a notable ancient influence, but much of what to do in Beijing is decidedly modern. This is especially the case in the Chaoyang and Guomao districts (Beijing's Central Business District, more or less), which not only features towering (and, in the case of the CCTV Tower, downright bizarre) skyscrapers, but upscale eateries, lush parks and even—gasp—non-white people speaking English. Well, sometimes.
Another futuristic place that might make you increase how many days to spend in Beijing is the Soho Wangfujing complex, located just northeast of the CBD. This is a great spot for photos, especially at night, though the area around it isn't much to write home about—I wouldn't put this on your Beijing 3 day itinerary unless you're into photography. Instead, I might recommend knock-off shopping at Silk Street Market or a traipse past Bird's Nest Stadium and through the 2008 Olympic Park when it comes to modern Beijing sightseeing.
Eating and Drinking in Beijing
Irrespective of how many days in Beijing you expect your trip to last, the city's gastronomy is worth discovering. The good news, unlikely some other cities in China, is that there's a healthy amount of street food here, though it's not as conspicuous as it is in, say, Southeast Asia. I particularly love the Jian Bing savory pancakes you can find on street corners at breakfast time, though Beijing is the home of dumplings and has its fair share of them.
These bao zi (or jiao zi, as it were) aren't just available on a to-go basis either. My favorite sit down place to enjoy dumplings in Beijing (TIP: Bring a Chinese friend if you can to avoid getting lost in the extensive menu) is Baoyuan Jiao Zi Wu, which is located off a somewhat quiet backstreet in a residential part of Chaoyang. My favorite thing to order here are the various colorful dumplings, which are said to boast different flavors but all taste the same (delicious, though) to me.
If you're a nightlife person (and I must admit that I am not, not really), what to see in Beijing at night is the Sanlitun district, which during the day is more of a hub for shopping than drinking or clubbing. I'd recommend exercising restraint here (in Sanlitun, not at Baoyuan Jiao Zi Wu) if it's your last day in Beijing proper, however. A hearty meal of dumplings is a particularly good idea (and a night out in Sanlitun a particularly awful one) if you plan to take a Great Wall tour on the next of your days in Beijing.
How to See the Beijing Great Wall
The Great Wall of China (at least part of it) is so close to China's capital that many travelers decide to see it on what's known as a "Beijing layover tour." As its name suggests, this involves a private taxi pick-up from and drop-off to Capital Airport (which is quite a bit closer to the Wall than the city center) but, like the taxi ride I describe in the intro to this Beijing itinerary, is usually quite overpriced.
Another option, if the value for how many days for Beijing is greater than zero, is to visit the Great Wall of China by train. Trains depart Beijing's Huangtudian station for the Badaling section of the Great Wall several times per day, making this an extremely convenient option. You should be warned, however, that this can be a risky choice, since the ease of going to Badaling makes it crowded, especially during and just before or after mid-day.
The best choice, presuming you've got at least 3 days in Beijing, is to have your Beijing hotel (or, if you don't want to get ripped off, a Chinese friend or college) arrange a half- or full-day taxi to the convenient (but not insanely crowded) sections of the Great Wall at Mutianyu and/or Simatai. Your price will vary, based on your bargaining skills, from about ¥300 in the cheapest instance to ¥700 (or more) if you want to stay out the entire day, travel with a guide and a travel or use a luxury sedan instead of a normal taxi.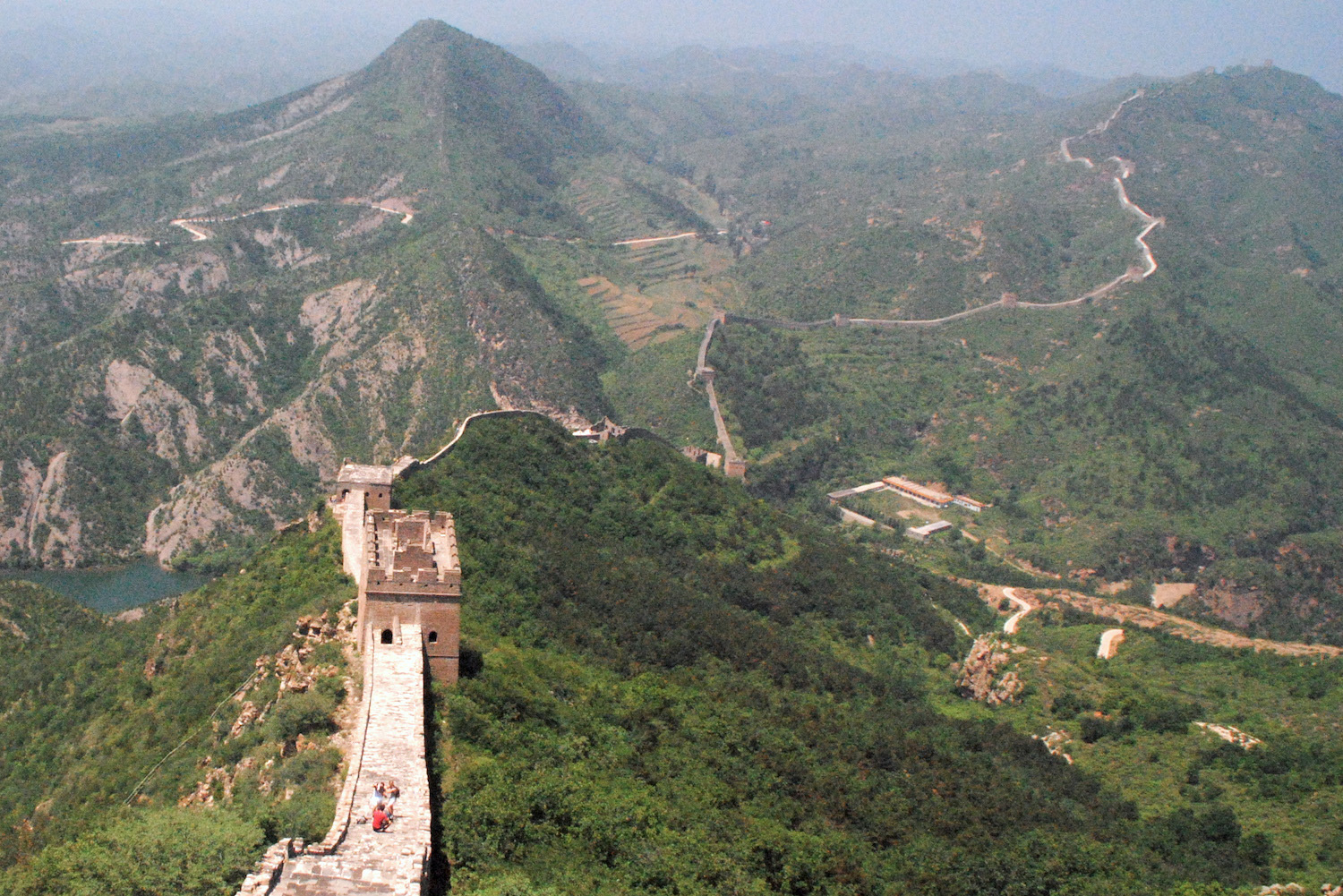 Other Day Trips from Beijing
Assuming you have more than three days in Beijing, there are a variety of day trips you can take besides the Great Wall one—starting, perhaps oddly, with the Great Wall itself. While most Beijing visitors, as described above, tend to take the train to Badaling (or book taxi trips to Mutianyu or Simatai, as I've done in the past), those with more time in Beijing can see more exotic reaches of the wall, such as Jiankou and Juyong Pass.
Another day trip option, if you run out of (proper) Beijing things to do, is to ride a high-speed train southeastward to the city of Tianjin, which has a reputation as simply being the "Port of Beijing," but in reality is so much more. In particularly, the cosmopolitan architecture and food scene of the city is impressive, spotlighting Russian Orthodox churches, an eclectic variety of pan-European eateries and a population less jaded by mass tourism than Beijingers.
Most other potential day trips from Beijing can seem redundant, depending upon your decision about how many days to spend in Beijing, and your interest in history. From the Ming Tombs, to Fragrant Hills Park, to the Marco Polo Bridge, the majority of Beijing days are heritage-focused, though escaping from the craziness of central Beijing is arguably an excursion worth taking, regardless of your motivations.
So, How Many Days Should You Spend in Beijing?
As you'll probably recognize if you've made it this far, how many days to spend in Beijing is one of many issues you need to consider when planning your trip to China's capital. From esoteric factors like how the vibe of Beijing works with your personality and your travel style, to the number and sort of specific Beijing attractions you want to visit, this Beijing travel guide addresses every concern you might have right now, and even as you travel through the city. We can't all be soulmates, but anyone (and indeed, any destination) can make for a great date.