When traveling to Egypt, the vast majority of people go directly from Cairo to the pyramids, although there are many ways to make this trip happen. For some travelers, the Giza Pyramids are the main course of the trip; for others, they're merely an appetizer for adventures farther afield.
First and foremost, this post exists to inform you about your options. I'll explain the various ways to get to the pyramids from Cairo, whether you start in the city center, or come directly from the airport as some travelers choose to do.
Visiting the Pyramids from Cairo
Of course, there will also be a great deal of inspiration sprinkled within this post, both in terms of pictures and anecdotes. I hope that what I'm about to say gets you excited and ready to go.
How Far is Cairo from the Pyramids?
As the crow flies, the distance from Cairo to pyramids is about 15 km or 10 miles. However, the road journey is just short of 18 km. That's the good news. The bad news? Well, it's not bad so much as it is just an unfortunate fact: Due to chronic traffic in Cairo, there is often no way to know how long it will take to arrive at the pyramids from Cairo, at least not when traveling by road.
Of course, you may or may not be traveling to Giza (where the main pyramids are located) by road vehicle. For example, you can technically ride the Cairo Metro, which is impervious to traffic, and then walk to the pyramids from there. Alternatively, you may decide to stay in Giza rather than in Cairo proper, which is a more convenient choice and can also be a generally more pleasant one as well.
How Do You Get from Cairo to the Pyramids?
Tour bus
If you want a no hassle—and no haggle—way to visit the pyramids from Cairo, a tour bus might be your best option. This is particularly the case if your tour includes a guide; he or she will prevent any of the hustlers lurking at the entrance to the pyramids from bothering you as you try to enter.
Private taxi
Another option for going from Cairo to pyramids is to arrange a private taxi, ideally through your hotel rather than hailing one on the street. One reason I like doing this is that you can go multiple places. Namely, after you finish up in Giza, you can visit more underrated pyramids such as the "Step" Pyramid of Djoser.
Uber
If your hotel won't arrange a hotel for you or the price isn't fair, you can alternatively take an Uber. Note that you will usually need to order another Uber to bring you back to Cairo after you finish sightseeing, although it's possible you can pay your driver (likely in cash) to wait for you while you do your business.
Cairo Metro
A cheap and convenient way to travel from Cairo to pyramids is to ride the Cairo Metro to Giza station, from which the pyramids are only a short distance. Note that while the Cairo Metro is relatively safe, certain travelers (namely solo female travelers) should take care. Ride in a women-only carriage, or go with another solo female traveler.
Stay in Giza
Many of my favorite hotels in the Cairo area are actually in Giza itself; some of these have terraces and even rooms that offer views of the pyramids. If you stay at one of these places (most are small boutique hotels), you'll need to be concerned with the pyramids to Cairo journey, rather than the other way around.
How Far Are the Pyramids from Cairo Airport?
One reason you should consider getting an Egypt eVisa before you travel? If you want to visit the pyramids on a layover (if, for example, you're connecting on Egyptair from Europe or North America to somewhere in the Middle East or Asia), this will smooth and speed your progression through the airport, allowing you to spend as much time as possible actually experiencing the pyramids.
Unfortunately, if your journey starts at the airport, the trip from Cairo to pyramids is a bit longer. The road distance between Cairo International Airport and the Giza Pyramids is about 55 km, which will easily require an hour each way, and probably longer. With this in mind, I wouldn't recommend attempting to see the pyramids on a layover unless you have more than six (and ideally 8-10) hours in Egypt.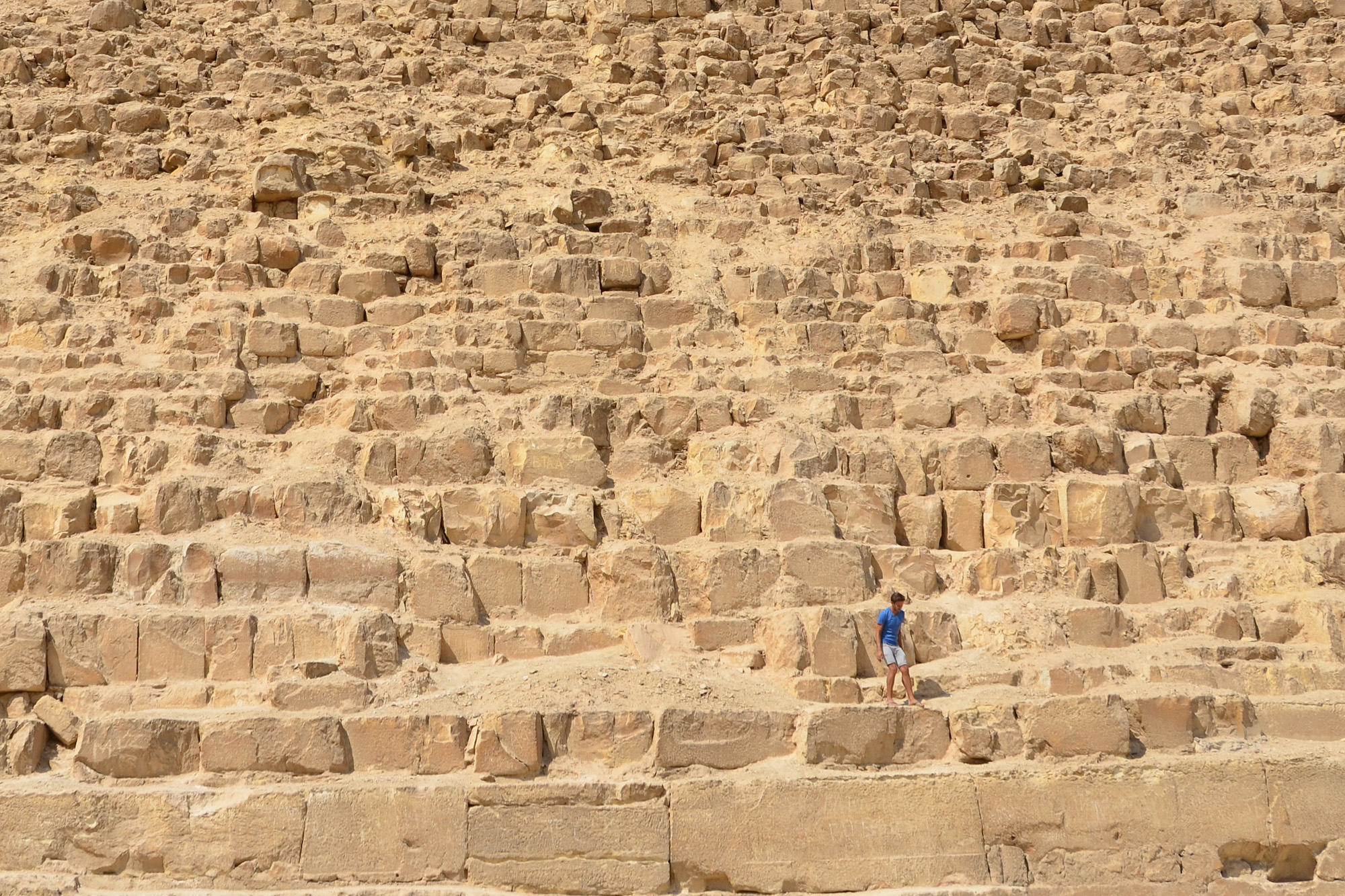 Other FAQ About Visiting the Pyramids
Where are the pyramids in Egypt?
The main pyramids in Egypt are located in Giza, which is just west over the Nile River from Cairo, the capital of Egypt. However, many other pyramids exist throughout the country. These include the "Step" Pyramids of Djoser near Giza, and many pyramids far in Egypt's south near the border with Sudan, which is also home to a number of its own pyramids.
Can you see the pyramids from Cairo?
You can see the pyramids from certain tall buildings and hotels in Cairo—or at least you should be able to. Keep in mind, however, that pollution in Cairo often makes this impossible, to say nothing of the dust blowing in from the desert. The best time to try and see the pyramids is early in the morning or on the "rest day" of Saturday, when few cars are on the road.
How far is the Sphinx from Cairo?
The road distance between Cairo and the Great Sphinx is 17.7 km, or just over 10 miles. As is the case with the pyramids themselves, however, traversing this road often takes longer than you might think it would. It's not uncommon to spend 30-45 minutes (or even longer) en route from Cairo to the Sphinx.
The Bottom Line
Getting from Cairo to pyramids is both simple and complex. You first need to decide which pyramids you want to visit—more than just the three in Giza exist—and you also need to consider where precisely you're starting your journey. There are also questions of time, and depth. Are you spending a while in Egypt; would it make sense to pace yourself? Alternatively, if the Cairo area is your main stop, it may make sense to dig deeper into the pyramids and other attractions around the capital.