Anyone following the world of mobile phones will know that 'something' is up from Facebook tomorrow/Thursday. The chances are we're going to see an updated Android application, potentially one that takes over the launcher UI of a handset, thus creating a 'Facebook phone'. We might even see a handset with this code bundled in from the factory. But if you want to see what a Facebook Phone would be capable of, you should be reaching for a Windows Phone.
Thanks to Microsoft's blank sheet of paper approach (and a few accurate guesses as to the direction the market would be going) support for social networks were baked into Windows Phone from the get go. Nowadays you sign in to your Microsoft account when you first switch on a device, and you can then sync data from a wide range of social networks and services, including Twitter, Google, Linked In, Yahoo, Sina Weibo, and of course your Microsoft account. And Facebook.
There is a lot of buzz and information out there on what Facebook's plans could be – a good example of this is Android Police's alleged examination of the code-base of the new launcher – but most commentators are in agreement that a phone geared towards integrating Facebook into the user's life will have lots of options to share content, be it web pages, pictures and video, status updates, locations, and more.
It would pull in information from your friends online so you can see at a glance what they are up to. It would give you access to your news feed to give you an overview of what is happening in your social circle. It would let you chat on IM with friends, and would act as your address book.
With a few exceptions, you can do all that with your Windows Phone. Jump into the settings screen, remove the other social media accounts, and stop updating your Hotmail inbox. Boom, you've got yourself a Facebook Phone. And this is ignoring the capability of third party applications (including, obviously, the Windows Phone Facebook client)….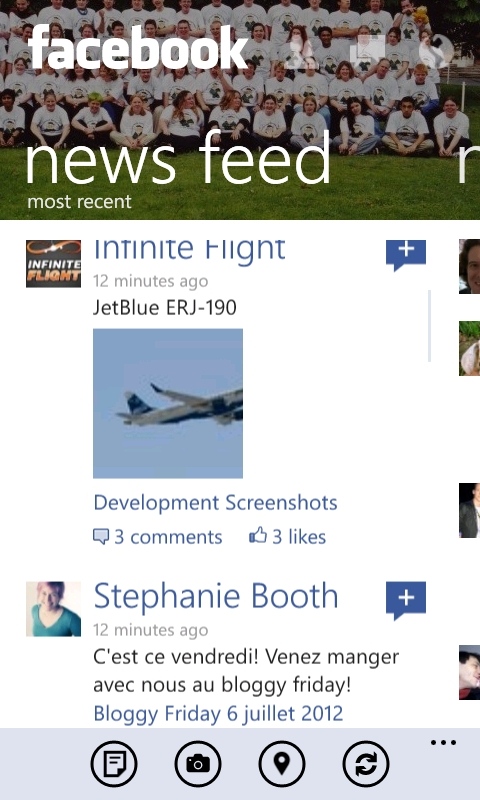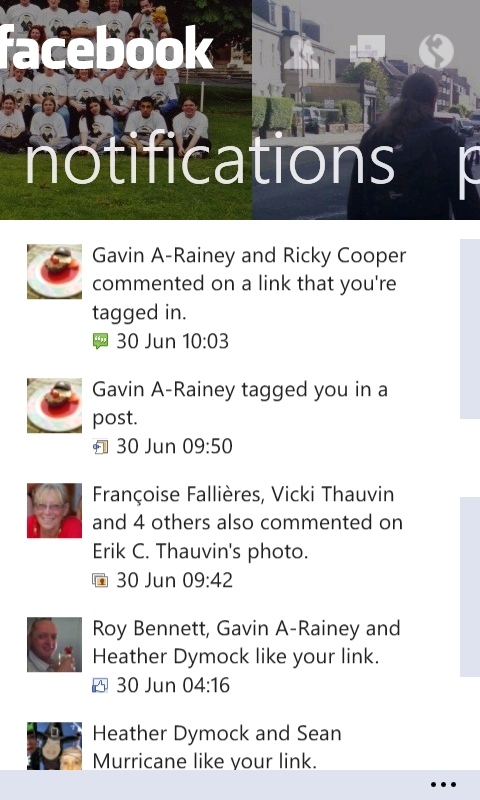 The Facebook app on Windows Phone – let's not use this
Okay, it's not perfect, and there a few holes that would need filling. Facebook's messaging system does not have POP3 or IMAP access, so the Windows Phone email client is redundant in our Heath Robinson affair. Given that Facebook's messaging system is a hybrid of IM and email, you still have partial access to the system through the chat option in the People hub.
The other area which is a big miss is that Facebook is not just about people – the 'Groups' and 'Pages' of Facebook provide vital community functions that are simply not accessible using the core software of Windows Phone. This makes sense from a design point of view, every network has some sort of grouping feature, but each of them does it in a different way. Making a universal system that would work in the Windows Phone environment would be tricky at best.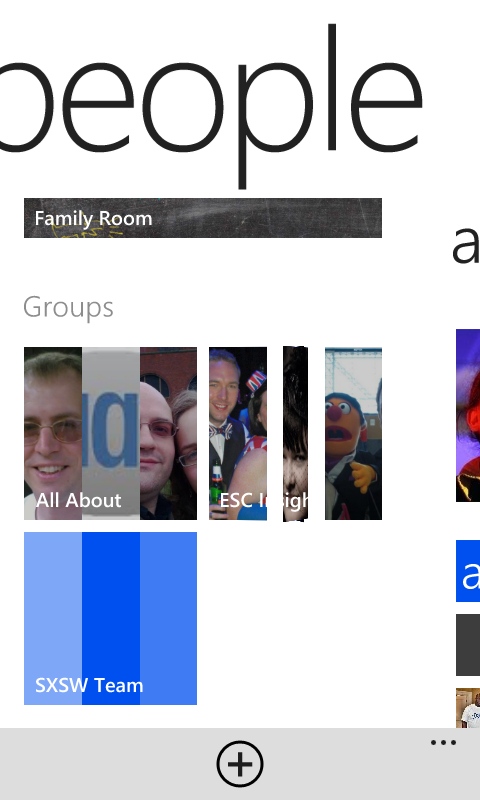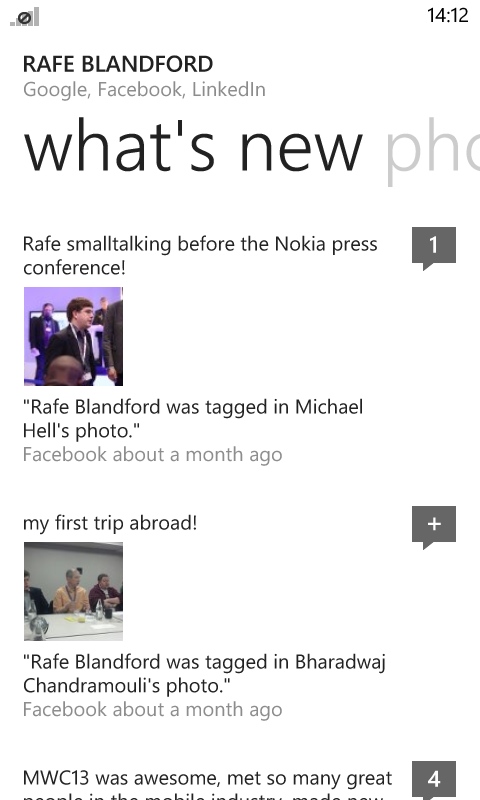 From a technical point of view, use Windows Phone purely for Facebook and you can see how all the pieces work together. You have a huge amount of information coming in, much of it relevant for that moment in time. The live tile for the People Hub will give you an overview of Facebook notifications waiting for you, while you can pin your own lists of people to the start screen (it's just a shame these don't sync with Facebook, just with your Microsoft account). And you can pin individuals, too, so you can reach out to them quickly and easily.
Move into the content side of your Windows Phone and you'll already know that whenever you have a piece of content, the chances are that in the menu there will be an option to share it, and Facebook will pretty much always be there. Either as a text note, a link, or a piece of media, moving information from your handset onto Facebook is as easy as a menu choice… because that's how it was designed.
I've no doubt that, technically, Facebook's latest mobile project is going to be a wonderful piece of code, and there will be a lot of people testing out a replacement UI, an improved Android application, and eager to see what Facebook do when they have a whole phone to play with.
I would love to know the engagement numbers, and how many people would consider switching over to an all-Facebook world, be it hardware or software. The value for me in Windows Phone and especially in the People Hub is how it looks at all my networks online, and brings in information from disparate sources. When I share, I have the choice of where to share, and if I want I can bypass them all and send a direct text or email to an individual.
Me? I'll carry on using my multi-function tool, as opposed to switching to a single blade.