We were thrilled to be hosted by the Tokiwa Hotel when we were in the Yamanashi area of Japan in September. The property is one of the most historical, traditional and renowned onsens in the country. It has served several generations of the Imperial family, foreign nobility, esteemed artists and writers, and other well-known domestic and foreign guests.
We were lucky enough to stay in the suite that was made for the Imperial family's stay early on so had the feeling of King and Queen service while we were there. Artists such as Hitomi Yamaguchi, Kiyoharu Matsumoto, and Junji Ibushi stayed here as well as Kiyomatsu Matsumoto, who wrote part of the novel "The Tower of Waves".
With a history of 1,000 years, the hotel is located in the Yumura Hot Spring area in Yamanashi Prefecture, which is mostly known for the hidden hot spring of Shingen Takeda, who was a warlord of the 16th Century. The hotel is built around a classic Japanese garden (ranked 3rd nationally) and is built on grounds of over 350,000 square feet, with the garden itself making up 107,000 square feet.
There are tons of photos along the walls on several floors — they offer a tour (about a half an hour) to learn about the history, who stayed here and some of the chronological activities which took place at Tokiwa. For example, in the gallery on the 2nd floor of the West Building, there's a display of the history of the title game of Go and Shogi which was held at the hotel.
Walking through and learning about the hotel during our tour.
The common hot spring baths also have outdoor pools, and a garden view. Traditional wooden cottages with tatami mat rooms and of refined Japanese architecture, surround the garden. Each of these has attached private gardens with uniquely crafted outdoor hot spring baths. Go on a visual journey with us so you can get a flavor of this unique Japanese stay in Yumura.
The Grounds at the Tokiwa Hotel
The grounds are stunning, surrounded by trees, pagodas and other cement structures protruding from grassy and rocky areas, all based on the tradition and history of Japanese culture and customs.
Below, the walkway you see on the left goes past a river stream where you can see fish or simply sit and meditate. As it wraps around to the right, you enter the area of larger rooms and private courtyards where we stayed.
In the gardens, you can find a unique lantern from the mid-Edo period, from Kofu's former Hosoda family. There is also a Takamatsunomiya hand-planted chestnut tree, which was planted when Takamatsu-Miya visited in 1948. Writer Hitomi Yamaguchi mentioned the quince tree in the gardens in his novel "Kari no Niwa," noting that the flower language is "only love" after all. There's also a god who protects the hot springs of the hotel at the Yogong Gensha Shrine. Lastly, we fell in love with Junji Ibushi and Keyaki, a large tree which is over 70 years old. Writers used to hang out here with wine in the afternoons.
Dining at the Tokiwa Hotel
We had a unique experience having dinner in our Onsen, where Koji, our guide and translator (and now friend) joined us. Breakfast was served traditional Japanese style in private rooms but not in your room or suite. Dinner was brought to us in the evenings, course by course (7 in total), which seems to be the custom at the onsens.
Moving onto dinner, be prepared……there was a lot of food and it was all scrumptious. With started with a small Kiyo, which is a type of Japanese plum. This was followed by Abarone, which Yamanashi is famous for apparently.
Because of this, it was ever so fresh and divine. Despite the fact that Yamanashi is inland, the Abarone originally came here by horse from the sea and it was carried/seasoned in soy sauce for the route.
It is often served for weddings and other celebrations. It was served to us as sashimi. Included on the platter were seeds of a Gingko tree, as well as shrimp, melon, tuna sashimi, Ikura, flowers and tofu.
Our spread included a variety of everything, from vegetables, soups and tofu to plenty of ways to eat Matsutake mushrooms, which we love. They served it on its own as well as with other dishes. We also were able to try Royal Trumpet mushrooms which you can eat with other dishes or accompany any of the seafood or red meat dishes.
It is common to use a Black Lava Stone for Koshu Beef in Japan which was a specialty and unique experience of the evening as well. While Abalone was the 'order of the day,' we also sampled other white fishes as well as something they refer to as Sazae (fish in the shell).
The graciousness and hospitality was incredible — every time she appeared with a new course, she made us smile, lighting up the room with her purity and love.
We had saki throughout the course of the evening of course — dry and smooth, followed by a sweeter one when the desserts arrived.
We also tried some of the local Koshu wine (be sure to see our write up on wineries in the Kofu region, including Koshu wines.
Next came a Steamed Clay Pot of soup with Japan's infamous Matsutake mushrooms, topped with a squeeze of lime of course. What a fabulous combination!!
They then served Matsutake mushrooms on their own, with pork, veggies and red wine in a hot bowl.
They also served a deep fried fish with white shaved radish, fried Perilla, eggplant, green peppers and Matsutake mushrooms.
After the Sazae (fish in the shell), tuna, salmon, yellow tail and amberjack sashimi and the Matsutake mushrooms with pork, they brought us the delicious Koshu beef with Trumpet mushrooms — we cooked our own pieces on a hot Black Lava Stone. It was a fun experience and although there were only three of us, I could see it being transformative for a group experience (think families or close friends:).
They also served a heavenly Blue Crab Soup with Matsutake mushrooms once again (see how popular they are?), raw veggies, cucumbers, tomatoes, as well as root vegetables turnips and taro. To top things off, they added smoked pickled radish which was the first time I tried it.
We love that their desserts aren't as sweet as they are in the west and fruit is often used, rather than heavier cakes and creams. Simple and elegant but just enough sweetness to finish off the evening.
Enjoy this little video of how we cooked our meat.
In Tokiwa Hotel's "Lounge Karin", you can experience traditional Japanese cuisine surrounded by a Japanese garden. This so called "coffee corner" with fifty seats overlooks the garden. The beautiful stained glass is the work of artist Tetsuro Yajima which was finished in 1992.  Here you can get binto boxes with Sobu or seafood as its primary offering (2,000 yen — around $20 at the time of writing), Shokado and Beef, among other combinations.
And then, for 500 yen (around $5 at the time of writing), there are plenty of dessert options as well — how can you resist? Karin chocolate, strawberry mouse and a Joban roll.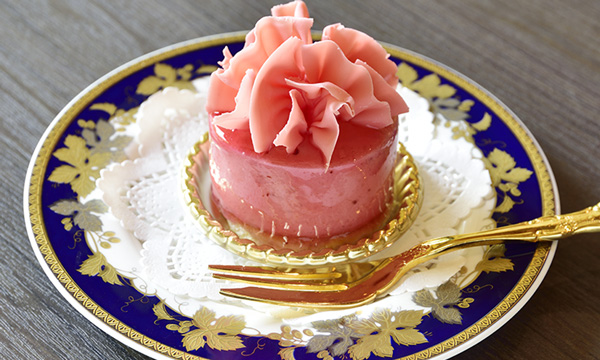 The Rooms
The Tokiwa Hotel has fifty guest rooms all of which surround the spacious Japanese garden courtyard, which is known and popular as an "outstanding Koshu garden". The Japan South Alps can be seen from the east wing, and breathtaking Mt. Fuji can be seen from the west wing. One of the things we loved about the rooms is that in 'old world' style, they felt almost colonial in nature — suites are the order of the day as is the focus on nature. For example, there are 11 guest rooms in the seven cottages around the garden. They truly make use of warm wood tones and tatami in their construction — there are tatami mats in all the main sitting areas.  
Because it's an Onsen style, rather than going to a restaurant for dinner, they serve you traditional Japanese style cuisine (in 7 courses) in the privacy of your room/suite. Below is the room we used for evening dining, which was part of our suite, together with a complete sitting area/living room with dining room table and a garden area where there was a soaking wooden hot tub filled natural hot springs.  They refer to this as a classic Sukiya-style room, which is very traditional.
Inside our onsen….what an experience!!!
Below, our dining room area, which was off a hallway that ran through the suite — it was really the size of an apartment, with a full living room/dining room area, a large bedroom and the above Onsen style sitting room on tatami floor mats.
Below is an example of a smaller room sitting area.
Outside, we had a small hot tub with soothing and healing hot spring waters — you can adjust the temperature with the sprout.
The Hot Springs at Tokiwa
While we had our own hot tub in a beautiful little garden area outside our suite, you can also experience the larger hot springs on the property. See below for the layout and style, which is larger than many of the others where we stayed.
With a 1,200 year history, you are getting the benefit of healing waters in both the large public bath with an open window as well as the inside one.  The open-air bath is located in the garden where you can relax and enjoy the seasonal scenery. The women's public bath is surrounded by rims with large windows and the open-air bath is an azure rich wood. 
 The water has sodium, calcium-chloride and sulfate spring and is known to help ease neuralgia, muscle pain, joint pain, exercise paralysis, joint stiffness, bruises, chronic gastrointestinal disease, hemorrhoids, chronic skin disease, chronic gynecological disease, arteriosclerosis and more. They apparently sterilization the water with sodium hypochlorite and use ultraviolet sterilization with a running water sterilization lamp.
The hotel offers side tours for guests which they post on their website. One example this fall was of the Shosen Gorge & Senraki Lit Waterfall. For example, a light-up tour exclusively for guests staying in the Yumura Onsen was available for the last two weeks of October through to November 23. (limited to 21 people). 
They also have a wonderful gift shop that offers a wide selection of specialty products such as Shingen-don and wine. In addition to the popular Yamanashi souvenirs "Shingenen" and "Kurodama", the hotel's original "Zushi no Mushroom Miso" is very popular for breakfast and are available for purchase. Plus, tons of cookies and chocolate of course.
For more information on the hotel and how to book a room, visit their website.
DETAILS:
Tokiwa Hotel
2-5-21 Yumura, Kofu-shi
Yamanashi 400-0073
Japan
Tele: 055.254.3111
https://tokiwa-hotel.co.jp/e_index.html
___________________________
Note: we were hosted but all opinions expressed are entirely our own.