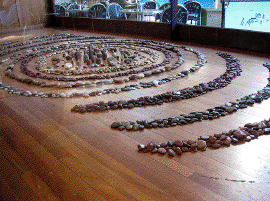 Australia's Byron Bay and the surrounding areas might not constitute a huge population, but the people who live around the coastal town are definitely big on style. Known for its surfing beaches, whale watching, plethora of waterfalls and happy, pro-community spirit residents, Byron Bay, too, has emerged as a veritable artists' workshop of writers, painters and filmmakers.
With a laid-back vibe (so laid-back, in fact, that topless and clothing optional beaches are common in the area) and tons to do outside by way of parks, cycling and festivals, Byron Bay has also become a center for alternative, holistic and creative businesses, which translates to a truly unique shopping experience you can't find anywhere else.
One of the coolest and most "Byron" of areas, the Arts and Industry Park is located on the northwest side of town near the perimeter, off Ewingsdale Road, in and around the street of Bayshore Drive. Here, shoppers, art lovers and guests with an eye for exquisite handmade crafts and finery can spend an entire afternoon walking along the shopping park, visiting different shops, galleries, cafes and restaurants.
The Byron Bay Cookie Company and Bakehouse outlet sits on Ewingsdale Road, a sweet place to start your day. Best-sellers include the gluten-free White Chocolate Chunk and Macadamia Nut Cookie Bar, the Rocky Road Cookie and the Dotty, a golden cookie smothered "choc drops" and stuffed with chocolate chunks. The company is Byron-native and has grown to include outlet stores all over both Australia and internationally, as well as in online retail at Amazon.
Zakay Glass Creations is another hotspot in the arts park, with unbelievably exquisite glass sculpture, jewelry and lighting (that must really be seen to be appreciated). As an added bonus, the shop is also owner Asaf Zakay's studio, so if you're lucky, you might catch him at his work. Dominic McCabe Fine Jewelry is another shop with premium-quality craftsmanship and stunning jewelry you won't find anywhere else. Shakira Design and Kasbah Imports brings art, textiles, pillows and cushions and furniture from the Middle and Far East to Byron Bay, as they have done for over 20 years.
Gallery goers can focus on the arts by following the "Artists Trail," which showcases the painters, sculptors and jewelers of the area. If you've shopped up an appetite, try Byron Pizza, considered the best pizza in Byron Bay by some vehement locals (open for dinner), Luscious Foods or the Munch Juice Bar and Take Away.
Crystal Castle and The Wizard of Auz
Crystal Castle is located just 16 km north of the Arts and Industry Estate and this enchanting, spiritual getaway features a Buddha walk, Labyrinth, Rainforest Walk and Lotus Café, as well as jewelry, crystals and other gifts, with 50 percent of the sales going to the World Peace Stupa Project. Crystal Castle welcomes families with children of all ages and provides a quirky playground located just under the café, so parents can keep an eye on their kids while enjoying a coffee or snack.
The Wizard of Auz specializes in gemstones and jewelry, with an emphasis on crystals and minerals and stone carvings. Their jewelry, wands, pendulums, vessels and vases, are a collection of classic, comfortable and timeless pieces that are sold both on-site at their Byron Bay gallery and online.
Byron Farmers Market
The Byron Farmers Market is celebrating its 10-year anniversary this year, having grown from just a kernel of an idea to a farmers market which grew to such popularity that it opened a sister market in Bangalow. Their focus is on patronizing local and self-sustaining farmers and organic produce. If you're lucky enough to have a kitchen of some sort while in the Byron Bay area, consider making a trip to this unique and worthy market for delicious dinner ingredients like duck, hummus, breads, cheeses and a whole variety of fruits and vegetables or pack a cooler with ice and make the Byron Farmers Market your last stop before you head home, so you can take a little Byron flavor back to your own kitchen.
This article was written by Samantha Washington. Samantha was born in Perth, Australia and now resides in Seattle with her husband.