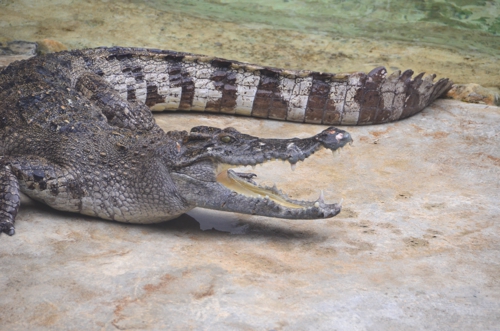 When my friend Pin told that we were going to pass my final day in Thailand at a "crocodile farm," I had a bad feeling. Having visited Thailand's controversial tiger temples after all, I know that Thais have no problem exploiting animals for the sake of entertainment.
My suspicions were confirmed even before I entered the gate of Samutprakan Crocodile Farm and Zoo, located about 30 minutes of east of central Bangkok. I had a terrible feeling about the place — and the price, at a very steep ฿300 — but since Pin had driven us all the way out there, I wanted to give the place a chance, at least.
We headed pretty immediately into the "crocodile stadium," but not before happening upon our first instance of animal cruelty.
Think this monkey looks bad? The smell, which was pretty clearly from its waste not being adequately cleaned, was overwhelming. If I hadn't been covering my face, I would've definitely cried. Pin implored me to look away.
Samutprakan Crocodile Farm's stadium itself was also clearly in need of maintenance — a far cry from the one used in the comparatively ethical Croc Shows at the Australian Zoo. I tried to keep to my emotions and expectations in check, but the imagery used to decorate the stadium made it difficult to think of anything but animal exploitation.
Unfortunately, I set my expectations far too low: The crocodile "keepers" literally dragged the animals out of the shallow pools where they'd been resting so that they could tease and taunt them on the concrete. This mostly involved poking and hitting them with sticks, but an one point, one of the young men actually put his hand inside the crocodile's mouth. I'm shocked it didn't get bitten off!
I have no idea what happened after that, because we didn't stick around long enough to find out. At this point, I truly wanted to leave the place altogether, but for some reason, we ended up walking around for a little while longer.
The good news? Crocodile cruelty is confined to the stadium. The bad news? Cruelty at Samutprakan Crocodile Farm isn't just confined to crocodiles.
To make matters even worse, the place is filthy, poorly decorated and generally feels like the cesspool it is. I really don't like to use Leave Your Daily Hell as a platform for talking shit, but I will say unequivocally that Samutprakan Crocodile Farm is the worst place I've ever visited. I wouldn't recommend it to anybody, unless you have a role in animal rights and can help these poor creatures.