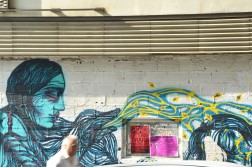 The first time I visited Spain in 2008, my only stop was Barcelona. To be fair, the city's locals don't even consider themselves Spanish, but that's a topic for another article. In any case, Barcelona is well known as the most expensive city in Spain, something made all the more the dramatic by the abysmal exchange rate at the time: About $1.60 per euro.
After returning to Barcelona this past October, I spent some time in the bohemian city of Granada, located in the country's southern Andalucía province, as well as the national capital Madrid. As my Zürich-bound plane took off from Madrid's Barajas Airport, I had reached a surprising conclusion: Spain is quite cheap — as European destinations go, anyway.
Cost of Getting in And Around
Spain is well-served by all of Europe's low-cost airlines, including EasyJet, RyanAir and Barcelona's own Vueling Airlines, which offers extremely cheap flights — if booked well in advance, naturally — to dozens of cities throughout Europe and North Africa.
If you're not a fan of flying or can't find an affordable ticket, you can board a night train to Barcelona or Madrid from large European cities such as Milan, Paris and Zürich for rates that at and sometimes below what you'd pay elsewhere on the continent.
Within Spain, getting around tends to be cheap — if you stick to Vueling flights via Barcelona and regional buses operated by the country's government-owned bus company.
For some reason, trains tend to be expensive, particularly the new high-speed line that connects Barcelona and Madrid in just five hours. As of November 2011, a one-way ticket between the two cities runs a whopping €120 when booked in advance.
Even slower trains like the one between Granada and Madrid will run you at least €70 one-way. By comparison, my bus ticket from Granada to Madrid was just 35 euros.
Larger Spanish cities like Barcelona and Madrid offer a combination of bus and metro options for getting around, while even small towns have rudimentary public transit to help you get from place to place Taxis in Spain tend to run cheaper than elsewhere in Europe, although fares are not surprisingly higher in Barcelona, Madrid and tourists hotspots like Ibiza and Palma de Mallorca than in more local parts of the country.
Hotels and Hostels
A quick perusal of a hostel-booking site like HostelWorld or HostelBookers reveals that Spain is home to huge numbers of hostels, many of which are among the highest-rated in the world. I can personally testify for the aptly-named Oasis in Granada and Madrid's Way Hostel, which is located literally in the center of the city, less than 15 minutes walking time from just about anywhere in the capital you'd want to go.
Hostels in Spain are less expensive than in much of the rest of Europe, so if you're head to Spain from Belgium, France, Holland or the U.K., you'll find price points refreshing. Quality is also high, since many of the hostels that operate in Spain are new. You should expect a free breakfast of cereal, coffee, toast (and sometimes eggs) with the purchase of a dorm bed, as well as complimentary wireless Internet, although I warn you — you shouldn't expect fast connection speeds.
Almost all the Spanish hotels I've stayed in have been in conjunction with business reasons, so I haven't personally had to pay — and they've all been in Barcelona. Although the quality of hotels in the city is extremely high — in particular, I enjoyed the chic Hotel Barcelona Catedral and the "hetero-friendly" Axel Hotel in the city's Eixample district — I don't know that coughing up the extra hundreds euros (at least) per night is going to make your stay much more enjoyable if you don't have the cash to spare.
Food and Beverage
Spain, and in particular Andalucía, is famous for "tapas." Although we know these finger foods to be snack-sized in the United States, I found them to be complete meals when I enjoyed them in Granada, particularly when paired with a glass of sangria or a beer for as cheap as three euros — no joke.
Food in the rest of Spain can be had cheaply, although you should avoid the majority of sit-down restaurants if you want to keep your per-meal, per-person cost in the single digits. No matter where in Spain you are, eating ethnic food — Chinese and Middle Eastern are always safe bets — is a good way to save euros.
Since the majority of hostels in Spain include kitchens, another option is to purchase groceries and cook yourself. Groceries are extremely cheap in Spain when compared with a majority of the rest of Europe — when I was in Madrid, for example, I purchased ingredients for a hearty chicken pasta dish with cream sauce and a salad for myself and two friends I met at Way Hostel (and topped it off with an entire bottle of sweet white wine!) for under 10 euros.
If you're on a budget in Spain, I'd recommend buying alcohol at a supermarket and drink at the hostel before going out before heading to the bar or club. Although you won't pay as much for drinks (outside of Barcelona, anyway) as you would in more expensive places like Holland, France, the U.K., Switzerland or the Scandinavian countries, the more you can "pre-game," the more money you save.
The Importance of the "Season"
Spain is one of the most-visited countries in Europe during the summer season, with tourists flocking not only from far-away places like the Australasia and the United States, but from all around continental Europe and the British Isles. Due to the increased volume during this time — which is particularly high in Barcelona and the aforementioned tourist islands of Ibiza and Palma de Mallorca — you can expect to pay higher prices for lodging and, in some cases, food and drink.
No matter when you visit, however, Spain is uniformly cheaper than almost anywhere else in Western Europe, except for maybe neighboring Portugal. Conservatively, I'd say you can live on less than €50 per day without a problem, anywhere in the country and at any time of year.