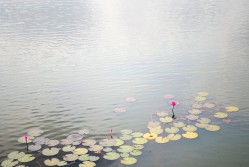 Cambodia is one of my favorite countries in Southeast Asia, but not for the reasons most people like travel in Cambodia.
Personally, I find the calm, relaxed pace of life in Cambodia a pleasant contrast to the chaos that defines most of the rest of the region. The food, too, is amazing. Did I love Angkor Wat? Sure did. But to me, travel in a country has to transcend its most-famous tourist draw.
Another attractive feature of travel in Cambodia is how cheap it tends to be. With the exception of tickets to enter famous attractions like Angkor Wat, costs of travel in Cambodia are cheap enough that you can easily subsist on under $30 per day.
Transportation in Cambodia
Cambodia is world-famous for its poor infrastructure and transportation is no exception. There are no railways in Cambodia and there is no public bus system to speak of.
The only way to get from the border with Thailand at Aranyaprathet-Poipet is to hire a taxi, which constitutes little more than a well-maintained private car in Cambodia. You can expect to pay between $25-50 each way for the 90-minute taxi ride to or from Siem Reap, a cost that's per-car rather than per-person.
Travel in Cambodia's cities of Siem Reap and Phnom Penh is similarly dependent on private transport. Hail a taxi, an auto-rickshaw "tuk tuk" or do as I do and simply walk around and enjoy the sights and sounds of one of the world's most interesting countries.
Hotels in Cambodia
Cambodia is one of the few countries where I don't recommend you say in hostels when you travel. That's mostly because I'm not sure whether hostels in Cambodia even exist.
Rather, you should stay in hotels or, more preferably, guest houses when you travel in Cambodia. Guest houses have the privacy and ambiance of hotels, but tend to be priced as hostels would and have the same warm, friendly, social atmosphere.
In particular I can recommend the European Guesthouse, which operates branches in both Siem Reap and Phnom Penh, as well as the Golden Mango in Siem Reap. A single private room with ensuite bathroom in either of these properties can be yours for about $12 per night. European Guesthouse has Wi-Fi, its own bar and backs up to an alligator pit.
Food and Shopping in Cambodia
Cambodia is home to one of my favorite foods, a dish known as "Fish Amok." Fisk amok consists of a tender river fish filet simmered in a creamy, slightly spice peanut-based sauce and wrapped in a banana leaf. Whether you eat this dish a la carte or with some steamed white rice, it's sumptuous, flavorful and filling. You shouldn't expect to pay more than $2 for Fisk Amok at most restaurants you visit when you travel in Cambodia.
Of course, food in Cambodia isn't just limited to traditional Khmer fair. In the cool town of Siem Reap, in fact, trendy Pub Street is lined with ethnic cuisine that ranges from French to Italian and even Mexican. I enjoyed a frozen margarita in Cambodia! Prices for foreign food in Cambodia are high by Cambodia standards, but lower than you'd pay most other places in Asia.
Shopping in Cambodia isn't much to write home about — you aren't going to find low-price electronics (at least not real ones) like you would in Bangkok or Hong Kong. You can of course find the cliché "ali baba" pants popular among backpackers all over the world and skirts and bags for women, but you probably won't buy anything of quality when you shop in Cambodia.
Cambodia Tourist Attractions
Cambodia's most-famous tourist attraction, the Angkor Wat temple, is also its most expensive. When I visited in February 2010, I paid $40 for a three-day pass that included unlimited entrances to the temple. A taxi or tuk-tuk to Angkor Wat, which is about 4 km from central Siem Reap, costs about $1-2 each way, so add that in to the cost of your Angkor Wat experience.
Most of the rest of Cambodia's tourist attractions, be they the Killing Fields in Phnom Penh or other Siem Reap temples such as Ta Promh, where Tomb Raider was filmed, are just as cheap as the rest of Cambodia which is, make no mistake, among the cheapest countries I've ever visited.