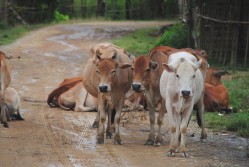 With the exception of misunderstood Mynamar, Laos is probably the most primitive country in Southeast Asia when it comes to transportation infrastructure. In addition to the fact that public buses are poor quality and low in number — and trains are almost nonexistent — Laos' mountainous terrain means that travel within Laos is usually slow and often downright treacherous.
Still, getting around in Laos isn't absolutely impossible — although you might feel it is when you're trapped inside a public Lao bus with dozens of locals.
Flights to Laos
Flights are the most common way foreigners exit and exit Laos. Major and low-cost regional carriers fly from their hubs in Vietnam, Thailand, Malaysia and Singapore to both Luang Prabang and Vientiane International Airports.
One benefit of entering Laos by air is that you can purchase your visa on arrival at the airport, drastically shorter travel times notwithstanding. The primary disadvantage of flying to Laos is that it tends to be quite expensive — one-way fares from Bangkok or Saigon can run as much as $200 each way!
Entering and Exiting Laos Overland
Entering Laos overland is definitely a cheap alternative to pricey flights, it is far from easy or even pleasant. To give you the Reader's Digest version, it takes a minimum of two days to travel from Luang Prabang to Hanoi (or vice-versa) overland.
If you're coming from or going to Thailand the process is much easier, as I'll detail in a few more paragraphs.
Ground Transort in Laos
Once you're in Laos, the transportation situation is decidedly more cut and dry. Specifically, you have a choice between taking public buses and private share vans and taxis.
The quality and comfort of public buses varies greatly depending on where in Laos you. When I traveled from the Lao-Vietnam border to the norther Lao transit hub of Oudomxay, it was in a van-sized vehicle with no less than 20 fellow passengers — and no air conditioning. The public bus I took for the five-hour journey from the mountain town of Vang Vieng to capital Vientiane was much more comfortable by comparison.
Private transport will generally always be comfortable and clean, although you will definitely have to pay for it. Of course, nothing is particularly expensive in Laos, but once you get accustomed to bartering with people for less than a dollar, the extra $2-5 you might have to pay for comfortable transport may seem like a lot.
Laos to/from Thailand by Train
Ironically, my favorite transportation experience in Laos was the one that took me out of the country, which says nothing about the fantastic time I had there. Well, except for the bad noodles I ate in Vientiane, which left me sicker than I've ever been in my life.
In any case, I'm talking about the new-ish train service between Vientiane and Bangkok, which makes traveling between Laos and Thailand a piece of non-spoiled cake. Trains depart Thanaleng, a station located about 10 miles from Vientiane and just a couple inside the Lao border, for Bangkok several times per day.The advantage of taking these nonstop trains is that you can book a sleeper cabin for the 13-hour journey. If you're on an extremely tight budget — the bed costs 780 baht, or about $23 — you can also book a seat for around 400 baht ($11).
For more information about trains between Laos and Thailand, check out Seat61, one of my favorite websites and an indispensable resource for budget travelers.