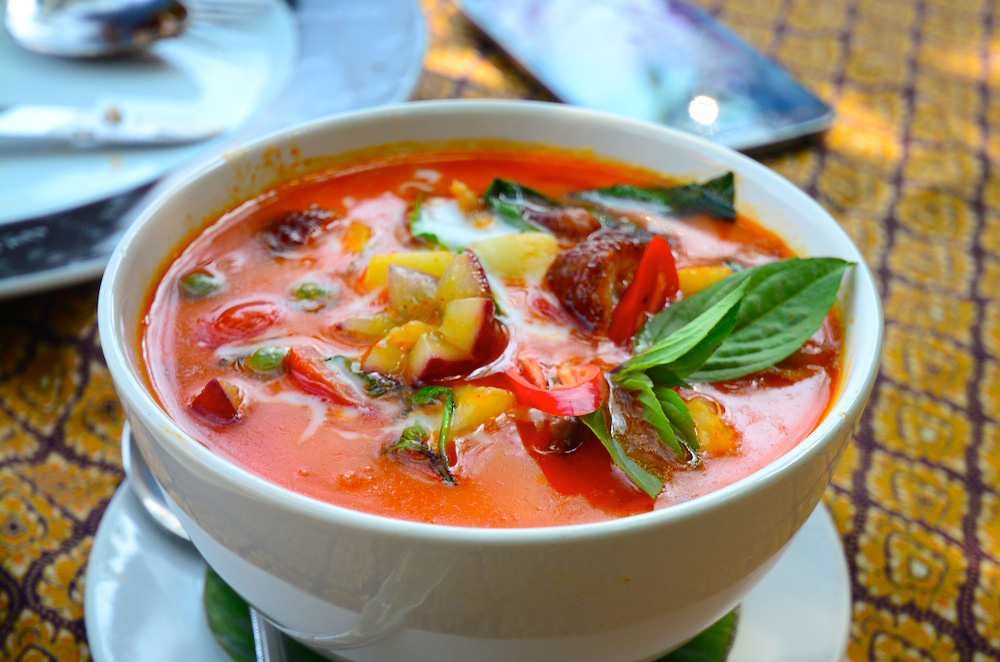 I love to eat.  One of the biggest ways cultures represent themselves is via their food.  Picture a Vindaloo with some Naan bread in India, Pad Thai in Thailand, Paella in Spain, Chicharon and Balut in the Philippines, Burritos and Cuervo in Mexico.  These are more than just nice, exotic local food – they give you an insight into people's lives and the history of the country.
Here are some tips that have helped me survive.
Research
Have a bit of a poke online and see what's available, information-wise.
Key points I like to look for:
Nice restaurants and restaurant reviews

Average pricing (apparently, sometimes foreigners get overcharged! Gasp!)

Quality of street food

Other options for emergencies
Have a look for restaurants online, finding places that are recommended (check for locals, not for tourists!).
Street food, have a look at the quality.  It's very easy to get sick from street food, if you're not used to it or have a weak stomach.  I'm not good with spicy food, so I make sure I learn the local word for "not spicy" before I get street food.  Also, check for anything you're allergic to (luckily, I can eat most things easily enough).
If you're only in an area for a short time, or during awkward times (I was in Sydney from midnight til 6am, airport curfew time), have a look for some options online before you get there.  I hate airline food, no matter how much better it's gotten recently.  I'm also not a fan of walking around aimlessly when I'm starving hoping somewhere is open – you'll either not find anything, or get some terrible food – this very rarely ever turns out well.  For example, in Sydney I checked online and found got some late night Chinese Food via Eatnow, which was easier because it actually had customer reviews, I had something to put it into context.  Lifesaver.
Street Food
I deliberately put this after the last point, because you should check some stories about it.  There can be some horror stories (namely, hygiene), so be a bit careful.
This is not to say you shouldn't sample street food – try it! Eating street food is the best way to get the feel of a country.  You not only get to eat what the locals eat – you see and experience how they live, as oppose to reading about it in some fancy restaurant menu.
Go for it
You may not be in a particular country for long, and chances are you'll never go back.  This may be literally your only chance to try snake, or starfish or crickets!
Will you love what you eat? Maybe or maybe not, but you're probably not going to die by trying it once (Disclaimer: if you die, I take no responsibility).  At the least, it's a great cocktail party story!  Who else can say they've eaten live octopus?  Or a half fertilized egg in Manila?  You go traveling for the adventure, not to play it safe.  Eat up!