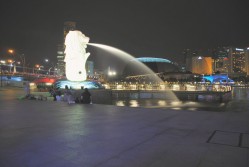 Since Singapore is the only developed country in Southeast Asia, it is tempting to assume that all the country's values and institutions are likewise modernized when compared to surrounding nations.
Although Singaporeans enjoy the most robust economy in the region, modern infrastructure and an incredibly high standard of living, Singapore tends to lag behind even countries like Thailand in terms of social progress when it comes to homosexuality. As a gay traveler in Singapore, you should be mindful of these laws when visiting gay establishments and engaging in homosexual activity.
History of Gay Rights in Singapore
As you may or may not know, Singapore has only been independent since 1959. Prior to this, it was part of Malaysia (from 1946, when Malaysia gained independence from the British Empire) and prior to that, a British colony like neighboring Malaysia. Singapore was also briefly under control of the Japanese during World War II.
During the British colonial period, British laws on homosexuality were applied in Singapore, which prohibited male-male sexual relations. Strangely, female-female sexual relations were legal under British law. Homosexuality was legal when the Japanese ruled over Singapore, since male-male sexual relations have never been illegal in Japan.
Once Singapore became independent, it drafted its own laws regarding homosexuality. Most notably Section 377A of the Penal Code, which deemed sexual relationships between two consenting, adult men illegal.
Current Singapore Laws Regarding Homosexuality
Unfortunately, Section 377A of Singapore's penal code is alive and well today: It is still technically illegal to perform male-male sex acts in Singapore, although the laws are only rarely enforced. Also illegal are "outrage of modesty" (Section 354), oscene signals (Section 294a) and prostitution and solicitation under the "Miscellaneous Offences Act."
Interestingly, only since 2007 have oral and anal sex been legal among consenting heterosexual and female homosexual couples in Singapore. Prior to that, only heterosexual intercourse was technical legal and although female homosexuality was also legal, it is unclear which types of lesbian sex acts were legal and illegal in Singapore.
Singapore Gay Clubs and Saunas
When I arrived in Singapore in September 2010, my former roommate Kenneth and I almost immediately departed the room his mother had won for us at Singapore's Marina Bay Sands Hotel in search of Singapore's gay nightlife. The majority of Singapore's gay nightlife is concentrated in the  Tanjong Pagar neighborhood of central Singapore, located very near the city's Central Business District.
Singapore is filled with gay establishments, from bars and discos like Superstar, lockerroom and Tantric to sleazy saunas like Cruise Club, where it isn't at all uncommon to see full-on sex occurring. You'd never know that homosexuality was technically illegal in Singapore by visiting any of Singapore's gay bars or gay clubs.
Other Gay Meeting Places in Singapore
During Singapore's post-war, post-independence period, it became common for foreigners and local men alike to cruise for sex at shopping centers, public toilets and even on the street.
While that sort of behavior no doubt continues to the present day, other means of meeting men in Singapore exist. Specifically Grindr, a gay sex app I wrote about in detail in a recent article.
No matter how you choose to meet men in Singapore, do be cautious whenever you go about your business — being gay is, after all, still technically illegal in Singapore.