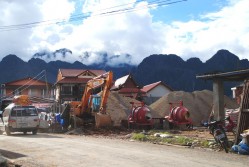 When my Aussie friend Dan visited me in China a couple years ago — he was the friend who accompanied me, you may recall, to see pandas in China — he told me Laos was, without a doubt, the best country for travel in Southeast Asia. "Make sure," he said," to travel to Laos the next time you wind up in the area."
I therefore had very high hopes as I began my travel in Laos, having traveled to  Laos from Vietnam by land from Hanoi. Laos is a beautiful, serene country I absolutely recommend you visit, but certain aspects of travel in Laos detract from its reputation as the crown jewel of Southeast Asia.
Laos Infrastructure Development
As the world's alleged "most-bombed country," Laos was left with the little in the way of infrastructural development in the wake of World War II and for much of the time that has passed since then. Laos' population is a paltry (for Southeast Asia) seven million, most of whom are rural farmers, so development of public transportation and services weren't as crucial as they've been in highly populated neighboring countries like Thailand and Vietnam.
In recent years however, the Lao government has been eager to grow the country's economy, which depends mostly on the tourist dollars of people who travel to Laos, as well as the standard of living for its people. From projects like the controversial Xayaburi Dam, to more practical paved mountain roadways and tourist-related constructions, Laos is very much in the middle of a building boom.
And that's fine for the people who live there (or maybe not, depending on who you ask). But in terms of travel to Laos, I have to be honest: The cranes, earthmovers and cement mixers kind of spoil and otherwise, well, unspoiled natural beauty.
Backpackers in Laos
Laos is known as a backpacker's paradise, so it's ironic that I'm listing backpackers as one of the reasons travel to Laos is overrated. But then again, it isn't as simple as saying the mere presence of backpackers makes Laos travel unpleasant.
Rather, it's the types of backpackers Laos seems to attract and the behavior in which they engage. An angry, beautiful river flows through the mountain town of Vang Vieng, so I totally understand why people would want to tube in it — I did too, until I found out about the pink eye epidemic.
The problem with backpackers in Laos is that they tend to be of the "drink as much as we can" sort, concerned more with having a more festive backdrop for partying than they would back home. These backpackers are disproportionately British and European trust fund kids on their "gap years," a concept that doesn't exist in the United States.
Difficulty and Expense of Travel to Laos
Another way Laos differs from is Southeast Asian neighbor countries in a not-so-positive way is that getting there is usually either difficult or expensive. If you don't want to pay $200+ one-way to fly from Hanoi to Luang Prabang or Vientiane, be expected to spend at least a couple days traveling overland to get there, as I did when I visited.
From Bangkok, it's a bit easier. Although flights are about as expensive as what you'd pay from Vietnam, you can take the new train service from Bangkok to Vientiane, which still takes 13 hours, but offers lie-flat beds in air conditioned cabins for around $20 U.S. one-way.
No matter how you travel to Laos, you must obtain a Laos entry visa, either in advance from a Lao embassy in Vietnam or Thailand or at certain airports and border crossings. Visas in Southeast Asia are hardly a rare requirement, but the Laos visa adds about $40 to the cost of your travel in Laos.
Why You Should Travel to Laos Anyway
At the end of the day, Laos is a breathtakingly beautiful country that transcends most of the factors that work against it. Will it be your favorite place you've ever visited? Probably not, if you're anything like me.
Travel to Laos is nonetheless a relaxing and maybe even eye-opening experience. As annoying as some of your fellow backpackers can be, for instance, doesn't there behavior make for an interesting commentary on the state of Western travel?
If you haven't decided when you're going to travel to Laos, check out this photo essay on Laos.