Since returning from Iceland recently, I've had time to outline the particulars of my trip, including notes about where I wish I would've chosen a different route or a different destination altogether. My Iceland road trip was comprehensive without being overwhelming, fast-paced but not rushed and in-depth but never redundant. Whether you reproduce my itinerary exactly, or simply use it as a jumping-off point for your own, most of what you'll want to see in Iceland is here.
Before we get into the nitty-gritty of my Iceland road trip itinerary, we need to talk about three big generalities—transport, lodging and money—as well as to answer the important question of whether summer or winter in Iceland is best for you.
Rental Cars in Iceland
I'm going to assume most of you are already committed to taking a road trip through Iceland, but if you're not, please change your mind. While it's possible to see Iceland via public transport or an organized tour, you lose a big part of the Iceland experience—namely solitude and the freedom to explore—if you don't rent a car. If you visit in winter like I did, renting a vehicle with 4×4 capabilities is an absolute must.
Money in Iceland
Iceland is one of the most expensive countries I've ever visited. Between my rental car and gas, accommodation and meals (I usually only choose to eat one per day, besides breakfast at my guest house, if it was included), I spent between 200-300 USD per day—and y'all know I don't travel luxuriously. Your costs will obviously be lower if you bring a friend or two, or if you opt not to rent a car (although again, I would never recommend that), but there's no way around how expensive Iceland is.
The good news when it comes to money in Iceland is that you needn't withdraw any Icelandic Króna: Literally everywhere in the country takes credit cards, always Visa and Mastercard, and surprisingly American Express and Discover in quite a few places. Another piece of good news is that the vast majority of attractions in Iceland have no entry fee.
Summer or Winter?
I traveled to Iceland during winter and it was a magical—if at times terrifying—experience. In addition to the fact that the country looked magical in its snow-cover, there were almost no tourists outside of Reykjavík. I frequently had guest houses and entire tourist attractions to myself!
With this being said, taking an Iceland road trip in winter comes with its own unique set of challenges. There's only 3-5 hours of daylight, for example, and while these daylight hours are beautiful (imagine an all-day sunrise or sunset!), they don't provide a lot of room for error. On the other hand, while winter in Iceland is chilly, it's not extremely cold. It was rarely colder than -5ºC (23ºF) during my trip, even in the middle of the night
To be sure, driving at night in Iceland is possible, but I don't recommend it when you can avoid it. Road conditions outside of Reykjavík (in terms of snow/ice cover, not the road itself) tend not to be good, and street lights are very rare as well. Regardless of when you visit, check road conditions every day before you leave at Road.Is.
The good news is that if you decide to take your Iceland road trip in summer, this itinerary will suit you as well: If I was able to accomplish this during the darkness of winter, it'll be easy for you to do using the midnight sun as your guide!
DAY 1: ARRIVAL AND REYJKAVÍK
After arriving at Keflavík International Airport, pick up your rental car and drive to your hotel in Reykjavík. Check in, then get to exploring—quickly, if it's winter! It'll probably be dark by the time you arrive and temperatures will drop rapidly.
For me, the main—and, perhaps, only—highlight of  Reykjavík was Hallgrímskirkja, a massive church that looks like some kind of Viking worship hall, but is actually Lutheran in its origins. Reykjavík's surrounding Old Town is also quite charming and the city, like much of the rest of Europe, is home to more museums per-capita than anyone could ever want. Especially me!
DAY 2: REYKJAVÍK TO VÍK
Indeed, it is only when you get out of Reykjavík that Iceland truly starts to get awesome. On Day 2, you'll begin heading east on Iceland's Ring Road toward to the town of Vík. Like Reykjavík—and in my opinon, all towns and cities in Iceland—Vík itself is nothing special. In Iceland more than perhaps anywhere else I've been, it is about the journey and not the destination.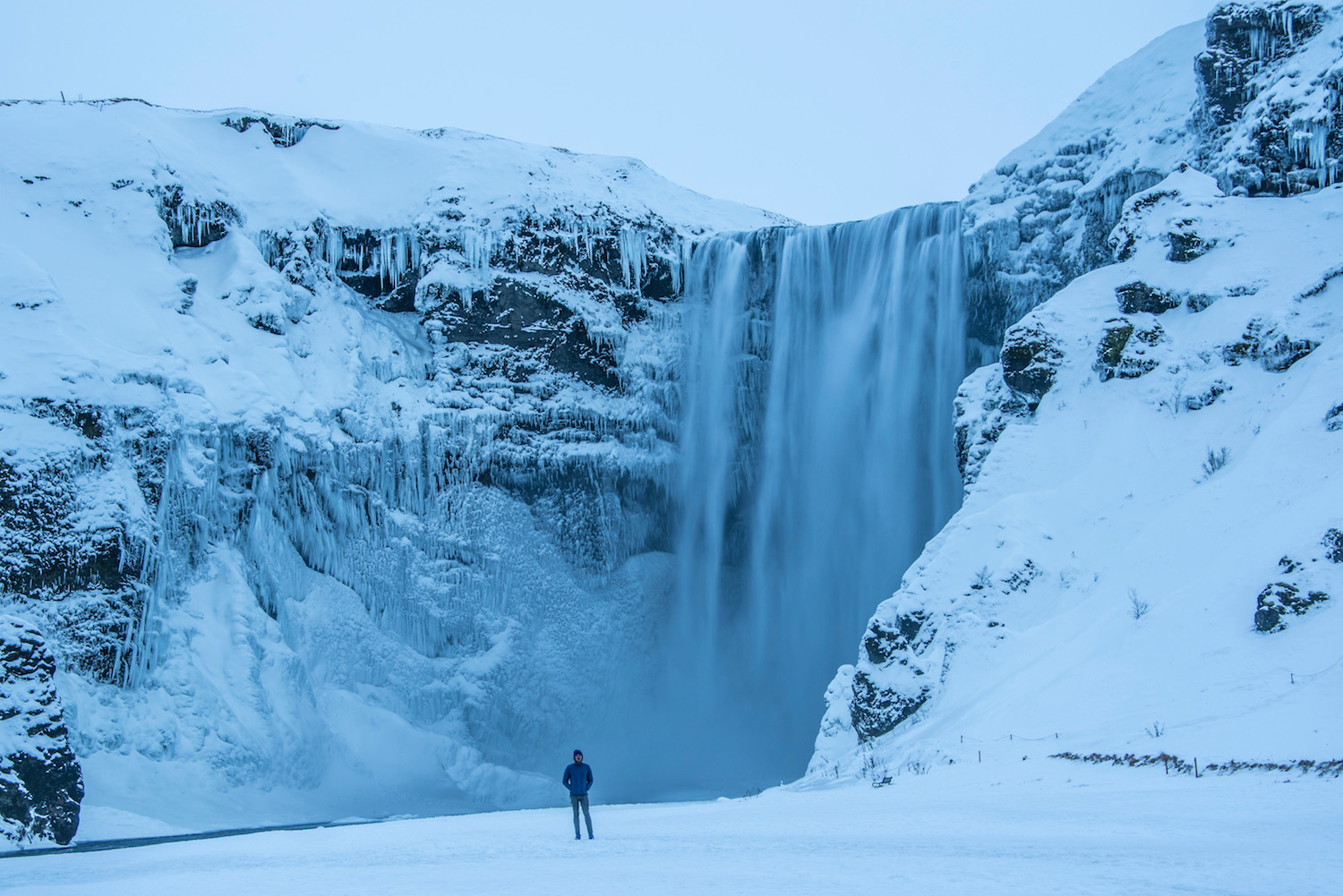 Just outside of Reykjavík sits Kerid Crater and then, about halfway through your drive, you'll pass a pair of waterfalls—Seljalandfoss and Skógafoss. A few minutes before arriving in Vík, you can stop at two coastal treasures: Dyrholaey, a massive rock that rises out of the sea, and Reynisfjara, a black lava beach.
DAY 3: VÍK TO JÖKUSÁRLÓN
Don't cry if you can't make it to Reynisfjara: Many of the beaches onward from Vík are made of black lava, to say nothing of all the waterfalls and other dramatic scenery you'll see. It was on Day 3 where I really begin to let go of my "planned" itinerary and instead, to stop when and where I felt the urge to.
Well, except for one destination—two, really: Jökusárlón, a "glacier lagoon" that, as its name suggests, is filled with floating icebergs; and Breiðamerkursandur, a beach covered in icebergs that float out to sea from the lagoon. For my money, these are the two most photo-worthy attractions in Iceland, particularly if you can catch the aurora over them.
DAY 4: JÖKUSÁRLÓN TO EGILSSTAÐIR
If day 3 emphasized the importance of journey over destination, day 4 hammers home how (sadly) forgettable the towns and cities of Iceland are, from Höfn, which is a couple hours up the coast from Jökusárlón, to my my destination ofEgilsstaðir, which made for little more than a place to sleep.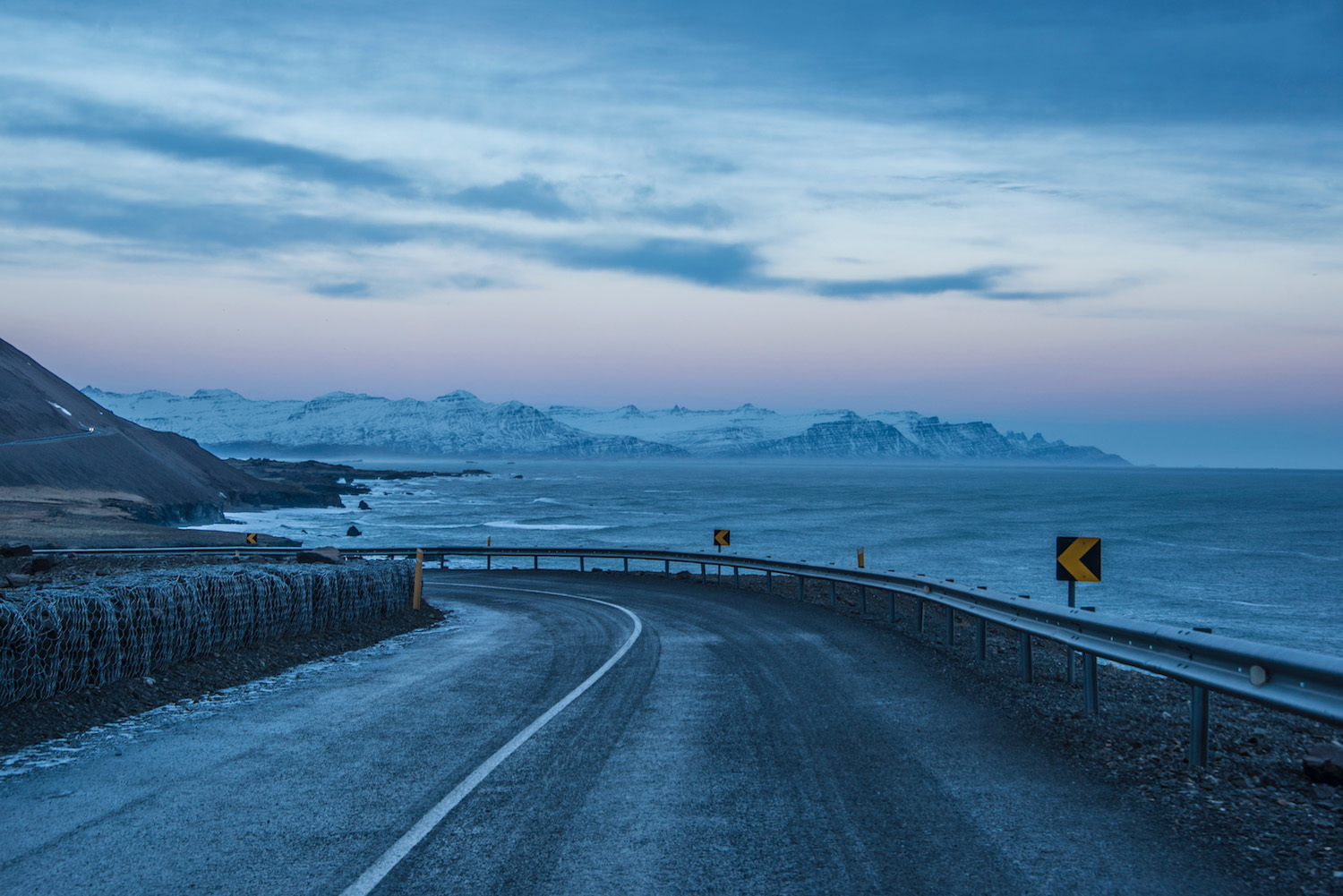 Instead, the highlight of day 4 is driving through Iceland's Eastern Fjörds, which are particularly stunning if you happen to get a sunny day. They can also be terrifying if it's snowed or iced recently, and not just in your head: It's along this route where you'll realize Icelanders are not the biggest fan of guard rails.
DAY 5: EGILSSTAÐIR TO AKUREYI
Actually, I take what I said in the last section back. Not all cities in Iceland are boring, at least not visually. Akureyi is quite beautiful, even if most of the activities on offer there—namely, whale watching—are unavailable during the winter.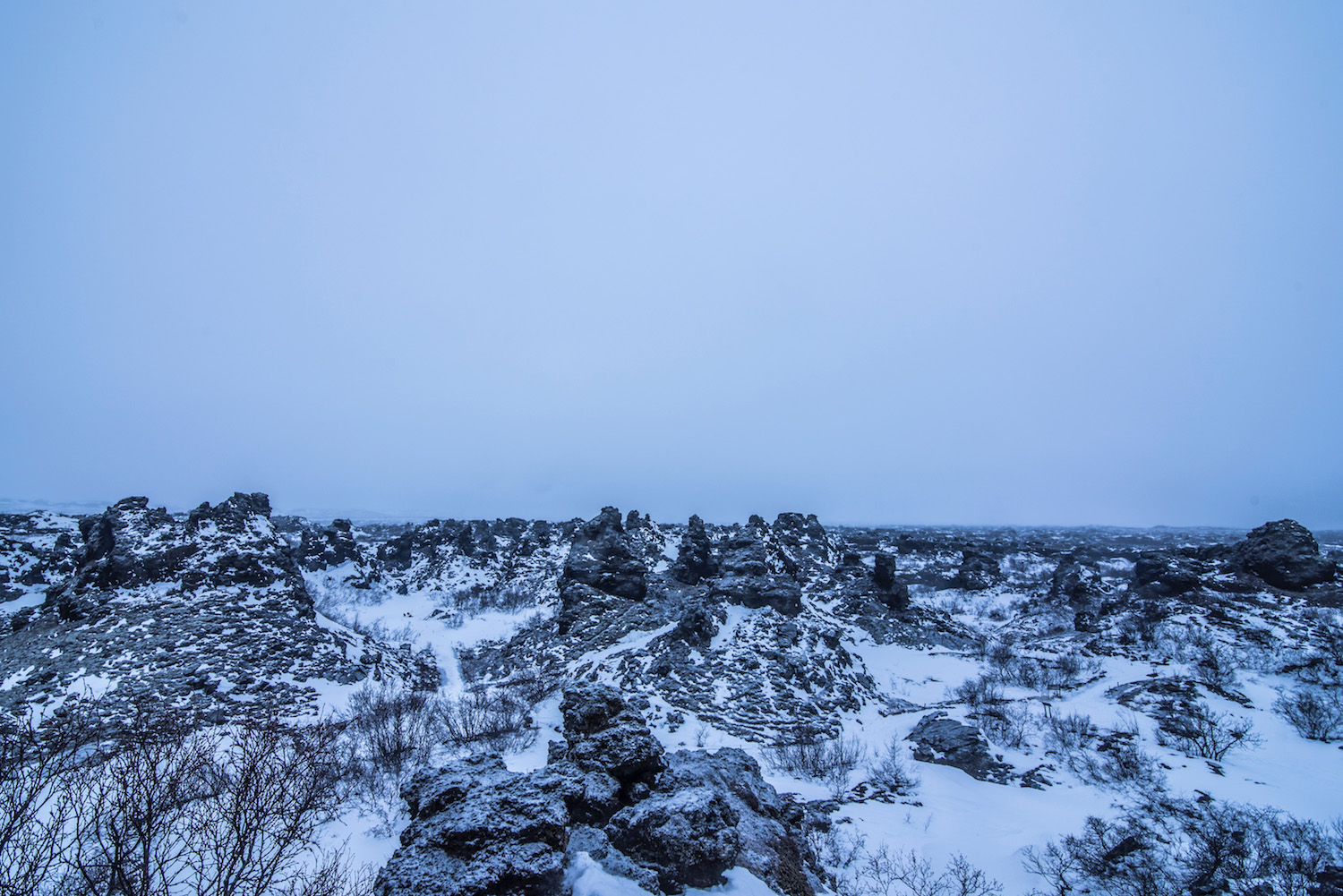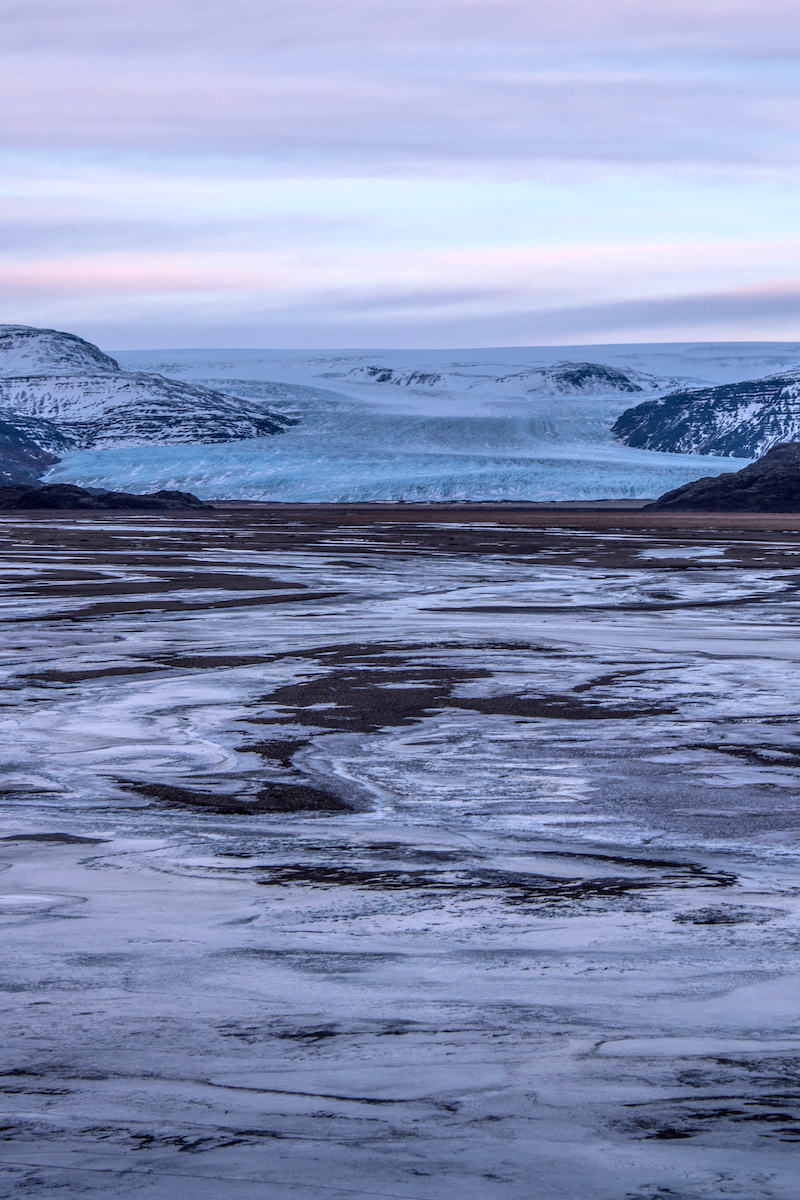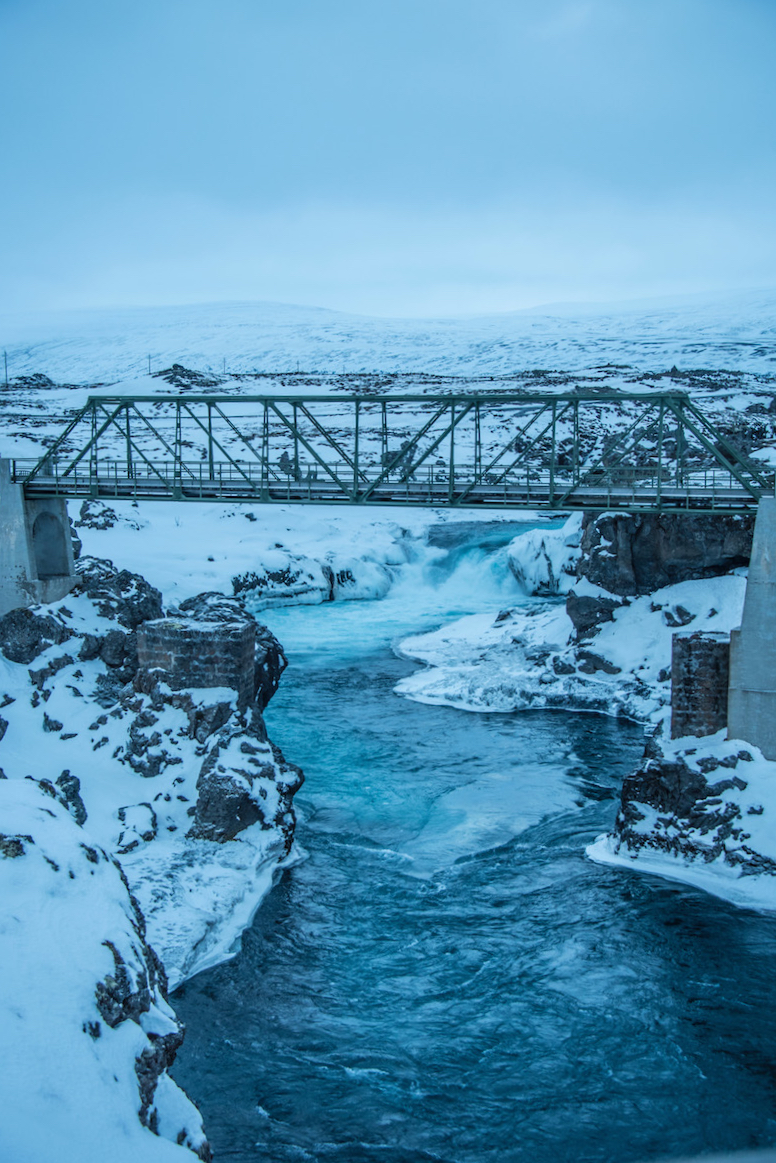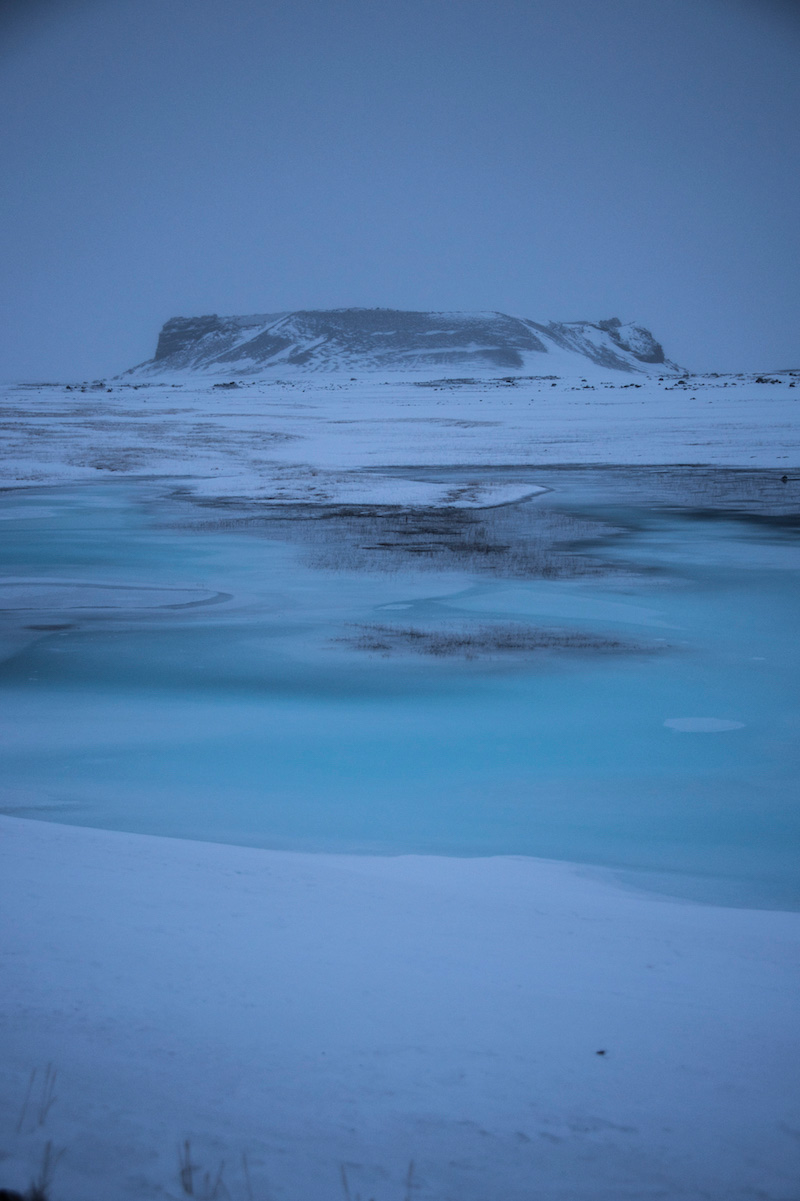 The terrain from Egilsstaðir to Akureyi is probably the flattest I saw in all of Iceland; many of the attractions along the route are of the volcanic sort, from the Dimmuborgir Lava Fields, to Namaskarð Geothermal Field, to the Myvatn Nature Baths, a less-crowded (but much more expensive!) alternative to the Blue Lagoon, near Reykjavik. About an hour before arriving in Akureyi you'll pass Godafoss, which for my money is the most beautiful waterfall in Iceland.
DAY 6: AKUREYI TO BLÖNDUÓS
I'd originally planned to spend two days in Akureyi—one seeing the attractions I described above and the second driving to nearby Husavík for whale watching—but winter made that all but impossible. Instead, I cut my long journey to the Snæfellsnes Peninsula in half and spent my day making the quick drive to Blönduós.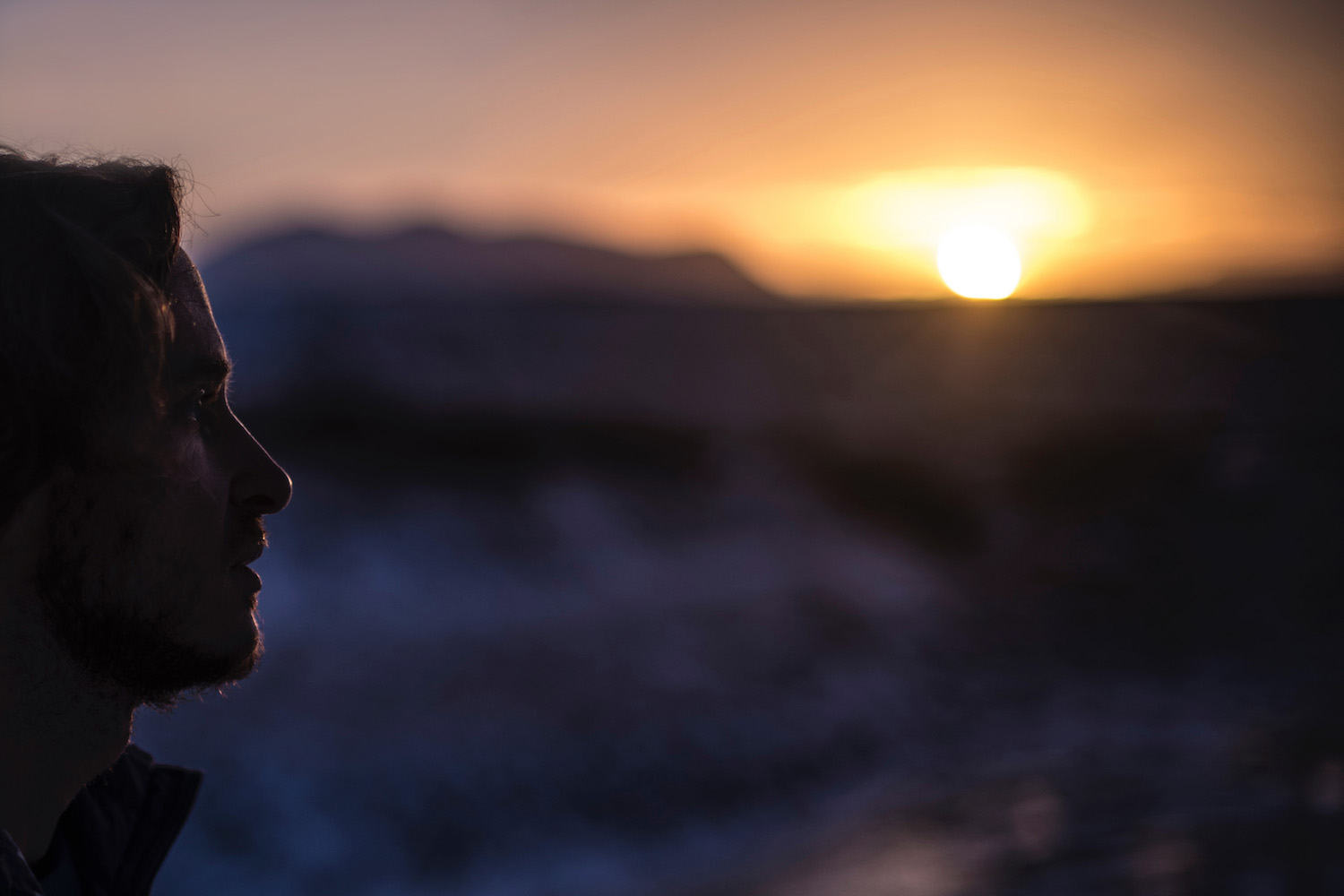 There isn't a lot to see between Akureyi and Blönduós, but by this point in your trip you'll probably want/need an "easy" day, particularly if you take your Iceland road trip in winter like I did.
DAY 7: BLÖNDUÓS TO GRUNDARFJÖRÐUR
NOTE: If you have an extra day to devote to your Iceland road trip, you could drive from Blönduós up into Iceland'sWest Fjords, then continue following my itinerary to Grundarfjörður from there.
I mentioned earlier that Jökusárlón and the nearby ice beach were my two favorite attractions of my Iceland road trip, but if there's one region whose scenery is the most spectacular overall, it's the Snæfellsnes Peninsula, which you enter shortly after departing Blönduós. Many people describe this as a microcosm of all of Iceland, thanks to its many volcanoes, waterfalls and fjords.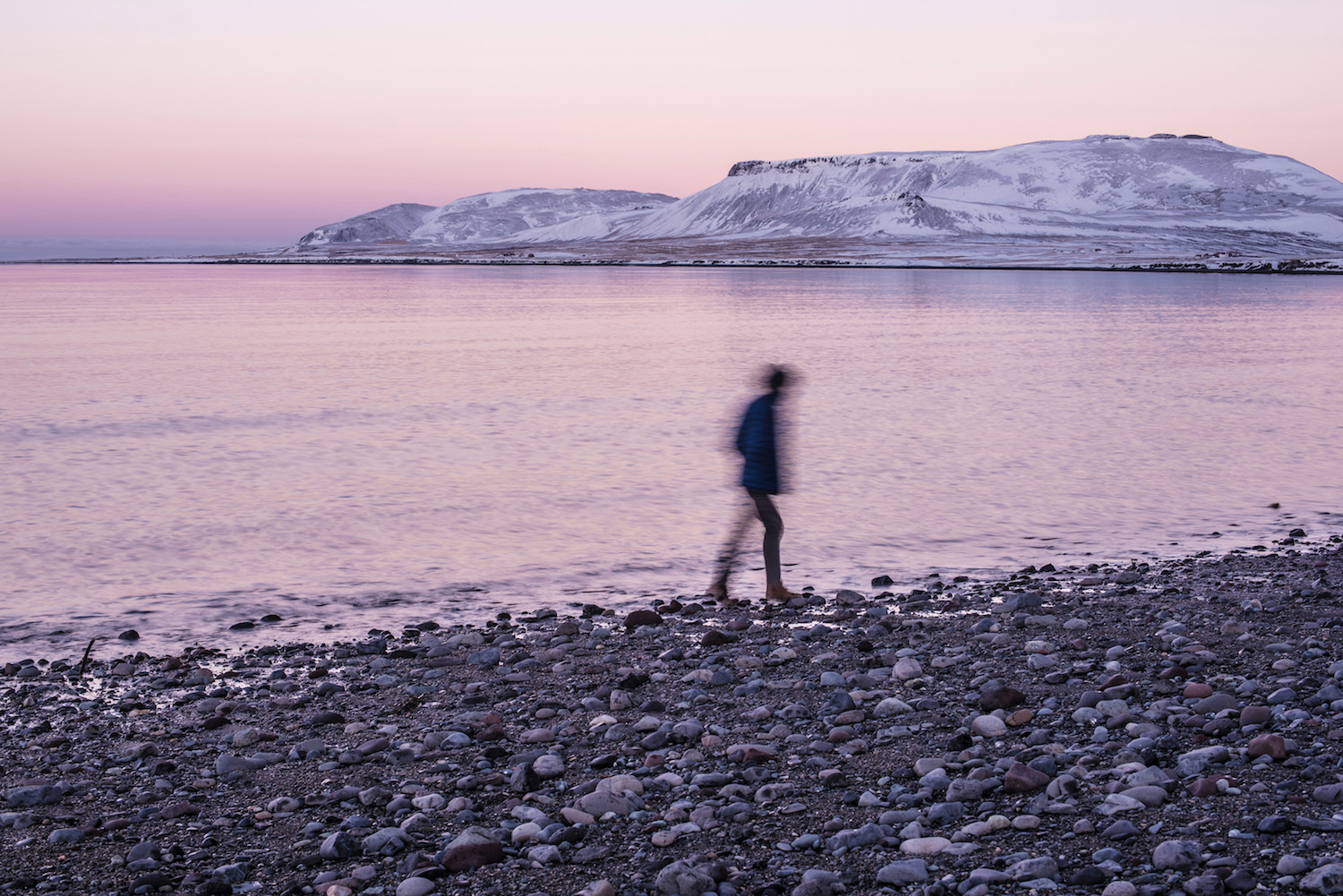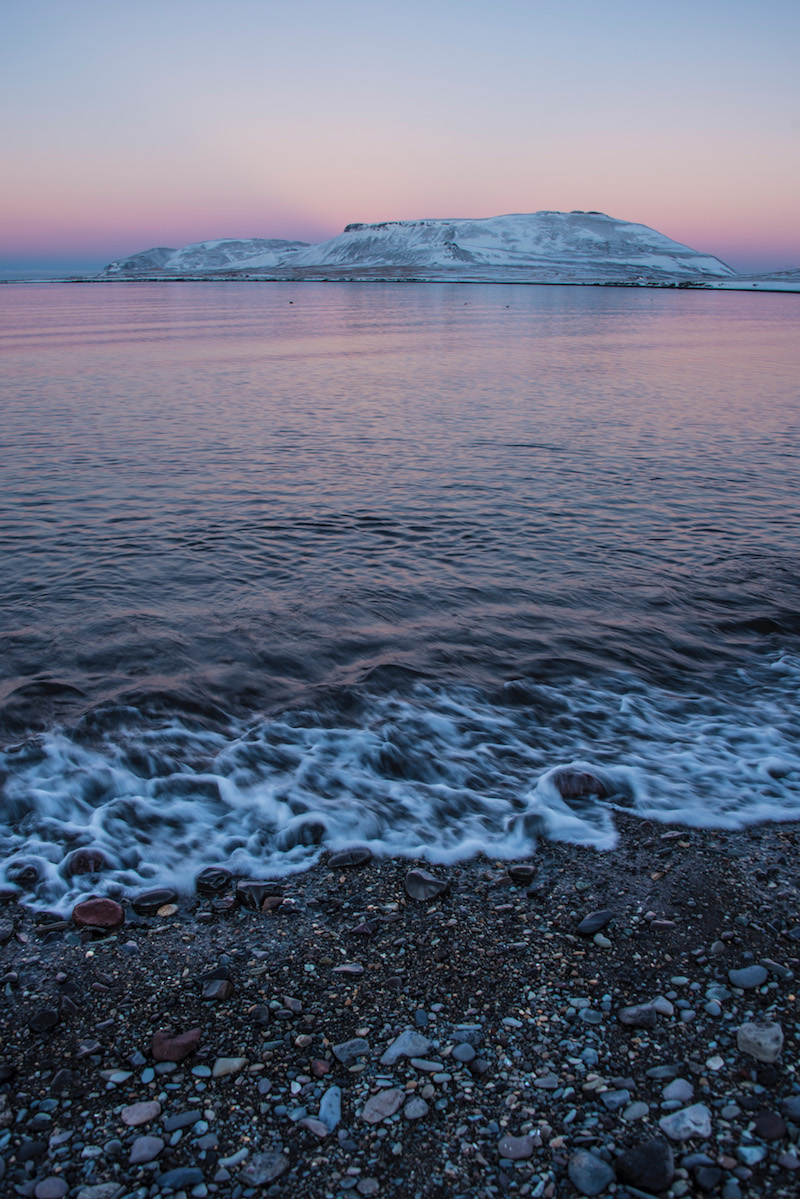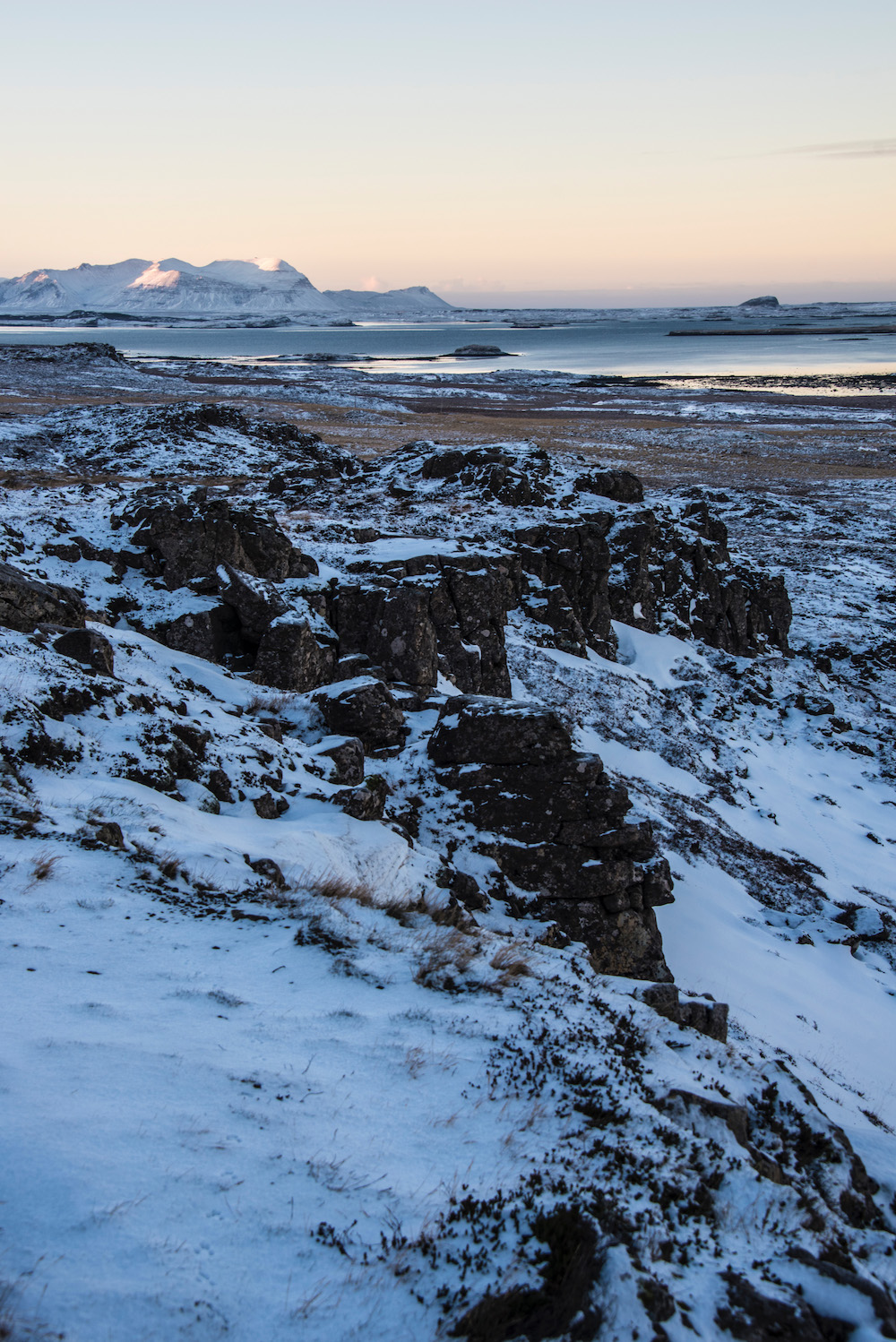 The towns of Snæfellsnes are also the most picturesque in Iceland, in my opinion, from Grundarfjörður (where I stayed) to Olafsvík, which you'll actually explore tomorrow. Additionally, Snæfellsnes is perhaps the best place in Iceland to see the Northern Lights. (see first photo of the post).
DAY 8: GRUNDARFJÖRÐUR TO BORGARNES
Grundarfjörður is only about halfway down the northern side of the Snæfellsnes Peninsula, so you'll spend most of today driving to its tip and then back east toward the town of Borgarnes.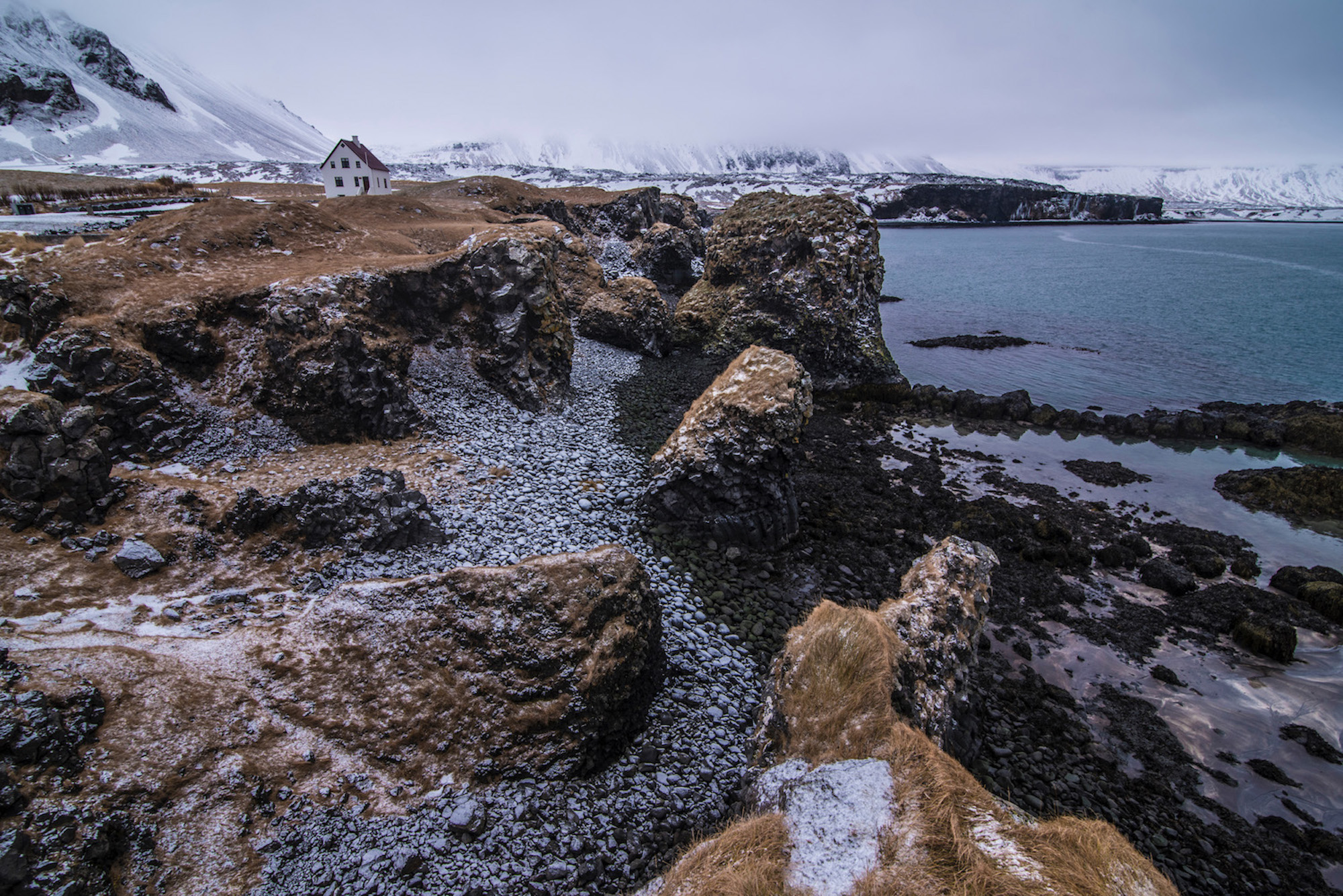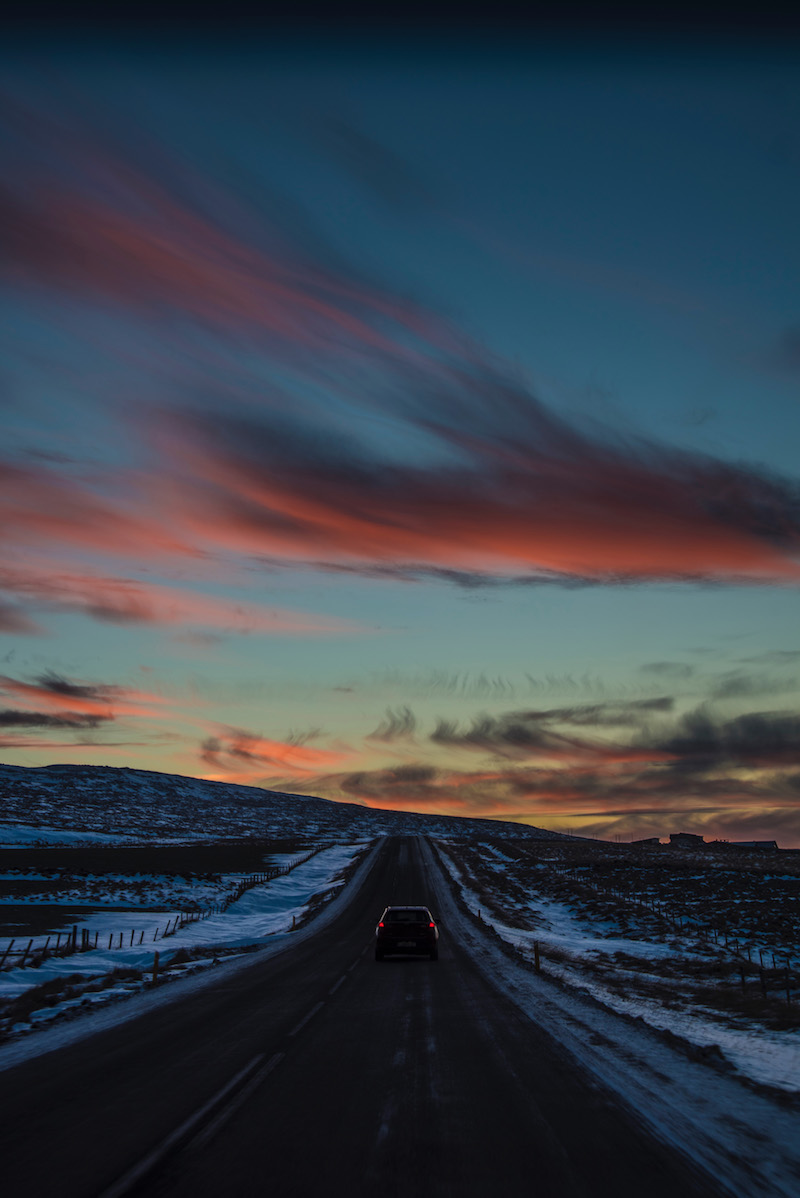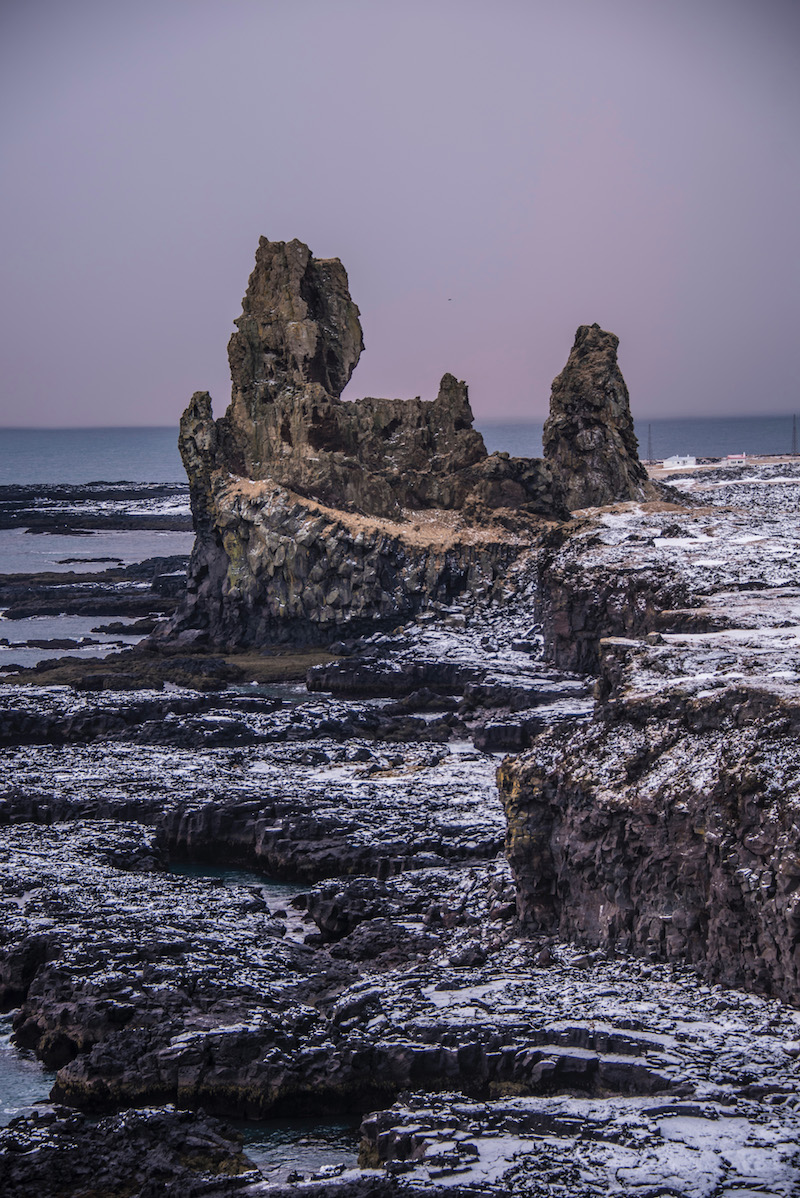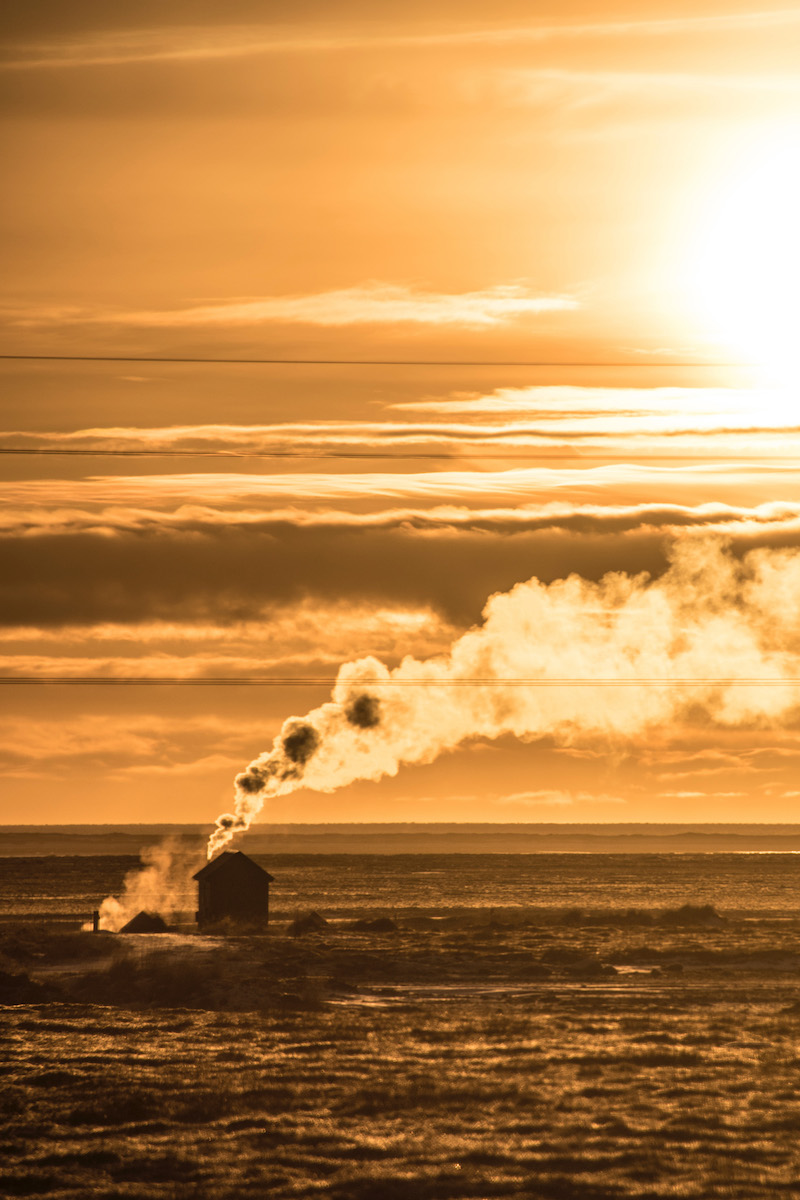 Everything you see today, most of which is in Snaefellsjökull National Park and scattered around a volcano of the same name, is spectacular, but my personal favorite was Londrangar, a massive rock column that juts out of the sea. The towns of Arnarstapi and Hellnar are also rather special.
DAY 9: BORGARNES TO KEFLAVÍK
I spent the last day of my Iceland road trip entirely inside my car. The weather was incredibly shitty, and although I'd planned to stop back through Reykjavík on my way to Keflavík Airport, it just wasn't going to happen.
To be honest, I was also very tired, a feeling you'll probably have as well. In travel as in life, all good things must come to an end, and while I don't think I could ever get enough of Iceland, I was content in what I'd seen by this point—I imagine you will be, too.