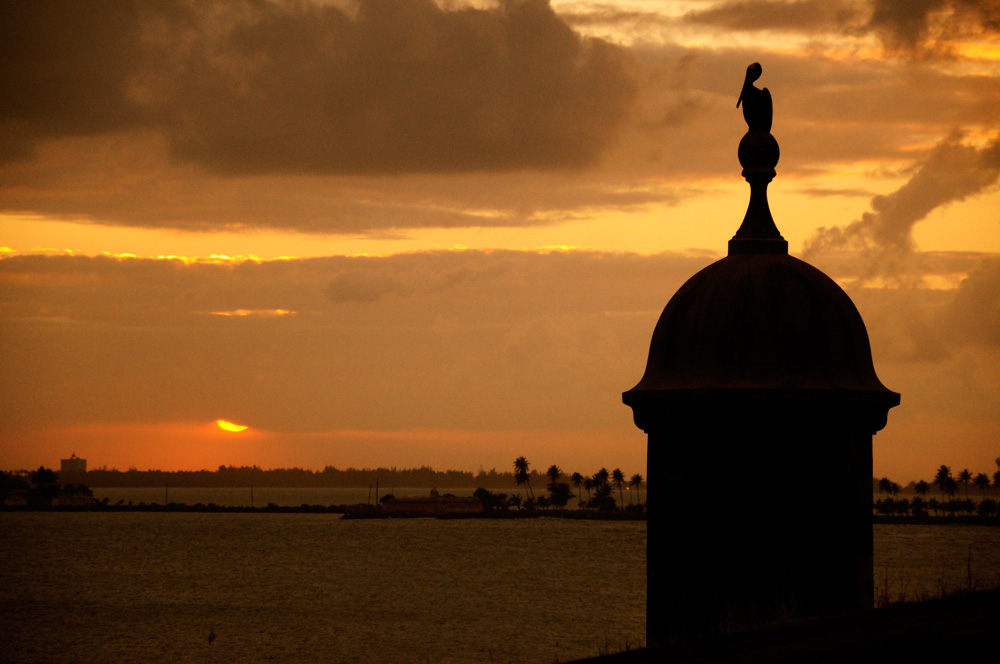 The Puerto Rican sun peaks through your window at Casa Sol Bed & Breakfast, and although the homey feeling inside is matched in warmth only by the bright, yellow façade of the building, outside is where true romance awaits you. It's time to wake up.
After a plate of sweet quesitos and piping-hot café con leche for two, you've hit the brick streets of Old San Juan. Walking along Paseo de la Princesa, a local artists notices how inseparable you are from one another, and asks if he can sketch you—the historic San Juan Gate looms welcomingly in the distance, but it's early yet, so why not?
Once he finishes (and you buy it from him, of course) you arrive, amazed, at San Juan Cathedral, where another couple is celebrating their own bond. You hope it's a good omen as you continue your stroll, this time along Calle Cristo toward Castillo San Felipe del Morro.
Before you know it it's mid-day and looking out over the sparkling Caribbean, hand-in-hand, hoping your love is as timeless as the castle walls. You're as starved as you are lovestruck by the time you've walked the entire perimeter of the fortress, so you descend to sea level and end up beachside at Oceano, where you tear into modern takes on Puerto Rican classics, like king snapper ceviche and mahi mahi chicharones, with lapping waves just steps from your sand-smoothed toes.
A reminder: The sun is just a few hours from setting, and you haven't yet gone for a swim. You could wait a few minutes for your food to digest and walk right out into the water from your table—Oceano, after all, sits right on San Juan's iconic Playa Condado.
Alternatively, grab your partner's hand and make a beeline for the picturesque Ocean Beach Park, or for Isla Verda Beach which, as its name suggests, flanks water so green and sparkling you'll think you happened upon a sea of turquoise.
Then again, you could shop for actual turquoise, at the aptly-named Turquesa, and save the splendor of Puerto Rican nature for tomorrow. (El Yunque Rainforest is just 45 minutes by car from San Juan and makes a perfect day trip.)
As the sky sings with shades of purple, pink and orange, head back to El Morro and join the hundreds of kite flyers, many of them also couples, and watch your love soar as the sun sets behind you.
Dine simply tonight—a satisfying paella at the charmingly local Pelayo's should do. After all, your infatuation with Puerto Rico is brand new, even if the adoration you feel for one another is of a more mature sort. Enjoy a piña colada or two, or even try your luck at the iconic "La Bomba" dance before you retreat inside the warm, yellow walls of Casa Sol, preparing to feel Puerto Rico's seduction on your skin again tomorrow.
Even if you're still searching for "The One," you can still live your own 5-star vacation story in Puerto Rico—you might even find him/her there! To learn more about Puerto Rico, visit SeePuertoRico.com and tell me below: Romance or not, where in Puerto Rico do you most want to check out?