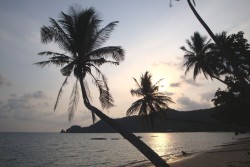 By the time I started planning my first trip to Thailand, I'd been living in chaotic, crowded Shanghai for more than three months. As beautiful as I'm sure they are, I was less than thrilled at the prospect of spending the Chinese New Year holiday on a crowded beach in Phuket or Koh Samui.
After a week or so or careful research, I determined that a little island known as "Koh Mak" was among the last unspoiled paradises in the Gulf of Thailand, described as having a Robinson Crusoe-type feel and a marked lack of visitors when compared to more popular Thai beach destinations.
My sources would eventually prove to be correct, although my initial arrival at Koh Mak's busy main dock led me to believe they'd been wrong. Although Koh Mak is far from deserted, silence and tranquility are never more than a short walk or bike ride away.
Bus and Boat to Koh Mak
Koh Mak is located off the shores of Thailand's southeastern Trat province, whose capital city is located around five hours from Bangkok by bus. Your first task in getting to Koh Mak from Bangkok is thus arriving in Trat.
If you're heading straight to Koh Mak from Suvarnabhumi as I did, take a shuttle from the air terminal to the bus terminal and buy a ticket on the next departure to Trat, which should run you under 300 baht. If you're already in Bangkok, how easy a process this is depends on where you are. Staying at Khao San Road? Several buses per day leave direct from Khao San to Trat. If you're elsewhere in Bangkok, take the SkyTrain to Mo Chit station, located adjacent to Bangkok's busy northern bus terminal of the same name, and travel to Trat from there.
Once you arrive in Trat, you need to take a boat to Koh Mak, which involves taking a taxi or tuk-tuk to the Laem Ngop pier. Once you're there, purchase a ticket from Leelawadee Speedboats, whose boats depart at 10:00 a.m. and 2:00 p.m. Expect to pay around 400 baht for a one-way ticket for the 45-minute journey. If you can't get to Trat before 2:00 p.m., think about staying in Bangkok an extra night — there isn't very much to do in the Trat area.
Koh Mak Arrival Pier
Your speedboat will drop you at Koh Mak's Makathanee Pier, which is located along the southern shores of the island. While beautiful, your initial impression will not likely be one of the Robinson Crusoe paradise that was foretold.
From here, you have two options: Walk down the beach as far as you can and find accommodation that will afford you an easy escape from the (relatively) crowded scene near the pier; Or walk straight down the main road until you hit a dead end, then turn left and follow the red, dirt road until you reach its end as well.
After about an hour you'll reach Ao Pra and Ao Soun Yai beaches, two Koh Mak shores that are decidedly more serene than those you find at Makathanee. Alternatively, you can hire a taxi or tuk-tuk to take you here or to other quieter beaches.
Koh Mak Hotels and Resorts
Koh Mak has no shortage of places to stay, no matter what your travel budget is. If you're reading this blog I'm going to assume your travel budget is the same as mine was when I visited: As little as possible.
Unaware that the aforementioned quieter beaches existed, I chose to stay at the aptly-named Koh Mak Cottage, a collection of white cottages located about 500 meters down the beach (take a right) from Makathanee pier. I paid about 250 baht per night for my own private cottage. Although it was nice, it was infested with cockroaches. Food for thought. Er, not food. Whatever.
My best advice to you, unless you're too tired to like, walk around when you get there, is to shop around until you find a place with a location and at a price point that suits you. Although the majority of lodging in Koh Mak wasn't high end when I visited, you should make sure the place you want to stay isn't before you commit to staying there. This map might help you.
Beaches of Koh Mak
Once you sort out getting to Koh Mak and finding a hotel in Koh Mak, it's time to hit the beach! Since Koh Mak is, well, an island, there are absolutely no shortage of them. My recommendation is this: Spend your days slowly exploring the Koh Mak coastline, walking along the shore until you literally can't go anymore. Once that happens, take to the island's aforementioned red dirt roads and walk until you find a different beach.
Regardless of where you stay or beach in Koh Mak or how long you spend there, an island getaway to this paradise is just the short break you need to ease any travel stress you have. Not sure you where you should head once you've got that tan? Why not take a train to Cambodia or visit the sex tourism hub of Pattaya?