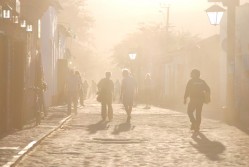 After you wind down a tour of the Uyuini Salt Flats in southwestern Bolivia, you have two options: Return to the town of Uyuni and then, to somewhere else in Bolivia; Or continue over the Andes and down into Chile's Atacama desert.
In addition to being the "highest, driest" desert in the world, the Atacama desert is home to the town of San Pedro de Atacama, an extremely small town that is chock full of gringos. You know, other white foreigners.
If you're stopping in San Pedro de Atacama in hopes of getting your first taste of Chilean culture, then move on. If you don't go out and explore the abundant otherworldly natural features that surround the town, a trip to San Pedro de Atacama, Chile promises little more than a behavioral study of tourists in transit.
Getting to San Pedro de Atacama
As I mentioned above, San Pedro de Atacama is typically the first stop for travelers who've just finished touring southwestern Bolivia. The Chile-Bolivia border sits about an hour northeast of San Pedro de Atacama — and several thousand feet above it in the Andes, of course.
Most Salt Flat tours include the option for a complimentary transfer to San Pedro de Atacama. If you choose this option, make sure to get your Bolivian exit stamp at the immigration office in Uyuni town, as the border (where your tour will drop you off) is usually unmanned.
The Chilean immigration office is actually situated in the San Pedro de Atacama vicinity, so you're literally traveling through no man's land for your first 50 of so kilometers in Chile. Well, minus the fact that Chilean roads are actually paved, have guardrails and have stripes painted on them.
Relaxing in San Pedro de Atacama
The main reason I stopped in San Pedro de Atacama, rather than continuing straight on to the Chilean capital Santiago, was to recharge after a tiring two weeks in Bolivia, which I spent mostly sick. Cultural anemia aside, San Pedro de Atacama is an extremely relaxing place to find yourself. The town barely moves!
It's important to remember the fact I cited earlier over the course of your visit: San Pedro de Atacama is, in fact, situated in the world's highest, driest desert. Although on paper these superlatives might not seem significant, the effects of this highness and dryness on your well-being (if not your health) may be significant.
Although I spent only four days in San Pedro de Atacama, my hair, skin and lips were the driest they have ever been in my life by the time I left. I had to use lip balm (which is surprisingly hard to come by in such an arid place) for the first time in years! The good part of this is that if you have any excess sinus moisture, you won't for long.
Restaurants and Hostels in San Pedro de Atacama
San Pedro de Atacama has no shortage of places to eat and stay. In fact, it would seem upon arriving in the town that restaurants, hostels and hotels are among the only businesses in San Pedro de Atacama.
If you enter from Bolivia the vehicle will drop you in the town's central "Plaza de Armas," whereas travelers arriving from Santiago or elsewhere in Chile will arrive at the bus station in the northwest corner of town. No matter where you arrive, I suggest you head as far east as possible — in other words, walk toward the Andes — to find the most affordable place to stay in San Pedro de Atacama.
Restaurants, unfortunately, are uniformly expensive. The good news is that several grocery stores are available on the Caracoles main road and many of the hostels include kitchens where you can cook food.
San Pedro de Atacama Excursions and Activities
You can do a lot or a little in and around San Pedro de Atacama, depending on your energy level when you arrive. Mine was low so the only activity in which I partook was biking around the vicinity of the town for several days. In addition to some charming local farms, incredible Andean scenery and a creepy (but cool) graveyard, I was able to see and climb through incredible rock formations (with carved faces!) at Pukara de Quito.
As you wander through the town, you will see tours advertised for activities such as Valle de la Luna (Valley of the Moon), local geysers and salt flats and a "star tour" that happens nightly depending on how clear the sky is. I can't recommend any of these personally since I was exhausted and didn't partake in any of them, but I will recommend, as always, that you shop around to make sure you get the best price.