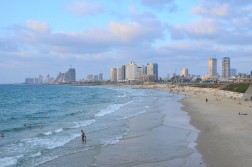 As I've written about in the past, my first visit to the state of Israel was less than charmed, most of it wasted at the northern border crossing with Jordan. The tension in the air there was palpable and lingered with me even as I traveled to and through the old city of Jerusalem.
I was clear before setting foot on Israeli soil a second time that I would only visit Tel Aviv, which would hopefully limit my exposure to the fearful, paranoid and ultimately unwelcoming reception I'd gotten during my previous trip. And it did, in spades.
Walking the streets of Tel Aviv, you'd never know there was a 5,000-year Holy War going on a few hours away. Tel Aviv is a bubble in that way. One on hand, it's separate and enclosed; On the other, its thin veil makes it vulnerable and delicate.
To say it another way, I almost feel that the rest of Israel is something of a shield for the Tel Aviv bubble. And Tel Aviv is definitely a bubble worth shielding: It represents the the very best of what's possible in the Middle East, the actions of Israel's government notwithstanding.