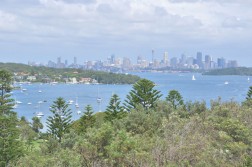 I should mention before I get into the meat of this topic that I had longer than 48 hours in Sydney — I spent almost a week there! My primary goal when I arrived in Australia's largest city, however, was getting all of the "must-do" attractions out of the way within the first 48 hours, so that I could relax and enjoy the remainder of my Sydney travel.
Tiring as the experience was, I was easily able to see what I consider to be the most "important" parts of Sydney in just two days. Whether you're on a long layover or just have a short temper when it comes to traditional tourism, 48 hours is all you need to see Sydney's most famous attractions and neighborhoods.
Day 1
Sydney Opera House and Sydney Harbour Bridge
The Sydney Opera House is without a doubt the most iconic of Australia's tourist attractions and makes a great first stop on your 48 hour Sydney travel marathon. Signage leading you to the Sydney Opera House from anywhere in central Sydney is conspicuous. If you purchase a Sydney public transportation card — which I highly recommend, as it decimates the usually high cost of public transportation in Sydney — take a train to Martin Place or Circular Quay, or a bus directly to the Opera House.
Another great thing about seeing the Sydney Opera House first thing is that it affords you a view of the iconic Sydney Harbour Bridge, which is probably Australia's second most iconic tourist attractions. Looking backward from the Sydney Opera House gives you a great view of Sydney's Central Business District, or "CBD." Spend no more than an hour here.
Royal Botanic Gardens and Hyde Park
If you walk clockwise around the Sydney Opera House, you'll end up at the entrance gates to the Royal Botanic Gardens, a decidedly green and peaceful collection of native Australian plants, shrubs and trees that provides you with continued great views of the Sydney Opera House, the Sydney Harbour Bridge, and the Sydney CBD. Admission to the Royal Botanic Gardens is free and a stroll through the gardens is a great way to relax yourself after the hectic tourist mess that is the Sydney Opera House.
After spending about an hour at the Royal Botanic Gardens, take a left onto Macquarie Street and walk south until you see a dramatic fountain in the distance. This is Sydney's own "Hyde Park" which is even grander than the one you find in London. Hyde Park is decidedly urban and sits literally in the shadows of Sydney's dozens of skyscrapers. You should ultimately aim to walk south through Hyde Park, although you may feel compelled to venture east or west and explore its nooks and crannies.
In total, it should take you about two hours between entering the Royal Botanic Gardens and existing Hyde Park's south gate.
Darlinghurst and Paddington
Continuing the "things named after things in London" theme, you'll exit Hyde Park onto Oxford Street, one of Sydney's most iconic and famous streets. Walking along Oxford Street will take you through the Sydney neighborhoods of Darlinghurst and Paddington, a quaint and quiet world away from the city's hectic central business district.
Spend as long or short a time as you like exploring the tree-lined streets, rowhouses and high street shops that exist along Oxford Street, as well as smaller streets like Victoria Street. Enjoy a coffee or snack at one of the neighborhood's charming cafes, but don't head too far south on Oxford Street, however: You need to end up at Darlinghurst Street after no more than two hours. Take a right on Darlinghurst Street and after crossing the wide William Street — you'll know you're in the right place when you see a massive Coca Cola sign — you'll end up at King's Cross railway station.
Bondi Beach
Board a train at King's Cross bound for Bondi Junction, the train station nearest to Sydney's iconic Bondi Beach, perhaps most famous for media coverage of Australia's sunbathing there on Christmas Day. Once you arrive at Bondi Junction, take the 333 bus directly to Bondi Beach and hit the sand.
How much beach time you get depends on how early you started your day and how quickly you moved. If you started your day at 8 a.m. like I tend to do and followed my time suggestions, you should arrive at Bondi Beach between 1-3 p.m. Arriving later? Don't worry: Bondi Beach is just as stunning at night as it is during the day, although you probably shouldn't swim at Bondi Beach after dark.
Day 2
Prymont Park and Darling Harbour
It might seem strange that I suggest you return to central Sydney to start your second day, but the reason is simple: Sydney's CBD, the Opera House and the Harbour Bridge are stunning enough that you need to be in their presence at least two days. Take a train to Martin Place and head west until you can't head west anymore. The body of water you see is Darling Harbour, a charming (if extremely touristy) swath of sea you should definitely see.
Crossing the pedestrian bridge over Darling Harbour takes you into Pyrmont, a mixed-use development that is most useful for tourists as an alternate vantage point of the city. Walk out onto Pyrmont's "finger" wharfs and relax in the park at the end of the largest one for incredible views of Sydney. In total, you should devote about an hour and a half to Pyrmont and Darling Harbour.
Sydney CBD and CIrcular Quay
After enjoying some time on Darling Harbour and in Pyrmont, head back over the pedestrian footbridge and take your first left. Walk up this street, which is Sussex Street, until the gradual uphill turns into a gradual downhill. Once this happens, the towering skyscrapers of Sydney's CBD begin to give way to decidedly lower-rise architecture. Sooner rather than later, you'll find yourself in the charming harbourside neighborhoods of Miller's Point and The Rocks, which have an almost Bostonian feel to them. Take a right when you reach Argyle Street.
Continue walking down Argyle Street, which provides you another opportunity for a snapshot of the Sydney Harbour Bridge, until you reach George Street, then hang a right. Immediately on your left is the Circular Quay ferry terminal, whose adjacent railway terminal you might have used when you visited the Sydney Opera House. Head for Ferry Wharf 4. You should arrive here about two hours after you leave Pyrmont.
Watsons Bay and Sydney Harbour National Park
Ask an attendant which is the next ferry departing for Watson's Bay, then board it as immediately as possible to get a good seat. The speedy ferry ride — about 15 minutes each way — takes you out into Sydney Harbour and provides you with even more fantastic views of the city, the Sydney Opera House and the Sydney Harbour Bridge than you've seen thus far.
Eventually, you end up at Watsons Bay, a charming if boring eastern suburb of Sydney. Ignore the overpriced town center and instead, walk across the city park you see in front of you and up the hill into Sydney Harbour National Park. Turn around and enjoy incredible views of the city, then walk up further and overlook massive cliffs that descend into the Pacific Ocean below. This area is known as "The Gap," which has not surprisingly gained notoriety as a suicide spot.
Depending on which return ferry you want to catch to Sydney, spend between one and two hours allowing the cool ocean wind to hit your face.
Oxford Street Nightlife
How late you get back into the city on the second day of Sydney travel is inconsequential, as this is the night you partake in Sydney's nightlife, which doesn't get going until well after the sun sets anyway. Remember charming Oxford Street from day 1? You'll be heading back here tonight, when the area becomes decidedly busier and in some places, seedier.
Although Oxford Street has gained notoriety as Sydney's gayborhood, gay bars and clubs such as Stonewall's and Arq are far from the only entertainment you'll find there. If you're lost for ideas, chat up a door person for any of the establishments or better, pop into a random bar for a drink and ask one of the locals what they recommend.