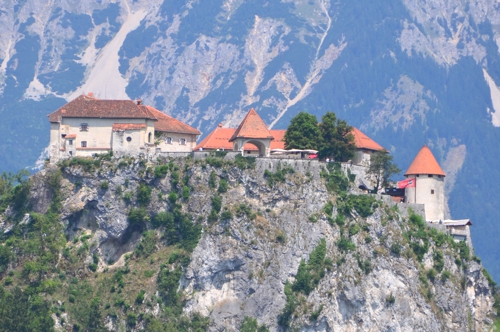 Slovenia is home to a huge and diverse range of destinations, which are scattered across its territory. And Slovenia's territory, you might remember, is extremely small.
You can therefore visit nearly all of Slovenia's top destinations as daytrips from Ljubljana, its charming capital. Whether you're into Alpine lakes, subterranean caves or pint-size port towns, there's a Slovenia daytrip for you.
Lake Bled and Bohinj  
Lake Bled, located approximately 90 minutes northwest of Ljubljana, is without a doubt the most popular excursion for travelers to Slovenia. Lake Bled has electric blue waters, a castle at its center and the Julian Alps towering around it, so this should not come as a surprise.
If you're looking for a less-crowded lake escape, continue approximately 30 minutes past Bled to Bohinj, an even more bucolic locale that has its own glacier-fed lake, albeit one whose crystalline waters are more green than blue.
Regardless of whether you get off at Bled or continue all the way to Bohinj, you can take a direct bus from Ljubljana's central station. Check schedules online, or pick up a timetable when you first arrive at the station. Bus tickets should not run you more than €8 each way.
Postonja Caves and Skocjan Caves
Not only all of Slovenia's natural delights are above the surface. In addition to beautiful lakes, Slovenia boasts a collection of caves, some of which are among the deepest in Europe.
The most popular of these is Postonja Caves, which like Lake Bled boasts its very own castle. Alternatively, head further south toward the Italian border to reach Skocjan Caves, a UNESCO world heritage site that is somewhat less touristy than Postonja.
Note: Photography is officially prohibited in both caves but if you're sneaky, you can get away with it.)Train is the preferred means of travel to reach either cave. Hop onboard any Sezana-bound train from either Central or Tivoli station in Ljubljana, then get off at Postonja, or Divaca for the Skocjan Caves. The one-way fare to Divaca is €7,27; to Postonja, the fare is slightly less.
Slovenia's Adriatic Coast: Piran and Koper
For my money, Piran is the better of these two to visit. Although Koper's old town, like Piran's, dates back to and evokes a smaller version of a town you might on the Italian coast, it is a good trek from the bus station. On the other hand, you can walk to old town Piran in just minutes.

Unless you have an extremely detailed map, you might not notice the fact that Slovenia has oceanfront real estate at all. But it does — to be specific, 47 km of it. Although much of Slovenia's Adriatic coastline is industrial, it is home to two charming towns: Piran and Koper.
No matter which choice you make, you'll travel by bus from Ljubljana. The journey to Koper takers about two hours, while Piran requires approximately two and a half. The bus fare should run you about €12.