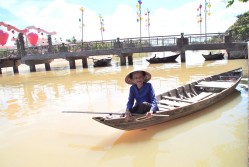 Vietnam was a French colony for most of its modern history prior to the Vietnam war, and French influence is still strong throughout the country. Nowhere in Vietnam is this influence more pronounced than in the town of Hoi An, located on the central Vietnamese coast near the large city of Da Nang.
Hoi An is a relaxing place to stop for a few days as you travel north or south through Vietnam. But it's also a marvelous intersection of Vietnam's French-colonial past and the local culture that has been sustaining people long before the arrival of the French, all in a beautiful coastal setting.
Hoi An is near the coast, but not exactly on it. Rather, the town sits on the banks of the Thu Bon River, a waterway that is not only beautiful, but life-sustaining.
Although you will probably arrive in Hoi An in the late morning, do yourself a favor and wake up early the first morning you wake up in Hoi An. Walk or bike over to the river and take in sunrise with the locals.
When I say "life-sustaining," I mean it. As this scene from a river market depicts, the river is a central part not only of culture in Hoi An, but also a source of sustenance for the local community. The riverbank is where fisherman deposit their catches early in the morning, and where their family members set up markets to sell the portions of their bounties they don't personally need throughout the day.
In general, the further away you get from the river, the more pronounced the French influence in Hoi An becomes. The architectural style of buildings in Hoi An is decidedly French, although the color selections and bougainvillea vines growing over the buildings gives them a flair that's hard to mistake for anywhere but Vietnam.
Although Hoi An is extremely small — you can literally walk across the entire town in 20 minutes, and that's if you're moving slowly — it is home to a number of permanent storefronts, and not just the collapsible markets that dominate much of Vietnam. Some Hoi An travelers associate this architectural style with commercialization but to me, it gives the town an Old World stateliness that's intoxicating.
You could conceivably spend your entire time in Hoi An exploring the town center, but why? I encourage you to rent a bike, either from your hotel or from any of the several bike rental facilities in Hoi An, and head east over the Thu Bon River. Many delights await you on the other side!
Indeed, Hoi An is so small that the scene just a few minutes outside the town limits is almost completely tropical and uninhabited. Whether you've been traveling in Vietnam for a week or a month, this tranquility will be welcome, as if Hoi An's compact size and laid-back energy weren't refreshing enough.
Approximately 20 minutes' ride eastward from Hoi An's town center is an actual beach! Not only is An Bang Beach relatively undeveloped, extremely clean and pin-drop quite, but when I was there anyway, the crowd was decidedly more local than tourist. I don't know if I would bank on this being the case for you, however, with how booming Vietnam's tourism industry is at the moment.
Head back to Hoi An's center at night to see the town — and, as you see, the river — quite literally lit up. Even if animal lanterns like this tiger aren't present when you're there (I believe this was part of a special festival), you can still shop for colorful lamps and lanterns at stalls on the east bank of the river.