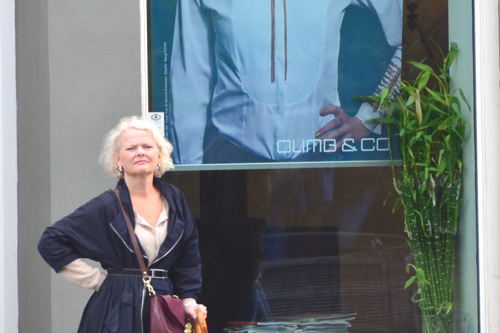 I visited Norway hoping more was waiting there for me than high prices, low temperatures and an overabundance of smoked seafood. Because my Norwegian love interest calls Oslo home, I pinned particular hopes on the country's capital.
This was in spite of the many warnings I'd received. "Oslo's not only cold and grey," a friend from Montreal informed me, the week before I jetted across the north Atlantic. "But people are unfriendly and there is not a whole lot to do, except for dine in extremely expensive restaurants."
To be sure, the Tuesday morning I arrived was probably the coldest, grayest June day I have ever experienced.
The burly Viking waiting for me at Oslo's Central Station partially quelled my disappointment, but I did not get an opportunity to enjoy his presence for long: I had to meet a tour guide in less than an hour.
"On a sunny day," The older gentleman, who moonlighted as an architect, explained, "this building would stun you with how bright and white it is, almost as if it were an iceberg coming out of the harbor.
"But today," he smirked, and ran his hand across the exterior of the Oslo Opera House, "the grey sky simply emphasizes what a poor choice it was to use granite — these blocks are positively yellow!"
Although the three-hour tour barely scratched the surface of Norway's capital — a blessing, in a way, given my jetlag — it proved an apt cross-section of the city that most people I know love to hate.
"While we were on top of the Opera House," I recounted to my hunky host, as he filled my glass with the Spanish red he'd just opened, "the tour guide explained to me how controversial the skyscrapers are, and how they pervert the original vision of Oslo — 'the sea, the green and the city in-between'."
He laughed and re-corked the bottle. "That's a really old-school view — I like the Barcode a lot. I feel like it modernizes my city."
"Hmm," I sighed. "He also talked shit about Aker Brygge — I'm assuming you love that place, too?"
"Yup," he said,"in fact, that's where we're going to go with my co-workers next week, before you leave." He raised his glass and toasted me. "To differing opinions?"
We clinked our glasses clinked together, and as I began devouring the medium rare salmon he had prepared for my "Welcome" dinner, I pondered how subtly yet dramatically different his perspective on his city had been than the one my tour guide, a seeming expert on all things Oslo, offered.
The sometimes-architect had sung the praises of structures like Akershus Fortress, which dates back to the late 13th century, and the city's iconic Royal Palace, while Anders downplayed the importance of Norwegian tradition in moving his city into the future.
Although I found myself more genuinely in agreement with the elderly tour guide, my desire to bed the man sitting across from me made me consider his views more than I otherwise would've, even though he spent our first evening dodging my increasingly obvious advances.
The next morning, I boarded an early train west across Norway to not so boring city of Bergen, whose breathtaking fjords and midnight sun not only took my mind off a love I realized would almost certainly go unrequited — they made me consider, just a day into my journey, that perhaps Oslo was a bit boring.
When I returned to Oslo Saturday morning, thoroughly enamored not only with Bergen, but the entire feel of Norway's west coast, it was with the idea that I would as purposely remain numb to Oslo as I did to the host I still desperately wanted to bang. The cold drizzle falling as my train pulled into the station made that easy, initially.
But just as I saw sparks of hope whenever my hopeless crush would accidentally brush up against me or comment on how handsome I looked as he photographed me walking down Karl Johans Gate, Oslo's main street, the Oslo scenery that provided the backdrop for the final chapter of our one-way courtship began to slowly allure me, particularly when the sun eventually emerged from underneath its cloud blanket.
Unfortunately, my final impression of Oslo would be less in line with the erotic sculptures of Vigeland Park, where we spent that afternoon, or even the understated, quiet panorama of infamous Holmenkollbakken ski ramp I enjoyed as Whatshisname and I attempted to picnic on the slight hill that rose up behind his apartment building Sunday. Mentally, I was as distant from the peace Aung San Suu Kyi had spoken about when we watched her accept her Nobel Peace Prize as I could be.
No, as my Sweden bound train departed a week after I arrived in the city all but two people I have met love to hate, I couldn't bring myself to remember any of the Oslo experiences that had stimulated or even delighted me, even as I sifted through the images of my brief stay in the city to pick out the best ones — and they were plenty good.
Instead, I fixated on the events of the previous night when, as promised, Anders took me as his plus one to his company gathering in the too-trendy Aker Brygge area the not-trendy-at-all tour guide had warned me about and, when I finally pressed him as to why he had so coyly shrugged off my pursuit of him, told me flat out that the thought of being with me romantically sickened him.
I found my own way back to his apartment as the Scandinavian summer sun half-set.
Oslo is not a boring city, not by a long shot. But I nonetheless set foot onto Swedish soil as unsure in my feelings about Norway's capital as I had when I arrived, decidedly — though not unsurprisingly — unsure I would visit again.