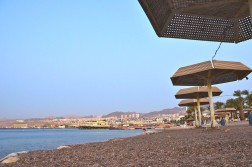 Israel is roughly the size of the U.S. state of New Jersey, so I have to give the country kudos: For such a small place, they have a hugely diverse range of landscapes and destinations. From snow-capped mountains in the north, to Tel Aviv's coastline to the vast Negev desert in the south, the Holy Land is a wholly rich place to travel.
The majority of Israelis I met were adamant that I had to visit Eilat, Israel's Red Sea resort, particularly when they found out I would be traveling to Egypt from Israel overland. Indeed, I had no choice but to pass through Eilat and even spent a few hours there, waiting for my Egypt visa.
Unfortunately, I didn't feel compelled to stay in Eilat, even though I probably technically could've. I don't want to discourage you from visiting Eilat — I simply hope my reasons for not having spent much time there will help you decide whether or not you should.
Eilat is Busy
I arrived in Eilat at about five in morning, having taken an overnight bus from Tel Aviv. The streets and shores of Eilat were mostly uninhabited around that time — I probably could've heard a pin drop just a few minutes' walk from the Eilat bus station — but if anything, this just drew more attention to the ridiculous extent of development in Eilat.
I simply can't imagine why anyone would travel to Eilat for relaxation. Near the city center, anyway, the coastline is so dominated by hotels, umbrella-covered beach chairs and a cluttered horizon that it makes disgusting U.S. beach communities like Galveston and Atlantic City seem tranquil. As the sun began to rise, my attention was drawn to Eilat's city center itself, with extends unbroken over the desert just before its meets the sea.
To be fair, Eilat's beaches seemed to get more beautiful and quiet as I sped out of town in a taxi bound for the border crossing with Egypt, but unfortunately, my mind was already made up by then.
I Was In a Hurry
I'd stayed in delightful Tel Aviv nearly a week longer than I originally planned (and longer than my schedule allotted, for that matter), so I quite literally had to make a beeline for Egypt. At most, I had enough time to spend a full day and night in Eilat before crossing into Egypt's Sinai peninsula.
This being said, I don't know that I would've stayed in Eilat, even if I hadn't been in such a rush. I probably would've been less focused on my task at hand — which was getting a tourist visa to enter Egypt — and, perhaps, more open to seeing the subtle beauty of Eilat that attracts hundreds of thousands of Israeli and foreign tourists to the area every year.
Egypt Visa in Eilat
Unless you plan to travel exclusively in Egypt's Sinai peninsula, you'll need to obtain an Egyptian tourist visa before you attempt to cross the border into Egypt, if you're an American anyway. You can obtain an Egypt visa in Eilat at the Egyptian consulate in Eilat, the same day you apply for the visa no less.
The Egyptian consulate in Eilat is open from 9:30 a.m.-2:30 p.m. Sunday-Thursday. The location of the consulate within Eilat is marked clearly on tourist maps all over Eilat and if you get lost, friendly locals will be happy to help you find your way.
Bring visa payment in Israeli shekels (the fee is 100 NIS as of May 2012), one passport-sized photo (you can have it taken at any photo studio in Eilat) and a passport with at least six months remaining validity. Fill out the Egypt visa application and submit your materials as close to 9:30 a.m. as possible. The consular officer will inform you of your specific pickup time, which will probably be after lunch.
Egypt's Red Sea Beaches Are Better
I got my Egypt visa around 1:30 p.m., and hopped straight into a taxi bound for the border crossing with Egypt. Even without crowds, you can expect to spend about an hour crossing the Egypt-Israel border. Although exiting Israel is quick, security at Taba, the Egyptian frontier town, is stringent, and your bags are likely to be searched.
If you plan to travel by bus to your destination in the Sinai peninsula, politely decline offers from the taxi drivers who will no doubt harass you as you exit the border facility — the station is literally five minutes away on foot.
Whether you travel to Bohemian Dahab or busy Sharm el-Shiekh, I can assure you of one thing: The Red Sea's beaches in Egypt's Sinai are in better than those you find in Eilat, particularly if you can make it to Ras Mohammed National Park at the southern tip of the peninsula. Egypt is also significantly cheaper than Israel, which is an added bonus.