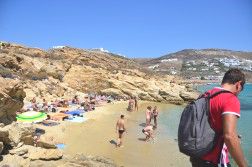 Mykonos is perhaps the most famous of the Cyclades, which are perhaps the most famous grouping of the 2,000 islands that belong to Greece. This isn't particularly surprising, given the island's dramatic cliffs, charming architecture and the swimming pool-clear Aegean waters that surround it. One thing that separates Mykonos from other well-known islands in the Cyclades, such as Santorini and Paxos, is its prominence as a gay destination.
Like Ibiza or Sitges, the island is positively crawling with gays and gay establishments — but unlike these other islands, Mykonos has a unique enough local culture that you won't be bored if you decide not to drink one or two nights. But more on that in a different post.
The "High Season" — and Why It's Important
Mykonos is a great escape no matter which month you choose to you visit — and it's always extremely gay. But be aware that Mykonos becomes dramatically less busy and even more dramatically less gay outside its high season, which runs from approximately the end of May until the end of August.
This isn't to say that you can't have fun or get laid if you choose to come, say, in September — I know from personal experience that this is not the case. Still, the variety and sheer quantity of other gay people and gay things to do and see decreases literally overnight to about 25 per cent of its midsummer peak the first week of September.
Many restaurants, hotels and other establishments shut their doors until the following may, so be warned. It's also important to note that gay Mykonos becomes a markedly older place outside of the high season, something I'll expand on in a moment.
Where to Stay
Mykonos is home to literally dozens of establishments that are either totally gay or gay friendly, but the best-known is without a doubt the Elysium resort, located about a 10-minute walk up the hill from the center of Mykonos Old Town. The resort is nice, but it's pricey — you shouldn't expect to find a single room at any time of the year for less than €100 per night. Most other swanky and mostly- or exclusively-gay establishments are also located in or near the Old Town.
My recommendation for the budget-conscious gay traveler? Take a bus from the center of Mykonos to Paradise Beach and head to the reception office of Paradise Beach Resort. For just €24 (give or take a few euros), you get a private "cabin" that provides you with your own bed, a power outlet and access to WiFi — at a price that's literally the cheapest on Mykonos.
With a location just 15 minutes from the center of town by bus — and the buses run all night — you have no reason not to stay here. In addition to the fact that plenty of gays are here anyway, the private nature of your room here permits you to do whatever you want within the cozy confines of the cabin — and trust me, I also know this from personal experience.
Where to Drink
In addition to special parties that happen almost nightly during "high season," Mykonos is home to several "permanent" gay nightspots, which vary greatly in terms of who you'll find there and what happens there. Specifically, you can always count on a crowd at four venues: The Piano Bar, Kastro, Jackie O's and Bablyon.
The Piano Bar and Kastro are located just down Old Town Mykonos's main street from the bus station, both on the left side of the street and sitting up against the waterfront. As The Piano Bar's name suggests, it's home to a nightly (specifically, starting at 10 p.m.) revue of show tunes played on piano and sung in a decidedly Broadway style.
Kastro doesn't have any sort of schtick, although its clientele overlaps significantly with that of the Piano Bar: Both are uniformly 30-plus. At around midnight, get up out of your seat at either of these establishments and head up the main road until you get to the church, then turn right. I say "the church" because it's the only one on the way — and I say "turn right" because there's no other way to go, unless you plan to walk into the sea.
The first two buildings on the right are Babylon and Jackie O's, respectively, two huge and pumping dance clubs that attract a huge variety of customers — and huge numbers of them. Even in the so-called "low season," you'll find it difficult to move inside either of these clubs.
Where to Swim
Whether you wake up alone or in the company of a beautiful stranger, you'll probably be ready to hit the beach whenever it is that you come to. Since all of Mykonos is relatively gay, it won't come as a shock that most of all of its beaches are at least partially gay — and it isn't uncommon to spot gays cruising or swimming naked along random stretches of sand or rock, if you're into that kind of thing.
The main gay beach both inside and outside of the high season is Elia Beach, reachable by boat from anywhere on the island. If you decide to take my advice and stay at paradise, the ride costs €6 round-trip and takes about 20 minutes each way. Add a couple euros (and about an additional 30 minutes) if you travel from the Old Town.