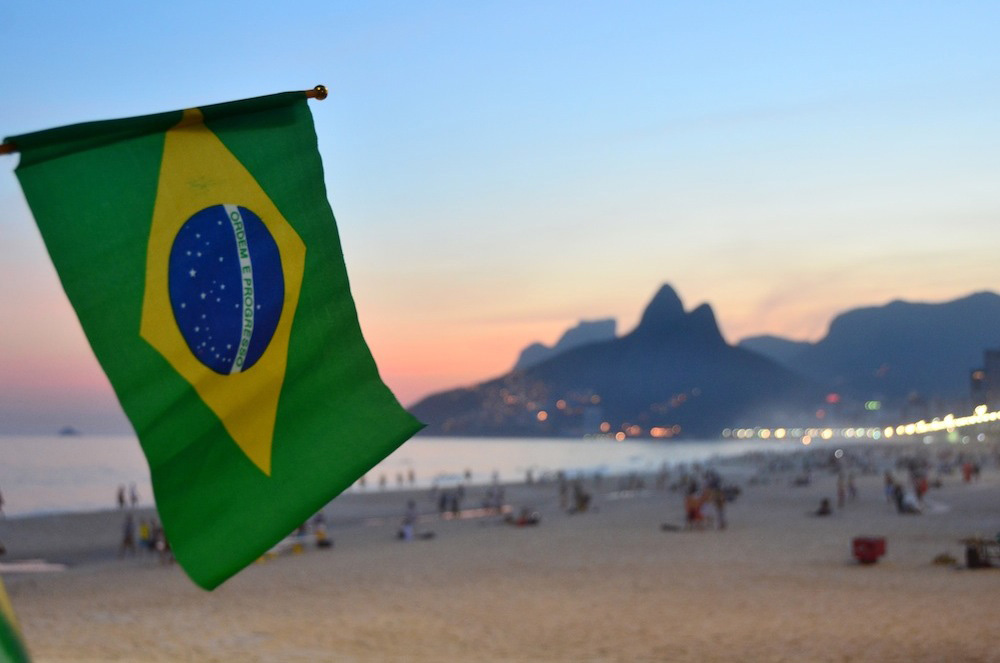 The World Cup. Brazil. Don't they go together? "I hope they lose," he said, "he" being Marcello, the owner of the hotel where I was staying in Salvador, Brazil; "they" being Brazil's national football team. "If they win, it will send the wrong message to the world and to the people of this country."
He pointed up at the young woman walking across the bridge that draped over the packed highway. "It will say that it's OK for me to be driving in this new car, while she walks that dangerous path lined with drug dealers and thieves.
"Or that it's fine," he continued, directing my attention to the dilapidated rail track above the left side of the road, "that this piece of shit sits for 15 years unfinished, until all of a sudden we get the World Cup and the tourists need to use it.
"Never mind the hundreds of thousands of us stuck on the road," he pointed back toward the highway, which was now essentially a parking lot.
It's a cynical outlook toward a country where Marcello has spent his whole life, but one with which I empathized to a point. Just a couple weeks before, after all, I'd experienced the first theft of my life, to say nothing of the grinding halt to which the Cup had brought Rio de Janeiro during my time there.
And it wasn't just in the cities. Brazil's poor rural infrastructure had nearly prevented my life-changing trek in the Lençóis Maranhenses from happening at all, to say nothing of how anxious I felt for much of my trip due to the (Portuguese) linguistic homogeneity of all but the most educated elements of Brazilian society.
"That one's a fool," Marcello continued, pointing to a car with two Brazilian flags taped to either of its mirrors, in a show of support for the impending game everyone was heading home to watch. "And that one too. And that one too.
"But it's not their fault," he was quick to concede. "You know, only the most clever people even get to go to University here – I was lucky enough to be one of them. The real joke, however, is that once you get there, it's almost like they steal knowledge from you. They narrow your perspective instead of broaden it. It's a joke, just like the roads and the government and the economy and all of it."
Marcello had used the temporary standstill to put on some Brazilian light rock from the 1970s, and as we started moving again (he clearly needed a break from ranting, beads of sweat forming on his face), he turned it up so it drowned out the honking and cheering and motor sounds coming from outside.
As we moved along the road, first at a slow crawl and then at a speed that was almost terrifying by contrast, the beat of the song, and the singer's smooth, sweet voice proved the perfect foil to the harshness that surrounded us on all sides.
And I began to appreciate, not for the first time ever but for the first time in a while, the seemingly deliberate way modern Brazilian society mimics and shadows the jungle into which it is built: The penthouses of the Miami-esque skyscrapers in Salvador's nova cidade like the top reaches of the canopy; the beautiful men and women like the birds and butterflies carried on the breeze; the storied colonial buildings and comfortable single-family homes like palms and banana trees; the forgotten poor like the decomposing floor of the rainforest, taken for granted by the plants and animals that dwell upon and within it, but central to their survival.
In both cases, the Brazilian government is a brutal buzzsaw cutting through it all, leaving what remains vulnerable to harsh sun. And in both cases, whether we're talking about mosquitoes carrying deadly diseases or more sentient pests carrying firearms, the surreal beauty comes at a high price.
"It's jungle capitalism," Marcello continued as the car slowed again, turning down the music so I could hear him. "A few thugs – the government; the oil companies; the banks – come in and take control of everything that allows our jungle society to thrive, and sell us back only what we need to survive at a price that nearly kills us.
"Did you know," he said, pointing to the hood of his car, "that over 50% of what I paid for this car is tax? And the worst part is that Brazilians, with their poor education and football obsession and their misplaced optimism that the tax they pay will buy them honest politicians, will happily pay whatever is asked of them.
"And so I hope they lose – I hope we lose," he concluded, "because only then will we all be forced to wake up from this dream, to find our way out of this nightmare."
As we neared the airport, I began to feel sentimental about my impending goodbye to Brazil, in spite of Marcello's diatribe – and maybe because of it, too. Brazil is a country where danger lurks around every corner, but you dance to meet him; where the only thing more overwhelming than the sweetness of a caipirinha is the foul the stench of spilled ones rotting in the sun; where nothing works, but everything feels so damn good.
In spite of all this – and again, maybe because of it – I hope you visit Brazil. And I hope my photos, whether you appreciate them independently of this text or as a digestive to wash it down, make you want to go there as much as I want to go back someday.