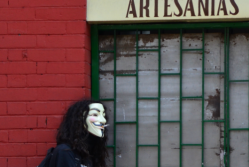 One of my main objectives in traveling to "dangerous" places is to avoid danger and, by way of example, disprove such labels.
I set out in Bogotá, Colombia this morning with the intention of doing just that. By the end of the day, however, I was trapped in a women's bathroom with a dozen other people, covering my nose and mouth for fear of breathing in tear gas.
Initially, my day went swimmingly, all though I did notice a huge number of police officers — to the tune of no less than 1,000 — as I strolled through La Candelaria, Bogotá's historical center. To be fair, this part of Bogotá is more than a little sketchy, so for perhaps the first time in my life, I felt as if the police were my friends.
Upon arriving in Plaza de Bolivar I realized that the Bogotá police hadn't filled the streets to protect me and my gaudy camera, but indeed to pre-empt May Day. For those of you who don't live in socialist countries, "May Day" is a socialist holiday of sorts that occurs on May 1 of every year, and involves citizens protesting governments. Or something? Again, I didn't really think much of it.
I continued making my way through the streets of La Candelaria, convinced that every officer I passed was in place to prevent the sketchy people standing between the two of us from harming me. Ironically when I snapped a photo of this dog, no police were around to prevent an (admittedly harmless) beggar from begging me for 2,000 pesos colombiános.
I wrapped up my stroll through La Candelaria with shots of some of the amazing architecture in the neighborhood. These photos shouldn't require much narration:
After that was over, I headed west down Carrera 3 — in Bogota, streets called carerras run east-west, while calles run north-south — in search of Monserrate, a hilltop park that's purported to provide the best view in Bogotá. The walk to Monserrate begins with a row of reflecting pools that seems to extend forever.
Bogotá is different from most of the other South American cities I've visited in that typically the "downtown" area of a particular city is the "bad" part. Hostels tend to exist only in "safe" areas. I wouldn't say that the area either La Candelaria and the area between it and the entrance to Monserrate are unbearably sketchy, but much of the imagery I took in on my way to the mountain entrance was foreboding, to say the least.
The climb up Monserrate is relatively strenuous, although you won't bat an eye if, for example, you scaled Machu Picchu. If you do need to stop, most of the places where you can do so make for great photo ops.
In addition to the view you enjoy from Monserrate, the peak is home to a tranquil garden filled with flamboyant religious imagery, quaint cafés and a church:
If you walk past all this, you end up in a decidedly more local, less "nice" market, which is arguably more interesting anyway.
In total, I spent about three hours at Monserrate: One hour getting to the top, an hour and a half exploring what's up there and half an hour getting down. You see, I made plans to meet the lovely Megan of Bohemian Trails at a coffee shop called Juan Valdez at 1:30 — and at 1:00, I was just beginning my descent down the mountain.
Eventually, I found Megan and the coffee shop and we began a lively discussion about traveling, writing and how much better we are than everyone else who does those two things. (I kid, kind of). I noticed a sketchy character wearing an "Anonymous" mask and snapped his picture. What followed after this was a blur.
I remember that a huge mob of people from the street ran inside a café, and people who'd already been in the café were ducking and running for cover. Megan and I assumed this meant that someone in the street had a gun.
It wasn't until we'd changed locations within the coffee shop no less than a dozen times that we asked what the problem was. The police, it seems, had thrown tear gas at protesters in the manifestation in order to get them to disband. Here we thought we were about to be robbed at gunpoint, and it was tear gas! This is not to say that tear gas isn't serious, but I felt no tears coming on, personally.
I would learn after this ordeal that May Day probably isn't the best day to begin a trip to Colombia. Oh well! Here's to hoping this is the most dramatic thing that befalls me during my stay here.