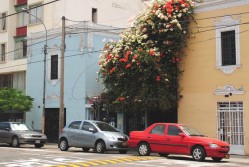 For better or for worse, Lima is one of the least talked-about cities in South American. Lima was where my inbound flight from the U.S. touched down, so I made a point of filtering out the little I had heard about the city so as to experience it without any preconceived notions.
Although the Peruvian capital was generally very pleasant, one neighborhood of Lima in particular really impressed me: Miraflores. Perched above the Pacific in the southwestern part of the city, Miraflores is colorful, cosmopolitan and just a short walk from some of the most stunning urban scenery I've ever laid eyes upon.
Getting In and Out of Miraflores
No matter how you get to Lima, the easiest means for getting to Miraflores is by taxi. Although Lima's public transportation isn't awful, it's low enough in quality that I wouldn't recommend using it to traverse long distances.
If you're arriving to Lima via any of its bus stations, such as if you're inbound from the Colca Canyon or Machu Picchu, a taxi to Miraflores will cost you between S/. 7 and S/.10, or between $2-3. From Lima International Airport, which is located further outside of the city, you can expect to pay anywhere from 40 to 50 soles.
While Miraflores is definitely my favorite part of Lima, it definitely isn't all the city has to offer. Lima's historical center, for example, is home to a Franciscan monastery, the Lima Basilica and the city's bright yellow Plaza de Armas, to name a few notable sights. Whether you travel here or to festive Barranco, located a bit further south than Miraflores, I recommend you try out the city's public buses at least once.
In addition to providing a cheaper alternative to taking cabs, buses increase the authenticity of your Lima travel experience. Aren't sure how to get started? Ask your hotel or hostel staff for recommendations.
Hotels and Hostels In Miraflores
Speaking of hotels and hostels, Miraflores is home to a wide variety of them. If you're more of a hotel person, choose from places like the Miraflores Penthouse or the luxurious Thunderbird Hotel Suites and Casino, a gaudy property centrally located at the intersection of Alcanfores and Miraflores Avenues.
Hostels are also abundant through Miraflores including my personal favorite South American hostel outlet, Loki. Hostels in Miraflores are generally of high quality, very safe and include a simple breakfast of bread and coffee in the price. Loki's full service bar and restaurant also offers à la carte breakfast items for hungrier backpackers.
No matter where in Miraflores you choose to stay, you'll find yourself completely surrounded by colorful buildings, flowers and trees, thanks to Lima's year-round good weather. To me, Miraflores has the feel of a slightly rougher version of Miami in terms of its architecture and vegetation. At the center of Miraflores is Parque Kennedy, a large and calm green space you can pop in and out of as you stroll.
Miraflores Restaurants, Bars and Nightlife
Miraflores is simply put the best place to be in Lima if you want to feel good, whether you do so by eating, drinking or going out dancing.
Sample authentic Peruvian favorites like citrus-cooked raw seafood ceviche and meat-and-potatoes lomo saltado. While the famous Alfresco restaurant advertises itself as having the best ceviche in town, I recommend you be as adventurous as possible when eating. Find the local food stall with the most customers enjoying meals and join in!
Miraflores is likewise an ideal place to enjoy Lima's bar and nightlife scene, whether you want to relax with a pisco sour, the Peruvian national drink, or dance the night away in a busy discoteca. If you stay at the Loki Hostel you can even pre-drink at its bar, which serves delicious frozen vodka drinks for just S/. 6 a pop.
Costa Verde Beach in Miraflores
My personal favorite feature of Miraflores is its proximity to Lima's Costa Verde, a deep green swath of the Pacific ocean flanked by dramatic cliffs and black stone beaches. I discovered this accidentally when I was strolling south on Avenida Santa Cruz toward the ocean. I knew I would meet the sea at some point, but had no idea what a beautiful sight I was in for.
Indeed, at the end of the day, what Miraflores does best is beauty and serenity. Is Lima a world-class city on par with Rio de Janeiro, São Paulo or even Buenos Aires? Not particularly. But unless you have unrealistic expectations for what you'll find there, I can almost guarantee you'll enjoy it.