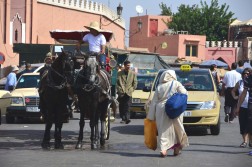 Morocco sits just across the Strait of Gibraltar from Spain, but the two countries couldn't be more different, architectural styles notwithstanding. Although Spain is far from the most sophisticated country in Europe, it is more modern than Morocco in just about every way you can imagine.
Still, as countries in the developing world go, Morocco's transportation infrastructure is quite modern. Whether you use buses, trains, taxis or any combination thereof, the experience of getting around in Morocco is about as stress-free as you're going to find in most of the Middle East and North Africa.
Moroccan Trains
Although I landed in Casablanca, my first destination in Morocco was actually Marrakech, the country's most popular city for foreign visitors. Not only was a fast train from Casablanca's Voyageurs railway station to Marrakech available, but I was even able to make a rail connection between the Casablanca airport and the city center, something relatively rare in the Middle East and North Africa.
Indeed, the most obvious lasting benefit of Morocco's colonial link to France is the modern rail system that France has helped develop over the past several decades. This continues to the present day: Morocco's first high-speed TGV (tren à grande vitesse) line, which will connect the capital Rabat with both Casablanca and the port city of Tangier, is expected to open by 2015.
You can take the train between most any major city pair in Morocco, be it for a short from from Fez to Casablanca or the long-haul from Tangier all the way to Marrakech. For more information, visit the official Moroccan Railways Website.
Buses in Morocco
I made a point of mentioning "major city" pairs above because if you're looking to travel between small- and medium-sized cities in Morocco by train, you're out of luck. Thankfully, bus links in Morocco are plentiful, often comfortable and tickets can almost always be yours at affordable rates.
My first bus experience in Morocco took me from Marrakech to the charming coastal city of Essaouri, about four hours to the west. Unfortunately, my travel companion Erin and I got to the Marrakech bus station too late to catch the "good bus," so we ended up having to settle for a dusty, cramped local bus we would later found out had cost us the same amount, on account of being foreigners.
If you can, book a bus through government operated CTM — the aforementioned "good bus" — at nearly any bus station in Morocco. For schedules and rates, check out CTM's official website, (which is unfortunately often down for maintenance and is only available in French and Arabic) or ask the front desk staff at your hostel.
Taxis and Private Cars in Morocco
Thanks to the generally low price point of transport in Morocco, you may be able to justify the usual luxury of taking a private taxi (in Morocco these are known as grand and petit taxis, respectively) to traverse long distances.
After I'd finished my time in Morocco's Sahara desert, for example, I couldn't bear the thought of spending seven more hours between the city where I was and Fez on a bus, even a "good" CTM one. As it turns out, the full-care fare for a petit taxi to traverse said distance was just 720 DH, or about twice the cost per-person of a seat on the bus, which wasn't due to depart for more than eight hours after I needed to leave.
You can also rent cars in Morocco, although I am not sure I would personally feel comfortable driving on most of the rural roads throughout the country. The highways, on the other hand, are quite good.
Urban Transport in Morocco
Not surprisingly, Moroccan cities are completely lacking public transport. For longer distances, you'll need to hire a taxi (or, if you want to be really silly, a horse-drawn carriage), while most cities' medinas are perfectly suited for leisurely walks.
However you choose to get around in Morocco, I imagine you'll find it to be easy once you've spend a few days there, particularly if you've traveled in other developing countries, whose transportation infrastructures generally pale in comparison to that of Morocco.