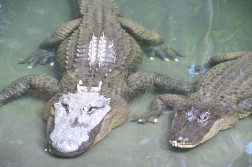 I was reluctant to visit the Australia Zoo for a number of reasons, the first of them being that's it a zoo. Sure, it was the zoo of "Crocodile Hunter" Steve Irwin and all that jazz, but it's a zoo just the same, with wild animals taken out of their native habitats. It's also expensive, as most things in Australia are: A one-day adult admission costs just under 60 Australian dollars.
Truth be told, I visited the Australia Zoo mostly because it was "on the way," because I thought I would regret not visiting it if I hadn't. And I must say: As zoos go, the Australia Zoo is top-notch, providing an experience that's exciting to visitors without compromising the welfare of its animals.
What you find upon entering the Australia Zoo is something of a contrast, one that largely defines the experience there. After passing through a Six Flags-style gate area, replete with gift shops, vending machines and lockers available for rental, you begin to immediately encounter wildlife. The Australia Zoo is about as "cage free" as any zoo out there, although not all its animals are as free as the water dragons that literally roam the footpaths. Make sure not to touch these animals, as doing so results in instant ejection from the zoo.
Another thing that becomes instantly apparent upon entering the Australia Zoo is the extent to which it is a personal project of the Irwin family, both to the legacy of the late Steve, and to his wife Terri and daughter, Bindi Sue. Although I was never a huge fan of the Crocodile Hunter show, I have tremendous respect for what Steve Irwin stood for. It was difficult not to get emotional as I walked through the zoo.
A trip to the Crocodile Hunter's zoo wouldn't be complete without seeing "crocs." Just as I never went out of my way to  watch Steve Irwin's show, I never developed any particular affinity for crocodiles. Still, I have to admit it's pretty cool to see crocodiles jumping out of the water at an almost completely vertical angle, even if I do wonder about how safe the Australia Zoo's trainers actually are when taunting these beasts.
That being said, the extent to which these "Croc Shows" have been commercialized — I felt like I was at a NASCAR race! — makes it difficult to fully appreciate the experience, at least in the moment. Of course, knowing that the Australia Zoo is privately funded and respecting that said funding is all that allows the zoo staff to continue educating visitors, I can more or less deal with it.
When I visited Coffs Harbour a few weeks prior to stopping in at the Australia Zoo, I'd met some kangaroos at the "Look At Me Now" headlands, kangaroos that were very much wild — I didn't dare approach too closely or quickly. By contrast the kangaroos at the Australia Zoo, which live in the "Roo Heaven" section of the park, are basically domesticated. Although not all of them were as dog-like as this playful guy, they all love to be petted and fed.
The Australia Zoo doesn't just spotlight wildlife native to Australia. In the "Southeast Asia" section of the zoo, for example, you can wait in line to feed sweet, calm elephants. Make sure to check feeding times before you walk back to the Southeast Asia section, however: A testament to how well the zoo treats its animals, the elephants work in "shifts," so it isn't always possible to feed them. The Australia Zoo's elephants are characteristically smart — one of the trainers told me that the elephants know when it's time to begin and end their "work," and that they can walk to and from their home on the other side of the zoo without assistance.
Adjacent to Southeast Asia is Africa, the newest section of the Australia Zoo. I have to admit that this part of the zoo seemed a bit sparsely populated as of yet — I gather that it quite literally just opened — but it was nonetheless cool to see some of my favorite African wildlife. In addition to these giraffes, you can also find zebras and rhinos in this part of the Australia Zoo.
In spite of being divided into multiple sections, the Australia Zoo is "small" enough that you can comfortably meet all the animals that live at the zoo within the span of the zoo's opening hours, from 9 a.m. to 5:30 p.m. What's more is that the layout of the Australia Zoo is simple — you shouldn't need a map to find your way. I personally recommend doing a quick walk through at the start of your day, then finding your way back to the animals it's most important for you to see.