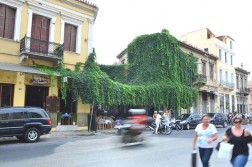 While some travel bloggers might write about Rome, Paris or even Tokyo this Valentine's Day, I'm letting you in on my love for Athens. Steeped in as much grit and grime as it is in history and splendor, Athens is far from the most romantic destination in the world, let alone in Greece.
Romantic or not, Athens is a fantastic city you should absolutely visit when and if you get the chance. Athens is a city you're sure to fall in love with, even if your sweetheart isn't there with you.
The History
It should go without saying, but Athens is steeped in history like almost no other city in the world. No matter where in the city you find yourself, it's easy to spot the Acropolis, which has towered over the city for literally thousands of years. Other famous Athens landmarks include the ancient Agora that sits at the foot of the Acropolis, Syntagma Square, the Kerameikos Cemetery and the Temple of Olympian Zeus.
Established more than 3,000 years ago, Athens is commonly thought of as the birthplace of Western civilization. What's interesting is that in spite of being famous throughout history, it wasn't until the establishment of the modern Greek state in the 1830s that Athens as we know it truly began to flourish — under the Ottomans, it shrank to a small village.
The Landscape
Athens is set amid rolling Mediterranean hills and portions of the city (namely the port of Piraeus, from which you set sail to islands like gay paradise Mykonos) is set right on the Aegean Sea, which is almost mesmerizing in its blueness. Skies in Athens are frequently bright blue and sunny, which nicely contrasts the brownish-green that defines the land surrounding most of the city.
Climate-wise Athens is warmer than the rest of Europe for the majority of the year, with summer temperatures frequently exceeding 30 degree Celsius. Although winter snow isn't entirely unheard of, you're more likely to encounter a cloudy or rainy day with temperatures at least slightly above freezing.
The Food
Love gyros? Then Athens is the place for you. The Greek capital is home to more places for the delectable, yogurt-topped beef, lamp and chicken wraps that I can count. You can also pop into any cafe for more sophisticated Greek fare, such as my personal favorite the Greek mixed grill.
Athens is also a great place to enjoy authentic feta cheese, although I did have to question the presentation of the so-called "Greek salad" in some places. It was frequently nothing more than a solid block of feta topped with olives, onions and tomatoes!
The City
Even if you aren't enchanted by Athens' rich history, its sprawling landscape or mouthwatering food, it's difficult not to be charmed by its unique cityscape, even if you are a little disgusted at the same time.
To be fair, much of Athens isn't what I would call beautiful. Portions of the city are downright frightening, with ominous graffiti scrawled on walls and IV needles strewn on the ground. For every dingy, dirty part of Athens, however, there's a charming district like Plaka or the Gazi "gayborhood."
One thing you can't deny Athens has, however, is character. Whether it's buildings literally covered in ivy on Ermou Street, the friendly fruit vendors of Monastiraki Square or cluttered antique markets just off Athina Street, Athens providers visitors with a sense of place that's hard to mistake for anywhere but Greece.