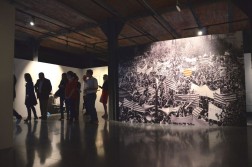 My first visit to Barcelona in 2008 was very love-at-first-sight in nature. As a result, even though my second trip to Spain's most-visited destination was mostly consumed by work-related activities — I was writing up something for the fantastic gay traveler social network QGuide, which you should check out if you haven't already — I couldn't imagine that Madrid would come close, let alone surpass Barcelona as one of my favorite cities in Europe.
In many ways, however, it did.
Of course, as was the case in last week's "City War" that pitted Beijing against Shanghai, making a direct comparison between Barcelona and Madrid is difficult: Barcelona natives don't even consider themselves to be Spanish, for starters. Indeed, which of these two fantastic cities you end up preferring depends more on your own tastes and preferences than the city itself, but both have a treasure trove of awesomeness to offer potential visitors.
Cityscape
Barcelona is situated in the northeastern corner of Spain — and if you want to get technical, in a province known as Catalunya that considers itself to be autonomous — directly on the Mediterranean and surrounded by mountains on all sides. Design-wise, the city is defined by a lattice of broad avenues that conjure images of a warmer, sexier Paris. The aptly-named Avenida Diagonal, for example, makes a clean cut across the city that acts as a utilitarian counterpoint to all of the natural beauty engulfing the city as seen from the scenic Parc Güell, one of the many wonders of eccentric architect Antoni Gaudí that pepper its cityscape.
Speaking of architecture, the city is wondrous from this perspective. Another of Gaudí's works, the ever-in-progress Sadgrada Familia cathedral, sits near the geographical center of Barcelona's core — and like much of Gaudí's work, looks like it came straight out of a dream. Beyond this most surreal of constructions, Barcelona's architecture is decidedly European, with enough gargoyles perched atop the city's dozens of cathedrals and churches to make you feel like you're in The Hunchback of Notre Dame.
What was shocking to me upon arriving to Madrid was how small it was by comparison — its urban core, anyway. You can walk from the furthest edge of its grand Parque Retiro, for example, to Palacio Real de Madrid in just 30 minutes, whereas walking from the Parc Montjuïc, near where the 1992 Olympics were held, to the aforementioned Parc Güell would probably take you four times as long.
While this smaller scale (and again, I'm talking only about the city center, since the Madrid metro area stretches literally over seven mountains) makes Madrid undoubtedly more easy to travel about, it also results in it seeming less grand and impressive then its Catalan cousin. Indeed, Madrid's splendor is more understated, taking the form of well-done street art, perfectly-placed statues and other finer details you might miss in Barcelona, where the dramatic visual aesthetic of the city is almost distracting.
Things to Do
Spain as a whole is famous for amazing nightlife. No matter where in the country you are, it isn't uncommon to have your dinner sometime after 10, arrive at the bar of your choice past midnight and get to the club around two a.m., only to bailar and beber until well after the sun comes up the next morning. I personally prefer Barcelona's nightlife, if only for the fact that you can relax on one of the city's fabulous beaches before you head back to your hostel or hotel.
If you aren't a party person, both cities still have a wide range of activities to offer. In addition to its aforementioned beach and the many cultural installations of Gaudí, Barcelona is a cultural wonderland, with museums, churches and artwork as abundant as the city's dozens of discotecas.
As the capital of Spain, Madrid is home to the country's government, which still includes a royal family and, therefore, the palacio I name checked a couple paragraphs ago. Although I'm not sure of its actual dimensions, the tranquil Parque Retiro dwarfs even Central Park in size and scope — and no trip to Madrid is complete without an evening of sangria and tapas, or sampling local fare like the tortilla española.
I mentioned this in my article earlier this week about the cost of travel in Spain, but you can almost certainly expect that Barcelona will be more expensive than Madrid, no matter how you choose to spend your time in the city.
Infrastructure and Getting Around
Barcelona and Madrid are served by extensive metro systems, which extend into urban and suburban rail lines if, for whatever reason, you need to get way out into the city. Buses and taxis are also plentiful in number, although taking a bus anywhere will be difficult if you can't speak at least remedial Spanish.
Getting into either city is a breeze: Both Barcelona's El Prat and Madrid's Barajas International airports enjoy nonstop service to nearly all corners of the blog. Originating from or departing to another point in Europe? Barcelona wins this one; its airport is headquarters of low-cost airline Vueling, which offers cheap flights to more than 50 destinations across the European landmass, as well as in North Africa and the Middle East.
One thing I noticed throughout Spain was that wireless Internet is slow — and, in many cases, nonfunctional — so unless you carry your own hotspot with you, I wouldn't count on having a very fast connection wherever you go.
Excursions
Madrid is located in the geographical center of Spain, about six hours by bus from the Andalucian coastline and eight or so from the Basque Country in the northern part of the Kingdom. As a result, it's easy to make trips that are "far away" in one- or two-day excursions without wasting a lot of time in transit. Madrid's railway station is also the hub of the country's rail network, which has recently been updated to include high speed service.
Barcelona is more geographically isolated — indeed, it's closer to the French border than it is to many places in Spain — which makes the kinds of far-away excursions that are possible from Madrid more tricky. If you're a gay traveler, one very worthwhile excursion from Barcelona is to the beach town of Sitges, one of Europe's and the world's pre-eminent gay beach destinations.
For heteros — and homos that see enough of their own kind right within the Barcelona city limits — there's Mont-Roig del Camp, about 90 minutes southwest of Barcelona on the edge of Catalonia. Mont-Roig was where famed Catalan painter Joan Miró, whose work is more bucolic and romantic than Gaudís and without a doubt less well-known outside of Spain, gained inspiration for much of his canon.
Weather and Landscape
Barcelona enjoys an appropriately Mediterranean climate with cool, rainy winters and hot, humid summers. Its climate is further moderated by the mountains that rise around the city center, on top of which temperatures are often several degrees lower than they are in the city center. Madrid, on the other hand, sits on a high plateau and is very landlocked, which makes its weather more extreme. Winters are bitterly cold and often snowy, while summers are scorching hot, dry and seem to go on forever.
As I mentioned earlier in this article, I do find Barcelona to be more visually stunning, although Madrid has its charms. To be fair, Madrid is surrounded by rolling hills that verge on being mountains on all sides, but for me the contrast of Barcelona's oscillating terrain with the blue waters of the Mediterranean is difficult to beat.
…And The Winner Is
It might sound from most of what I've said that my love for Barcelona hasn't waned. That's a fair and accurate perception! The problem is that I think I might love Madrid more, largely because of the smaller footprint of its urban core, how friendly and down-to-earth its residents are — in particular the gay ones I met on Grindr, as I detail in this recent article — and how understated its beauty is. While Barcelona will literally punch and smack you upside the head with how magnificent everything is there, I find it shows it charm rather completely and immediately, leaving you with less to discover as time goes on than you'd have in Madrid.