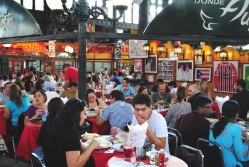 If you read this blog with any regularity, you know that I absolutely love the city of Santiago, Chile. Modern, sophisticated and picturesque, Chile's capital is be a must-visit, whether you exclusively travel in Chile or travel in South America as a whole.
I've previously mentioned that Santiago is a great place for urban discovery, but another alluring feature of this incredible city are its large municipal markets, which sells a vast array of food products. Two of Santiago's markets in particular — the massive Mercado Central and La Vega fruit market — are particularly worth exploring.
Santiago Mercado Central
The largest of Santiago's markets is Mercado Central, or "Central Market" in Spanish. Opened in 1872 during the presidency of Federico Errázuriz Zañartu, Santiago's Mercado Central is one of the oldest places I visited during my travel in Santiago, being that it's such a modern city.
Although Mercado Central is replete with fresh fish, meat and fruits and vegetables, you need not be on the hunt for raw ingredients in order to find a visit to the market valuable — although you certainly could buy ingredients for a delicious, hostel-cooked meal there.
Whether you enjoy a delicious meal in one of the cafes or restaurants inside Mercado Municipal, or just spectate as local Chileans go about their daily shopping, a visit to Mercado Central will definitely be among one of your favorite experiences of travel in Chile.
La Vega Fruit Market
While Mercado Central has a sizable selection of fruits and vegetables, it is at La Vega that the veritable motherload of produce in Santiago can be found. Unlike Mercado Central, which as I mentioned is housed in an historic building, La Vega exists under a huge metal scaffolding and is an open-air market.
A visit to La Vega is more immediately satisfying than a trip to Mercado Central if you're looking for a quick, cheap snack, since most of the ready-to-eat food at Mercado Central is in restaurants and cafes that can be pricey. Bring a bottle of water with you to rinse fruit off or ask the fruit seller to rinse it off for you with tap water, which is safe to drink when you travel in Chile.
How to Reach Santiago's Markets
Both of Santiago's markets are located in the central part of Santiago and are easily reachable from popular backpacker areas like Bellavista and Bellas Artes by taking the Santiago Metro to the "Puente Cal Y Canto" stop of the yellow line.
It's also possible to walk to both markets in about 30 minutes. From Bellavista or Bellas Artes, simply walk westward along Mapocho, the "river" (a.k.a. drainage ditch) that divides Santiago into north and south.
Mercado Central is located just to the south of Mapocho, whereas La Vega can be found just to its north. From Mercado Central, walk up Avenida La Paz, over Mapocho and turn right on Antonia López de Bello. The area surrounding La Vega is colorful and eclectic, but is also probably one of the roughest parts of Santiago I've seen.
Other Santiago Activities
Santiago's markets are wonderful, but they are all there is to do when you travel in Santiago. Whether you scale Cerro San Cristobal mountain and stand at the base of its massive virgen, explore Santiago's neighborhoods or check out the largest flag (I think) in the world at the La Moneda presidential palace, Santiago is one of the coolest places you'll visit not only during travel in Chile, but during your entire South America travel.