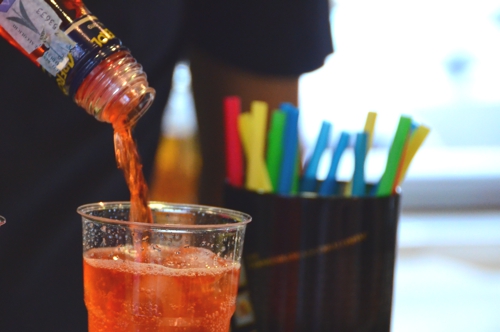 An extremely self-made man, it doesn't come as a surprise to most who meet me that I've become rather libertarian in my political viewpoints. Nonetheless, my friend Francesco was aghast at what I told him this past July, during my second trip to Italy.
"You think they should just cut off rail service to the city, then?" We'd been sitting in a café on the island of Ischia, a less-crowded, more-local version of ubiquitous Capri, discussing the issue of foreign encroachment onto Italy's formerly nationalized rail network and how routes to smaller cities (in particular Bari) could be affected as a result. "I can't believe that — do you think Bari should die?"
"Not necessarily." I stabbed a ball of mozzarella with my fork, and swabbed it around in the mix of balsamic vinegar and olive oil that had pooled beneath the remnants of my caprese salad. "But if there is not an economic reason for the service, even if it is tourism, then no, I don't see why a company — or a government, for that matter — should finance a rail link to keep the city alive, so to speak."
The late afternoon heat was blazing, in spite of the fact that the sun had started to set. The streets of the island were essential deserted, so Francesco's silence — and its accompanying gaze — was all the more stinging.
Eventually, I spoke again. "Do you understand where I'm coming from?"
"I understand," he signaled for the waiter to bring the check, "that you don't understand. But I think you will, eventually."
Francesco and I would spend most of the rest of the time I stayed in Naples exploring sites that ranged in ancient-ness from Roman times to the gothic period, to the Renaissance and up into the 19th century.
But it wasn't until I arrived in Rome that I was able to appreciate the point he was trying to make.
Initially, it was the more superficial aspects of the Eternal City's age that allowed me to tap into the energy current of civilization that has been buzzing here for more than 2,000 years: Drinking water from aqueduct-fed fountains; Facebooking a stone's throw from the Colosseum; and dancing to pounding techno amid the ruins of an ancient Roman bath house.
But eventually, I synchronized with the rhythm that's been undulating through Italy for the past several millennia and all of a sudden, the idea of preservation — and indeed, culture — didn't seem as intangible and subjective as it had when I was dining with Francesco, when my American-by-way-of-Northern-Europe hat was still very much on my head.
Although Italy is one of the most-visited places in the world — indeed, I would imagine it's the place most Americans-who-never-travel do end up traveling in their lifetimes — my experience traveling in Italy has caused a change in my perspective on life, travel and the thread of human civilization more profound than perhaps anywhere else I've been.
That's not to say some aspects of travel in Italy aren't tiresome: I hated Venice; it seemed, more than a city, to be a floating museum that had been converted into an outdoor pedestrian mall.
But hearing bells ring out over St. Mark's Square, and knowing that some point, the people who heard them ringing were citizens of the most important city in the entire world, made me appreciate why at least some of the unruly masses had flocked to Venice and, indeed to Italy.
And, more importantly, why Venice should be "kept" alive, even though it might quite easily die naturally if it wasn't — Francesco was right.