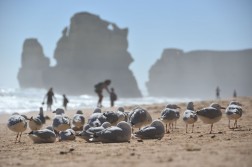 When I laid eyes upon the beginning of Australia's Great Ocean Road yesterday, the first thought that popped into my mind was "Wow, this looks an awful lot like the Pacific Coast Highway in California." As it turns out, my thinking was spot on.
See, when New Zealand-born engineer William Calder toured North America in the early 20th century, he found himself particularly inspired by the then-new PCH and promptly pitched an idea for a similar road to be built in Australia's Victoria state, whose booming timber and tourism sectors demanded better infrastructure. The new project would also offer instant employment to soldiers returning to Australia after World War I without anything to do.
Unfortunately for Calder, the austerity-drunk Australian government rejected the proposal — until ,that is, a businessman named Howard Hitchcock secured funds for the project to be built. Once the road was completed, a task the company expected to take 11 months, drivers would be charged a small toll. As soon as the private company Hitchcock started had raised enough money to pay off the roughly 80,000 British pounds required to build the road, it would be gifted to the Australian government.
Sadly the road took 14 years, not 11 months, to complete. Worse, it was in such poor condition once it was finished that the government felt charging a toll would be in bad conscience.
Thankfully for you, prospective Australia traveler, the Great Ocean Road is today one of the world's pre-eminent infrastructural marvels, perched along a coastline that puts even California's to shame in its beauty and splendor. Whether you come for incredible views of the Southern Ocean, a chance to meet native Australian wildlife like koalas and wallabies face-to-face or for the thrill of driving the road itself, make visiting Australia's Great Ocean Road a top travel priority.
From Melbourne, the first stop along the 270-kilometer Great Ocean Road is Bells Beach, located in the coastal town of Torquay. The town itself is famous as the origin of surf brand Quicksilver, while Bells Beach is the site of the aptly-named Bells Beach Surf Classic, an annual surf competition that draws thousand of visitors to this usually sleepy portion of the Australian coast.
For the first 15 or so minutes of the Great Ocean Road past Torquay, the road winds through Australian bush and eucalyptus forest, so don't be disappointed if you don't see a proper beach for a while after you leave Bells Beach.
Indeed, one of the best parts of passing through an Australian eucalyptus forest is the opportunity to spot cute (but not-so-cuddly) Australian koalas, whose robust population numbers make encountering one all but guaranteed. Even better, some koalas (such as the one pictured above) are eager to pose for photos.
You'll also encounter Australian wild parrots as you travel along the Great Ocean Road. It's important to remember that if you do decide to feed the parrots, you should do so only with feed purchased from a local convenience store. Feeding wild parrots bread or any other human food literally destroys their stomachs.
As you travel along the road, you may begin to notice an increasing number of trees stripped completely bare of their leaves. This is because, as I mentioned before, koala numbers are so robust that they are eating eucalyptus trees faster than trees can catch up. Even worse, koalas give special preference to one particular type of eucalyptus, which exacerbates this depletion. Of course, no eucalyptus is particularly "good." Although the koala is one of only three animals in the world who can eat eucalyptus (which is usually poisonous) without dying, the leaves are nutrient poor and result in koalas being mostly lethargic, much as is the case with  bamboo and pandas in China.
Once you've gotten your fill of Australian wildlife, you get the opportunity to marvel at what is perhaps Australia's most famous lighthouse. Opened in 1848, the Otway Lightstation was a badly-needed addition to popular docking port Cape Otway, where literally hundreds of vessels carrying prisoners and, later, settlers had met their end in the last hours of their voyages to Australia.
This isn't to say, of course, that you won't encounter Australian wildlife at Cape Otway. I was delighted to see a wallaby hopping across the hills that gently roll behind the lightstation — and even more delighted that he gave me the opportunity to photograph him.
The Great Ocean Road saves the best for last, as the Vanessa Williams song says. In this instance, the "best" is a limestone formation known as the "Twelve Apostles," of which there are actually only eight. At the time of their discovery there were nine, one of which has since washed into the sea completely. White Australians originally named the formation "Sow and Piglets" but, as the story goes, decided such a name would be bad for tourism. The Twelve Apostles formed over millions of years, as the shallow sea that once laid over much of present-day Australia slowly drained into the Southern Ocean, leaving ever-taller sediment deposits as it escaped the continent.
Interestingly, much of the Great Ocean Road is covered with arid Australian bushland, which has caused southern coastal Victoria to be a hotbed for bushfires in years without much rain. As I mentioned earlier, the region is also covered by eucalyptus forest, which is perhaps surprisingly an even bigger magnet for fire than seemingly perfect fuel-for-fire bush brush. See, in addition to the fact that eucalyptus oil is among the most flammable oils in the world, eucalyptus trees purposely shed their barks for the express purpose of starting fires — it is only when the canopy overgrowth of older "mother" eucalyptus burns away that their "babies" can take root.
If you get the opportunity, do make sure and end your day at the Great Ocean Road walking down the Gibson Steps, which allow you to see the Twelve Apostles at beach-level and provides a totally different experience than seeing them from above.
On a side note, I should say that your only option for traveling to the Great Ocean Road from Melbourne if you don't have or can't rent a car is to book an organized tour. Although I was initially disappointed at the prospect of taking a Great Ocean Road tour, my experience with the lovely Natalie of Bunyip Tours was one I'll never forget. You can book the small (12-24 people) group tours at the Melbourne Visitor's Center in Federation Square for $95, or by visiting Bunyip's website.