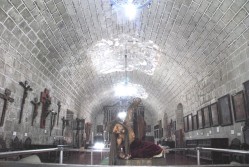 I have never once heard Manila, the capital of the Philippines, listed as anyone's favorite Southeast Asian city. Or mentioned anywhere on a list of "favorites," for that matter.
As someone who had an absolutely fabulous time in Manila last December, this saddens me. If the adventures I described in my previous post about the Philippine capital didn't convince you, consider these seven reasons you should spend at least a few days in Manila.
1. You're Already Going To Be There
The vast majority of flights arriving to the Philippines from abroad arrive at Manila's Ninoy Aquino International Airport. Instead of rushing onward to your next destination, why not stay a few days in Manila? You know, since you're there anyway.
2. Manila Is Rich In Cultural Treasures
Manila has merit as a final destination, not just an initial one. From Intramuros, the city's historical city center that dates back to Spanish colonial times, to the massive Chinese cemetery that pays homage to Manila's Chinese immigrant heritage, to the city park dedicated to national hero José Rizal, Manila has literally centuries of culture waiting to be discovered.
3. Love Shopping? You'll Love Manila
As I mentioned in my post about spending Christmas in the Philippines, Manila is home to literally dozens of huge malls, which sell everything from brand-name consumer goods to island-inflected toys and trinkets, with prices ranging from bottom of the barrel to high end. Plus, they're all well air conditioned, which is one of the main reasons they're so loved among Filipinos.
4. There's Plenty Of Cool Stuff Right Near Manila

Metro Manila is one of the largest urban areas in the world, but you don't have to travel very far outside the city to feel like you're on other planet. Whether you head north to Pampanga to enjoy the annual Giant Lantern Festival, east to WWII-era Corregidor island or south to Batanganas province, home to the Taal volcano and its heritage town, the immediate Manila area provides a diverse range of travel options.
5. Manila Is A Transit Hub
Didn't take my advice and spend a few days in Manila after you arrived in the Philippines? You'll get another chance, I promise. Whether you've got a day between Cebu Pacific flights from sunny Boracay island to the mysterious Banaue Rice Terracesor pass back through Manila as you're criss-crossing the country by land, plenty of opportunities to stop in to Manila for a short time exist.
6. Prices In Manila Are Low
This fact won't be news to you if you've traveled extensively in Southeast Asia, but the prices you find in Manila on accommodation, food and transport are among the lowest you'll find anywhere in the Philippines, if only because of competition and a large local population. Even if you're nearly broke from your Palawan beach vacation, you can subsist in Manila for less than you think.
7. Manila Will Surpass Your Expectations
Even if you take this article at face value, you probably won't be able to shake the "Manila is kind of a shithole" stereotype that seems to dominate the travelsphere — and that's great, as far as I'm concerned. The lower your expectations going in, the more delighted you will be to find that Manila is, well, delightful.