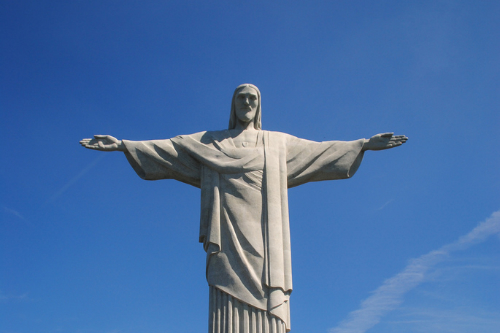 One of the most common trip planning questions readers ask me is how they can best spend two months in South America. Today's post is my best answer to this question.
The South America itinerary I'm about to lay out is the routing I followed from February-April 2011.
It's rather specific, being that it's essentially a play-by-play of a trip I actually took, but there are lots of opportunities for modification if you have more time available to you. It's also entirely overland, using South America's awesome bus system to get around.
Anyway, this is a big one, so let's get started.
Perú
If you view the typical South America itinerary as a "U" shape — i.e. starting "up" along the coast, traveling down and then back up the other side again — Perú is an ideal place to either start or end your South America trip.
I started mine in Perú, so that's where I'm going to suggest you start. Just looking for an idea of where to travel in Perú?
Although Lima is far from South America's most-beloved capital city, it's a great place to start your South America itinerary. It's got interesting, historical sites, such as the catacumbas in its Plaza de Armas, which dates back to Spanish colonial times. Alternatively, you can walk the streets of trendy coastal neighborhoods like Miraflores and Barranco, or sun yourself on the black rock beaches at Costa Verde. Overall, I recommend spending 2-3 days in Lima.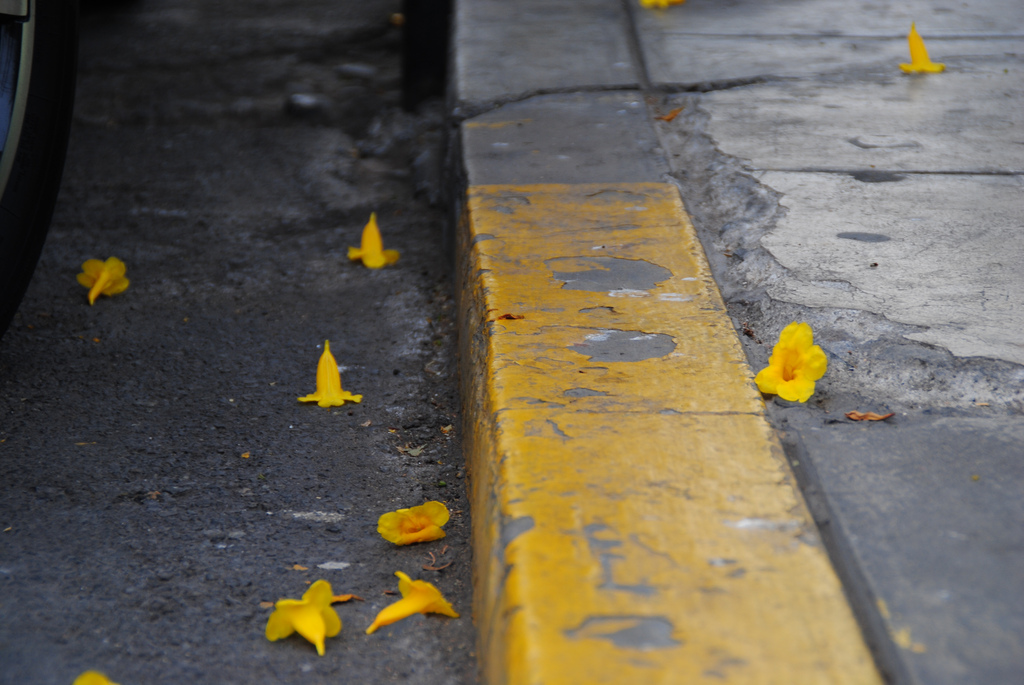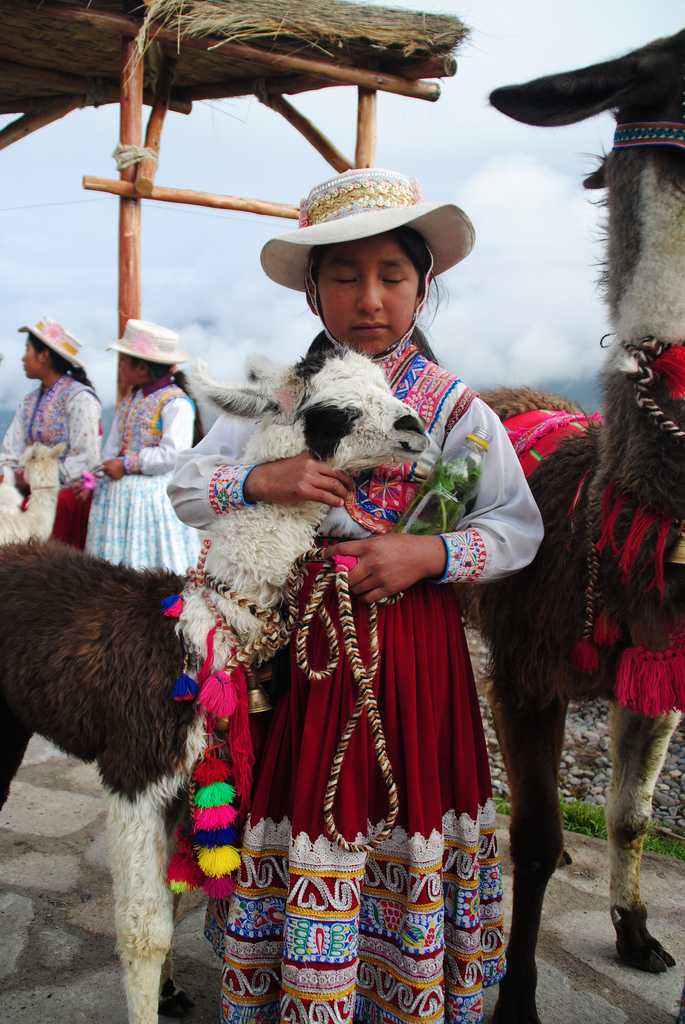 Lima is also a great place to start your journey because it's one of South America's biggest transit hubs, by air and bus alike. If you want to follow my itinerary, travel south by Cruz del Sur bus to the "white" city of Arequipa, Perú's second-largest. From there, you can visit the Colca Canyon, a natural wonder that's twice as deep as the Grand Canyon of the United States, and home to the elusive Andean condor, among other wildlife species. I recommend spending 2-3 days in the vicinity of Arequipa.
Alternatively, if you've got more time, you could stop at different destinations along the way from Lima to Arequipa, such as Pisco, birthplace of Perú's national rum, or Ica, a hub for sand boarding and other action sports. If you have a lot more time, you could even head north to the beach and surf mecca of Máncora, or into the Amazon by flying to the city of Iquitos near the Brazilian border.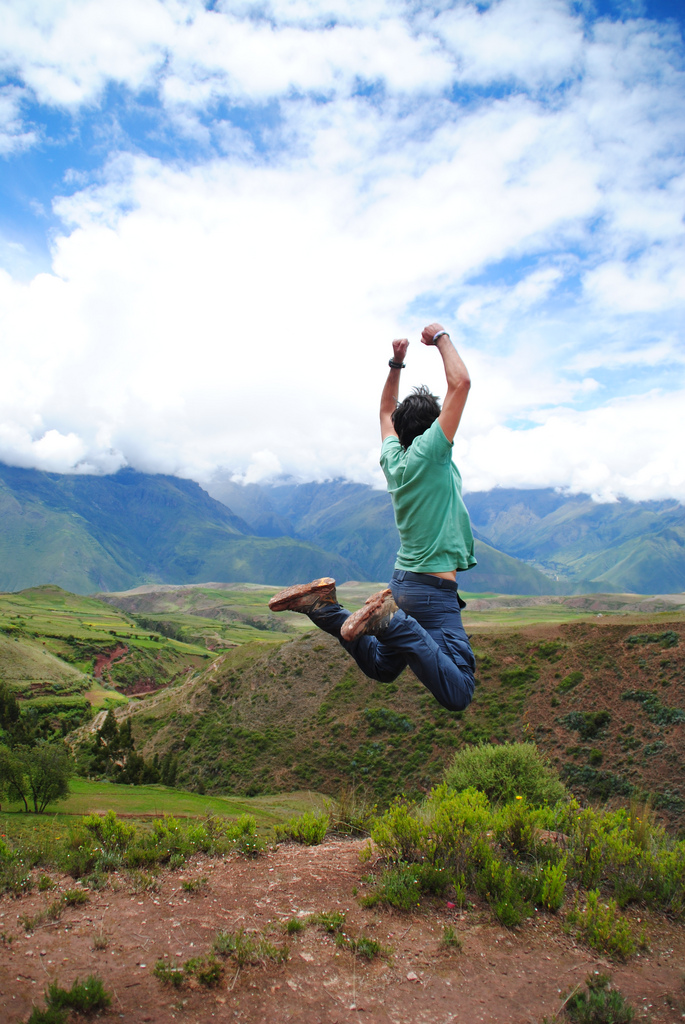 From Arequipa, take any of the many buses to the city of Cusco, ancient capital of the Incas (and contemporary capital of gringos who come to Perú to see Machu Picchu). Cusco is a great hub not only for taking an excursion to Perú's most ubiquitous tourist attraction, but for exploring other, equally amazing things to do nearby, such as the Sacred Valley of the Incas. The city of Cusco itself is also fun to explore. I spent a total of 7 days in the Cusco region.
One downfall of Cusco (and Andean South America in general) is its extremely high altitude and the accompanying sickness. Due in part to this sky-scraping height, I became ill in Cusco, and had to abandon my plans to visit Puno, a Peruvian city that sits on Lake Titicaca, which is a place most people wouldn't come so far without visiting.
Bolivia
I was sad not to spend time at Lake Titicaca (even if I did get to see it from the bus), but because of my sickness, I was very eager to get to La Paz, which you can reach (sort of) directly from Cusco.
Specifically, you take any of the many daily buses from Cusco to Puno, then take a collectivo share van from Puno to the Bolivian border, at Desaguadero. Cross over the border — and, if you're American, buy a Bolivia visa at the border station — then take another collectivo to La Paz from the Bolivian portion of Desaguadero. (Note: The border closes at 8 P.M. Lima time, so make sure and leave Puno no later than 5 P.M. to be safe.)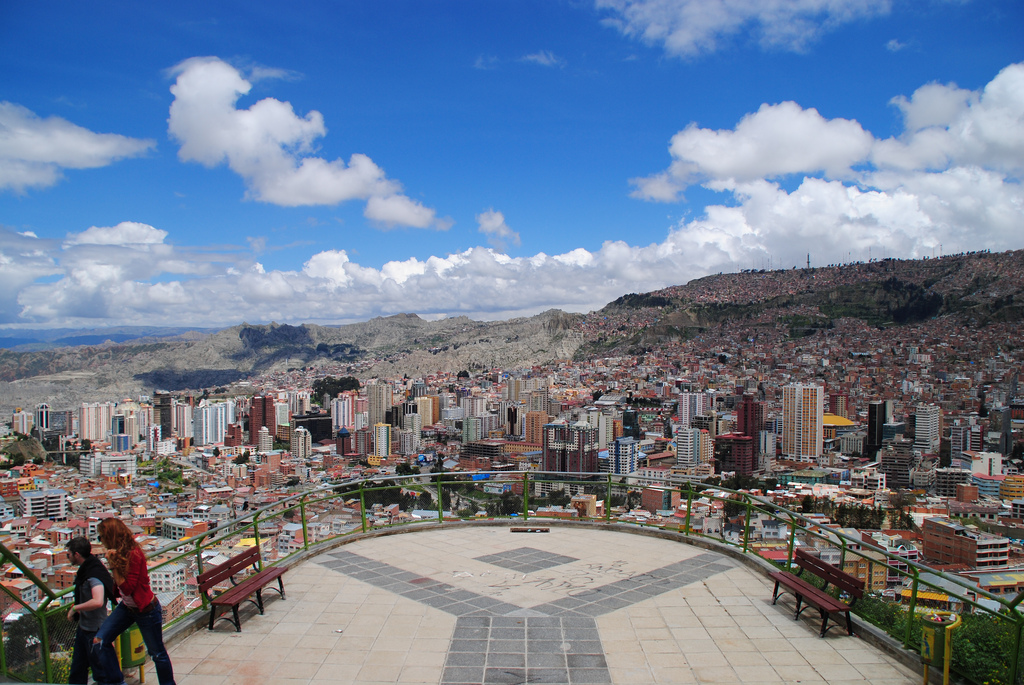 La Paz itself has a less than golden reputation, which is unfortunate, because it's a really spectacular city, even if I was extremely sick most of the time I spent there. Whether you explore the city's infamous Witch's Market, or risk asphyxiation climbing up to any of the high viewpoints above the world's highest capital, La Paz is a great place to spend 2-3 days.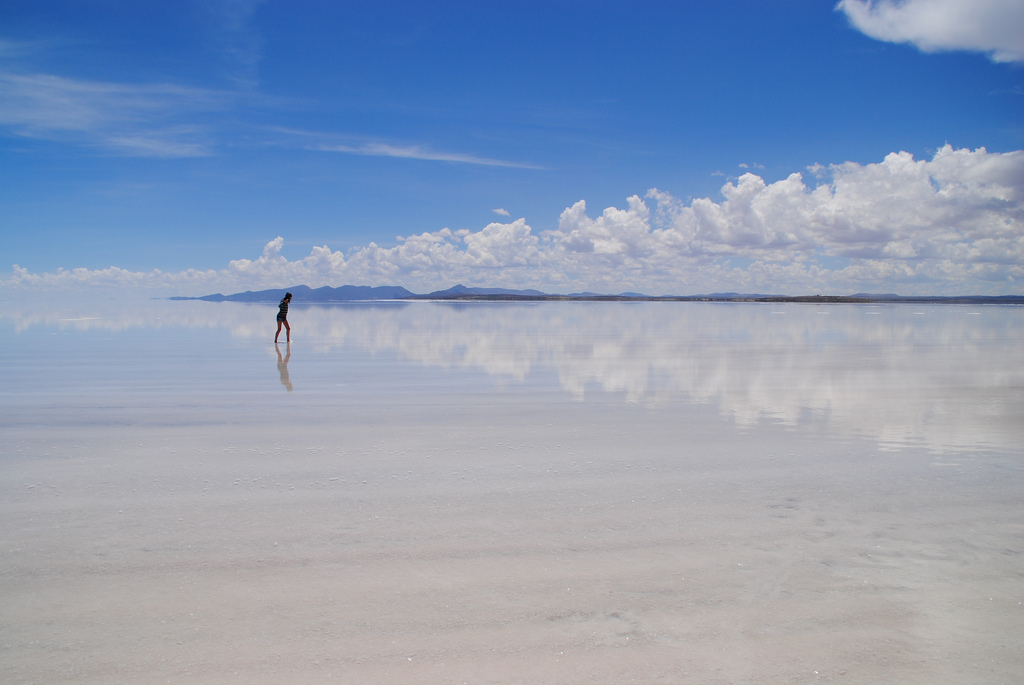 From La Paz, travel by bus southward to the dusty town of Uyuni, gateway to one of South America's most popular tourist attractions: The Uyuni Salt Flats. Located on a high Andean plateau just before the mountains give way to high, dry desert, the salt flats are the focal point of the larger southwestern Bolivia region, which is home a vast array of equally otherworldly nature. Devote a minimum of four days to southwestern Bolivia.
Have more time in Bolivia than I did? You could visit the city of Santa Cruz de la Sierra, Bolivia's most cosmopolitan, or Sucre, its administrative capital. Alternatively, you could visit the city of Potosí, en route from La Paz to Uyuni.
Chile
My Uyuni Salt Flat tour included a transfer to the town of San Pedro de Atacama, Chile, which is where most South America travelers transition from Bolivia to Chile anyway.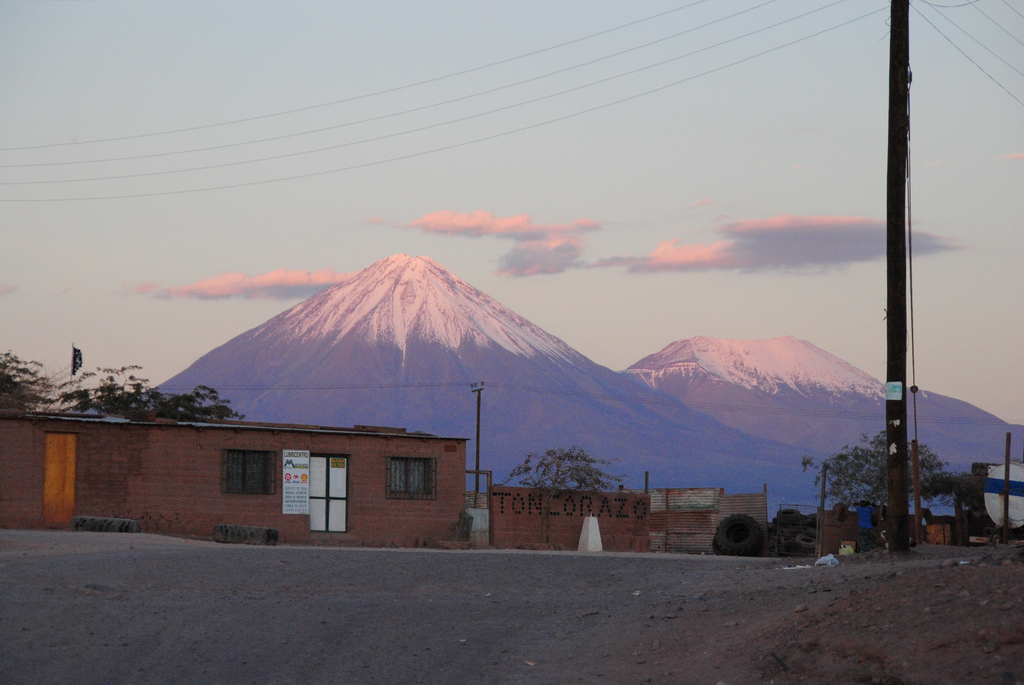 The gateway to Chile's Atacama desert, the highest and driest in the world, the town of San Pedro de Atacama is something of a gringo ghetto, even if the surrounding nature is nice. You can read the article I've written about San Pedro de Atacama to learn more. Spend between 3-5 days in San Pedro de Atacama, depending on how deeply you want to explore the Chilean desert.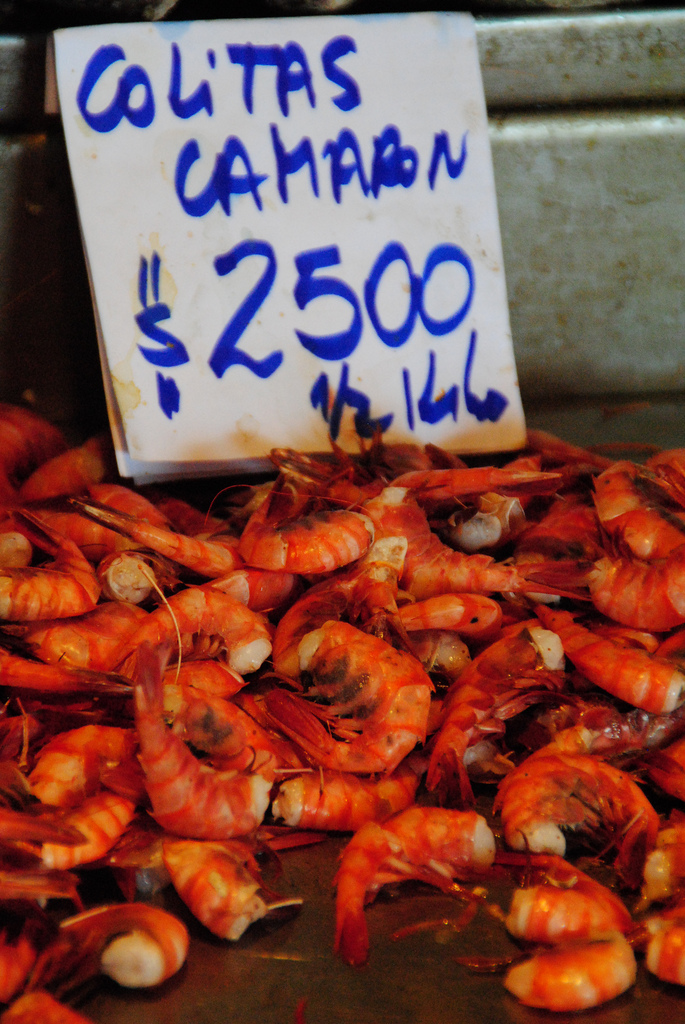 My sickness in Perú and Bolivia had not only been disastrous in that it limited me from traveling as extensively as I wanted to, but also because it prevented me from doing my work which, at the time, consisted of online copywriting for a digital media conglomerate.
With my need to access reliable Internet more pressing than my desire to see more awesome things, I headed straight from San Pedro to Santiago, via a 26-hour journey on a company called Tur Bus.
The great news is that Santiago proved an awesome city, both for working and accessing the Internet, as well as to recharge my still-low energy levels. Whether you spend your time exploring the neighborhoods of central Santiago, or eating and drinking your way through the city's markets, Santiago is one of the most modern, clean and safe cities in South America. I spent two weeks in Santiago, but you'll probably want to spend much less time there.
If you have more time in Chile — and don't opt, like I did, to spend such a long time in Santiago — you could take a day-trip to the port of Valparaíso, or travel south into Chilean Patagonia.
Argentina
The bus journey from Santiago to Mendoza, Argentina epitomized why my decision to travel exclusively overland in South America had been such a good one: The border between Chile and Argentina, at this latitude, is quite literally up in the Andes — even the immigration processing center has a scenic backdrop!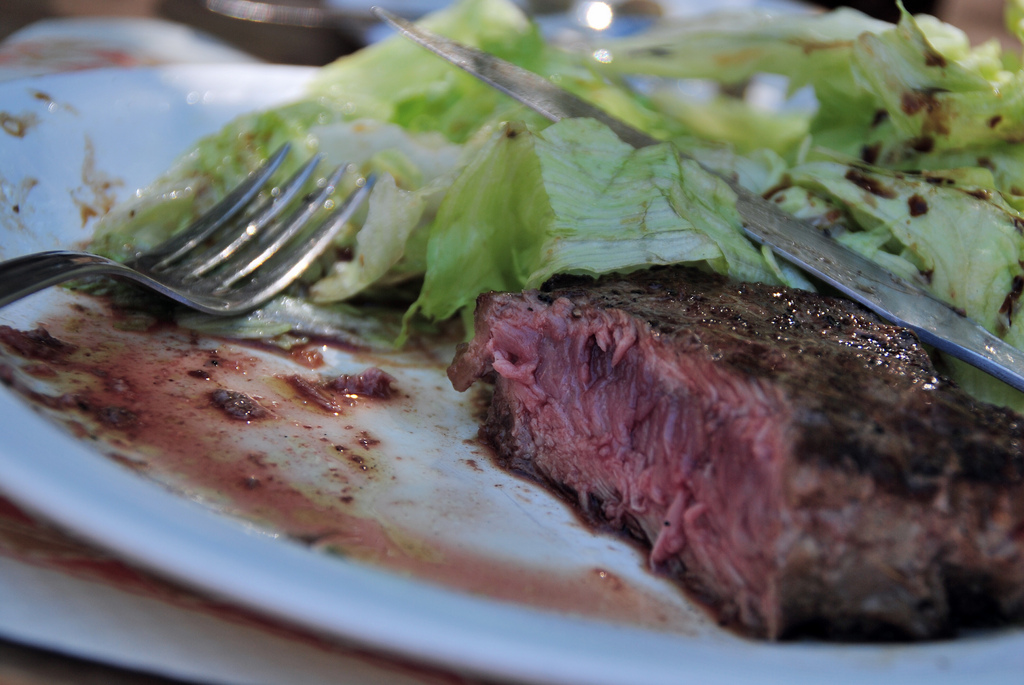 The city of Mendoza, Argentina itself isn't anything special, although it is interesting if you analyze the extent to which it reflects the social collapse of Argentina since the economic meltdown of 2001. Rather, Mendoza serves more as a gateway to Argentina's wine-producing region and, more specifically, the Malbec vineyards of Maipú, which I've written about here. I recommend spending 2-3 days in Mendoza and the surrounding region, although you could easily relax there longer.
From Mendoza I headed east to Córdoba, Argentina's second-largest city, via an extremely luxurious bus. There isn't a whole lot to see or do in Córdoba itself, although you can take day trips to places like Alta Gracia, where Che Guevara lived briefly as a child.
If you have more time than I did — and I was quite rushed to meet my two-month deadline by this point in my trip — you could travel north to Salta, which is perhaps the most famous backpacker city in Argentina's Pampas region.
My last official stop in Argentina was the city of Buenos Aires which, in spite of its reputation as being one of the most dangerous cities in South America (and maybe the world) is positively grand.
From strolls along the huge Avenida 9 de Julio, to exploring neighborhoods like Palermo and San Telmo, to continuing my discovery of delicious Argentine beef, to crying for Eva Perón at Recoleta Cemetery, I imagined many times that I could one day live in Buenos Aires. I spent approximately one week in Buenos Aires, which is also where I got my visa for Brazil.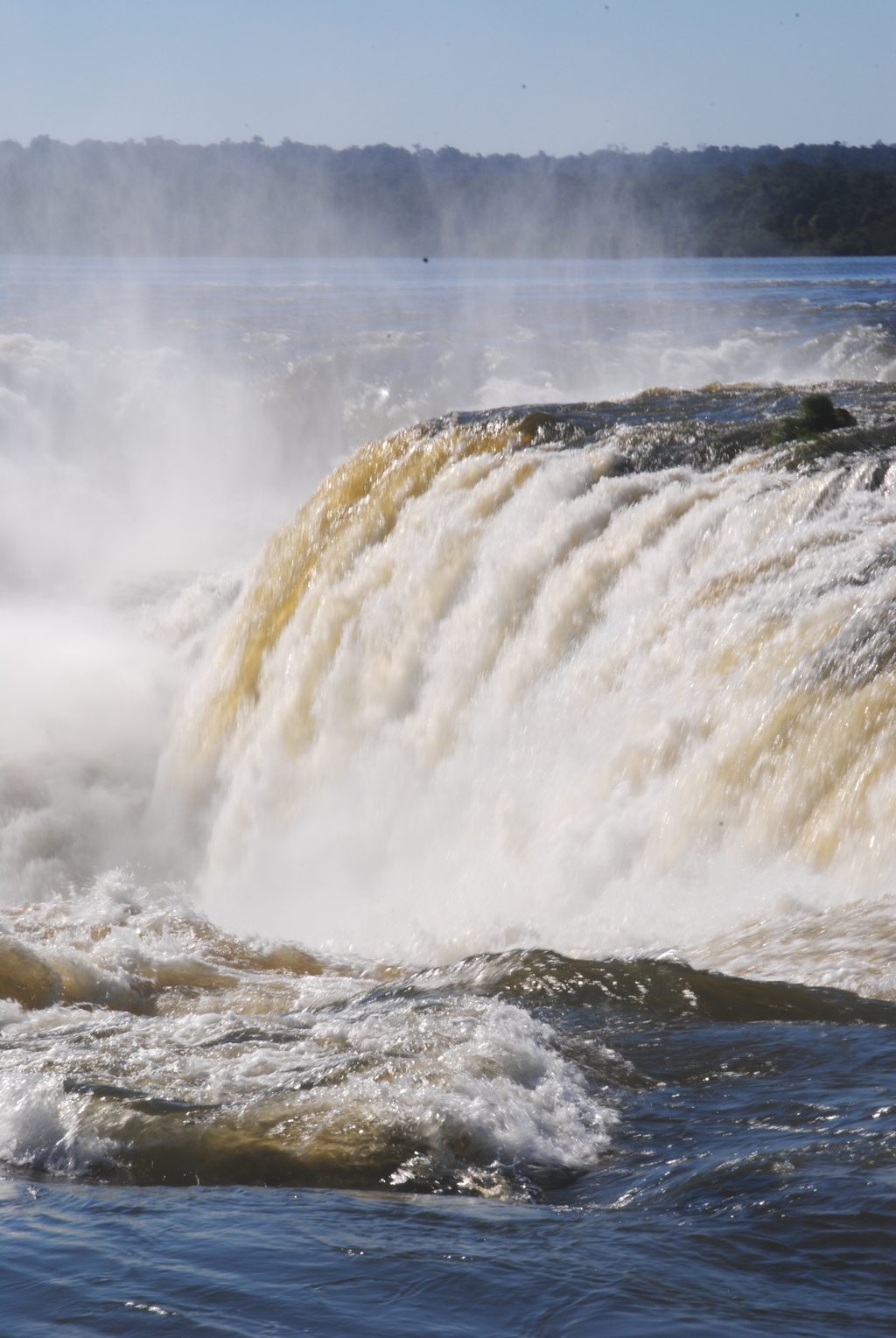 I say that Buenos Aires was my last "official" destination in South America because I also made a brief stop at Iguazú Falls which, along with Machu Picchu and the Uyuni Salt Flats, is a must-visit South America destination. I wasn't thrilled with Iguazú Falls, although I recommend you visit anyway and decide for yourself.
As is the case in Chile, travelers with more time can head further south into Argentina to discover Patagonia, including Ushuaia, the most southerly city in the world, from which it's further possible to board an Antarctic expedition.
Brazil
By the time I entered Brazil I had just 15 days to get to Rio, so I took an overnight bus directly from Foz do Iguaçu to São Paulo. This forced me to skip the southern Brazilian city of Florianopolis, which is one of my biggest travel regrets looking back.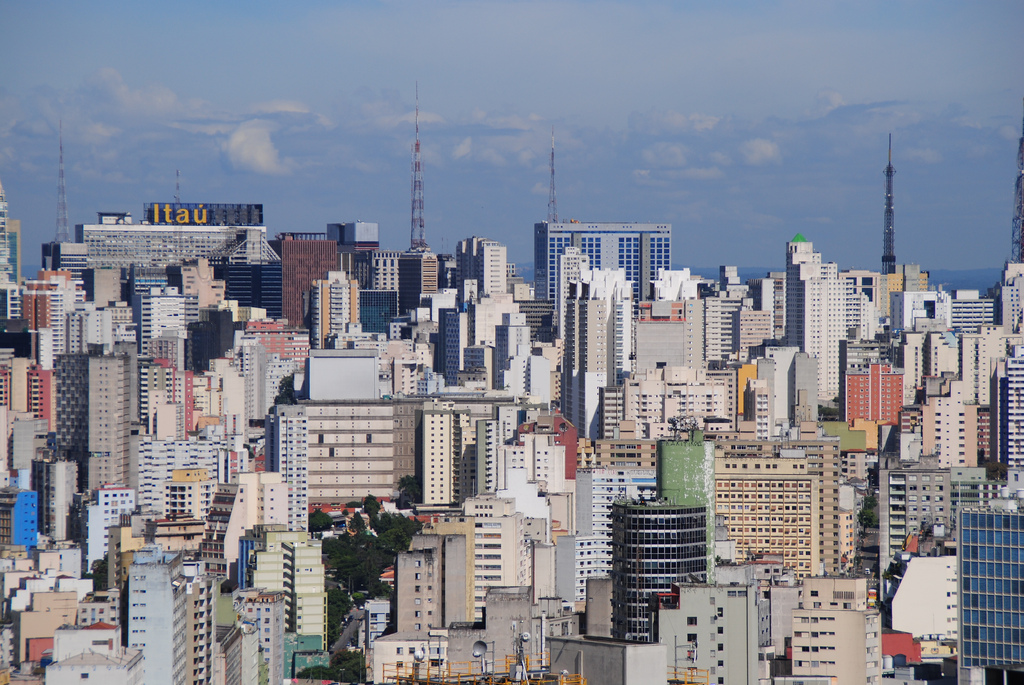 On the other hand, I ended up loving São Paulo, in spite of the fact that nearly everyone I spoke with prior to visiting told me I would hate it. A massive city that's something of Brazil's answer to New York, it's filled with great art, tasty food, huge buildings, awesome nightlife and extremely friendly people. Check out my article about why I love São Paulo so much for more information. I spent about a week in São Paulo.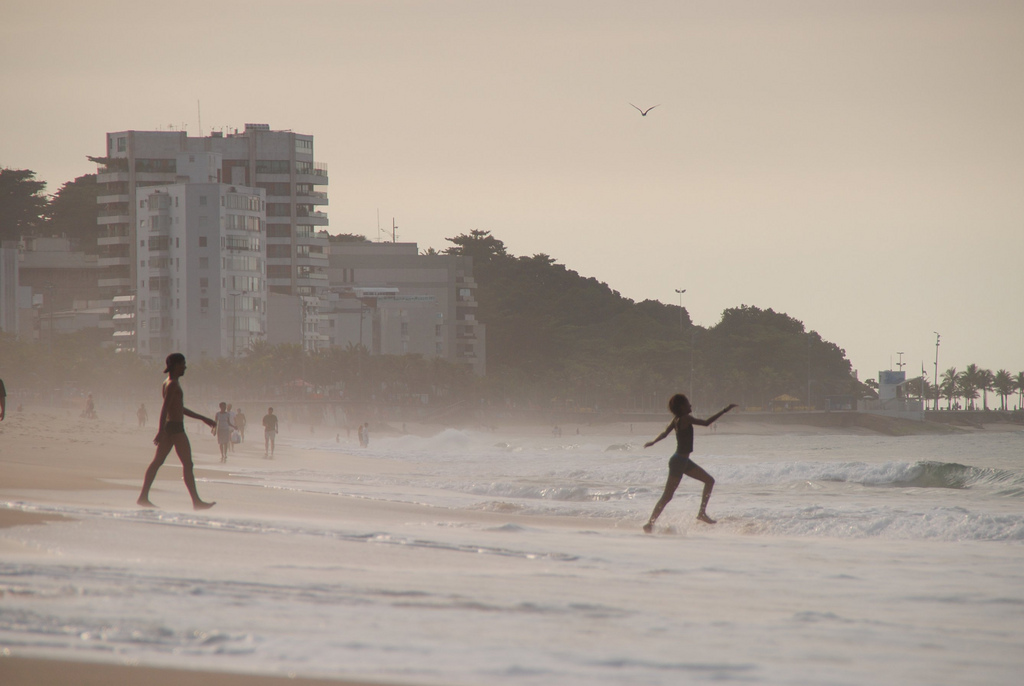 I was bittersweet when I boarded my Rio-bound bus at São Paulo's Tiête station: I knew it was my last bus journey in South America, for that trip anyway.
I arrived at Rio's bus station, which is located in a less than inviting part of town, quite late at night, then traveled by taxi to the wealthy Leblon neighborhood, located along the coast just to the west of popular Ipanema beach. To be sure, I spent most of my time in Rio relaxing on the city's various beaches, even if I did visit other landmarks, such as Christ the Redeemer and the Rio de Janeiro botanical gardens. In total, I spent just over a week in Rio de Janeiro.
I won't even attempt to list all the other places I could've visited in Brazil, because let's be honest: There are enough things to do in Brazil to occupy two months alone!
Indeed, if this document should illustrate anything to you, it's that two months is really not enough time to take an extensive trip to South America. Although you can, like I did, see many of the most "important" places, you'll need additional time to do more than scratch the surface.