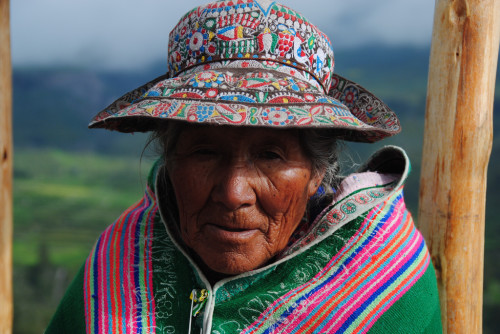 Perú was the first country I visited in South America. For this fact alone, Perú holds a special place in my heart and among my travel experiences.
If you have wanted to visit Peru but just haven't gotten on a plane to Lima yet, I hope this sample Perú itinerary motivates you to buy your ticket. And if the thought of traveling to Perú has yet to cross your mind? Well, I have a feeling that won't be the case in a few minutes.
Unless you arrive by land from neighboring countries like Ecuador, Bolivia or Chile, your first stop will be Perú's capital city of Lima.
Lima has less than a golden reputation among South American capital cities. Yet, while Lima is certainly no Rio or Santiago, it's a charming, interesting city with loads of culture and natural beauty.
I recommend spending three full days in Lima. Stay in Miraflores, where you can easily explore the city's most cosmopolitan district, and quickly walk down to beaches like Costa Verde, which is covered in smooth, black rocks instead of sands.
Then, travel by collectivo or taxi to Lima's historical center, where you can pass at least a day. Dine in a cevichería overlooking the bright yellow Plaza de Armas, or take a guided tour of the creepy catacombs, which date back to the days of the Conquistadors.
Arequipa and The Colca Canyon
Since, as Perú's capital, Lima is the best-connected point in the country, you have many onward options from Lima — and I'll get to all of them later! For now, however, we're going to follow the path that I did: After you've had your fill of Lima, take an overnight bus to Arequipa.
Perú's "white" city, Arequipa is the country's second largest, although it is admittedly much smaller than Lima. It's also a lot higher, situated on a plateau in Perú's arid southwest, so you can expect it to be a fair bit cooler than Lima. I recommend spending a full day exploring Arequipa.
The main attraction of Arequipa is the Colca Canyon, which is Peru's equivalent of the Grand Canyon. If you're strapped for time, you can take a day trip to Colca Canyon, which departs Arequipa at 3 a.m. and returns in early evening.
But if you have the time, I recommend spending two or three days at the Canyon and in the surrounding Colca Valley. In addition to spectacular views and the opportunity to see the rare Andean condor, you can enjoy the warm hospitality of indigenous Inca people in towns like Yanque.
Cusco, Machu Picchu and the Sacred Valley
At this point, I'm going to assume you're about a week into your Perú journey. I'm also going to assume you love being in the mountains, and have found a way to deal with altitude sickness which will probably involve chewing coca leaves. (Don't worry — they're not really cocaine.)
With these assumptions in mind, I'm going to recommend that you travel east from Arequipa toward Cusco, which is probably the most visited city/region of Perú. The former capital of the Incas, the city of Cusco itself is stunning, sprawled over the side of a mountain and home to some of the friendliest people I've ever met.
But Cusco is more than just an amazing city — it's a bonafide tourist hub! Most notably, Cusco is the closest major city to Machu Picchu. Whether you do like I did and see Machu Picchu or embark on the famous "Inca Trail" (or, the less famous "Jungle Trek"), Cusco is the place to start your journey.
Want to see something a little less cliché? Travel to Sacred Valley which is near Urubamba. The use of the word "sacred" in the valley's name is anything but sacrilege — it's among the most beautiful places I've seen!
Secondary Perú Destinations
If you've followed my suggestions up to this point, your two weeks in Perú is up — sad face! But if you've got more time, there are plenty of other places and things to see in Perú.
Iquitos and the Amazon
After two weeks in Perú, you've probably accepted a fact that was among the hardest for me to swallow: Perú is a (mostly) cold country! Thankfully, a 90-minute flight from Lima to the Amazon city of Iquitos, a hub for jungle ecotourism, proves this generality wrong.
Puno and Lake Titicaca
Many travelers ascribe ownership of Lake Titicaca to Bolivia, since the scenery and indigenous culture of the world's highest lake is more characteristic of Bolivia than of Perú. Regardless of whether you use Lake Titicaca as an entry point to Bolivia or simply make it a stop on your Perú trip, it's a one-of-a-kind experience that's very much worth having.
Perú's Pacific Coast
Hate the jungle but still want tropical warmth? Not to worry. Perú has several hundred kilometers of Pacific coastline, from balmy Mancorá in the north, to slightly-inland hotspots like Ica (famous for sandboarding) and Pisco (famous for the Peruvian rum that makes national drink Pisco Sour).